Next polls under current govt: Ashraf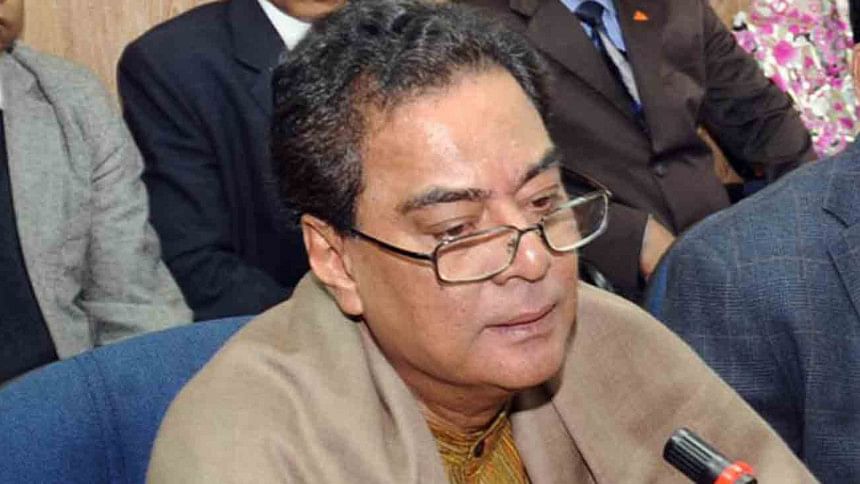 Public Administration Minister Syed Ashraful Islam today said the next general election will be held under the current government as per the constitution.
"The next polls will be held as per the constitution and all political parties will join it," he told reporters after a function of Jubo League at Shilpakala Academy in Dhaka.
Asked if BNP Chairperson Khaleda Zia's recent demand for election under a neutral government is an indication of moving back from its previous stance for a caretaker government, Ashraf, also the Awami League general secretary, said it was not clear.
Replying to another question from reporters, the minister said, "She has made a mistake by not joining the last election. Hopefully, she won't repeat it this time."
Earlier, the ruling party leader unveiled the cover of a book, titled 'Bangalir Hridoyar Frame-a Jatir Pita', (the Father of Nation in the Hearts of Bengali people) and inaugurated an exhibition of news-photos on Bangabandhu.
Jubo League, youth wing of the ruling AL, arranged the programme ahead of the National Mourning Day on August 15, the death anniversary of Bangabandhu Sheikh Mujibur Rahman.
Addressing the function, the AL general secretary said a photo is mightier than thousands of words. The book of Jubo League contains many photographs of Bangabandhu.
Ashraf urged the Jubo League to spread the book among the young generation.
Chaired by Jubo League Chairman Omar Faruk Chowdhury, the function was addressed, among others, by Principal of Eden College Hosne Ara, Jubo League General Secretary Harunur Rashid and former Chhatra League president HM Badiuzzaman.