SC upholds Khaleda's bail in Cumilla arson case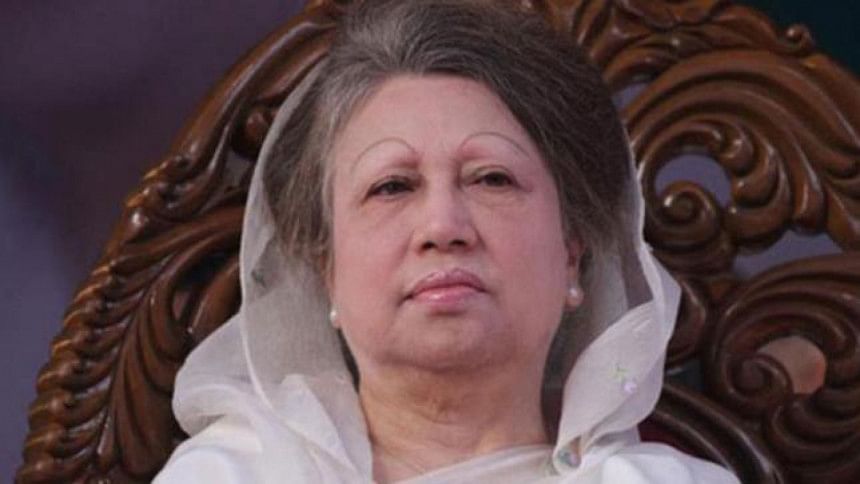 The Supreme Court today upheld a High Court order that granted bail to BNP Chairperson Khaleda Zia in an arson case filed in Cumilla in 2015.
A seven-member bench of the Appellate Division of the Supreme Court headed by Chief Justice Syed Mahmud Hossain passed the order after dismissing a leave to appeal petition file by the government challenging the HC order.
However, Khaleda cannot get released from jail following the HC order as she is arrested in few other cases, Deputy Attorney General Dr Md Bashir Ullah told The Daily Star.
The case was filed with Chauddagram Police Station under the Special Power Act, 1974 for setting fire on a covered van in Chauddagram area of Cumilla during an anti-government agitation on January 25, 2015.
Following an appeal filed by Khaleda, the HC on November 28 granted bail to her in the case.
Khaleda landed in the Old Dhaka central jail on February 8 this year after a special court convicted and sentenced her to five years' rigorous imprisonment in Zia Orphanage Trust corruption case.
The HC on October 30 enhanced her punishment to 10 years' imprisonment in the same case.
Besides, BNP Chairperson Khaleda Zia was also convicted in Zia Charitable Trust corruption case and sentenced to seven years' rigorous imprisonment by a special court on October 29.
Attorney General Mahbubey Alam argued for the government, while Advocate AJ Mohammad Ali appeared for Khaleda Zia.