Oikyafront to be expanded to intensify movement: Rob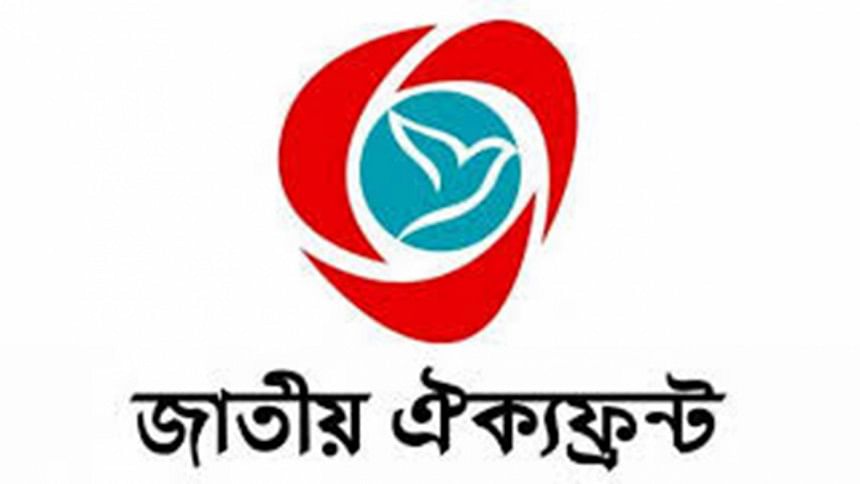 Jatiya Oikyafront will be expanded with an aim of forging a greater unity and strengthening anti-government movement to restore democracy in the country.
Jatiya Samajtantrik Dal (JSD) President ASM Abdur Rob today came up with the announcement at a press conference after the steering committee of the front held a meeting at his Uttara residence in Dhaka this afternoon.
"We will expand the scopes of the Jatiya Oikyafront bringing all anti-government and pro-liberation political parties on the same platform to continue the movement for restoration of democracy," Rob said.
The steering committee members of the front, during the meeting, reached a decision to wage a tougher movement in an organised way against the ruling quarter, Rob said.
The JSD leader said they will hold another meeting under the leadership of Gonoforum President Dr Kamal Hossain soon to fix the next course of action of the front against the government.
"We are committed to the nation to bring a qualitative change in politics and to restore democracy and rule of law in the country. We will continue our movement until the goal is reached," he said.
The meeting also discussed several contemporary issues including repression of rampant women and children and spate of corruption, he said.
The government was also criticised during the meeting for its wrong policies in depriving the farmers of fair price of paddy, Rob said.
Abdul Kader Siddique, president of Krishak Shramik Janata League, a component of Jatiya Oikyafront, also attended the meeting although he earlier issued a threat to leave the alliance within a month if some issues including oath taking of BNP and Gonoforum MPs could not be resolved shortly.
A letter was sent to all leaders of the alliance in this regard, undersigned by KSJL General Secretary Habibur Rahman Talukder.
The letter said that if the issues were not addressed and resolved immediately then KSJL would leave the alliance on June 9 or soon after the date.
The letter was sent to the top leader of the alliance and Gonoforum President Kamal Hossain, BNP Secretary General Mirza Fakhrul Islam Alamgir, JSD President ASM Abdur Rob, Nagarik Oikya Convener Mahmudur Rahman Manna, Gonoshasthaya Kendra trustee Zafrullah Chowdhury, Gonoforum Executive President Subrata Chowdhury and its former general secretary Mostafa Mohsin Montu.
Responding to a query in this regard, Kader Siddique said he wants to give more time to the alliance to solve the issues.