BNP to stage countrywide demo tomorrow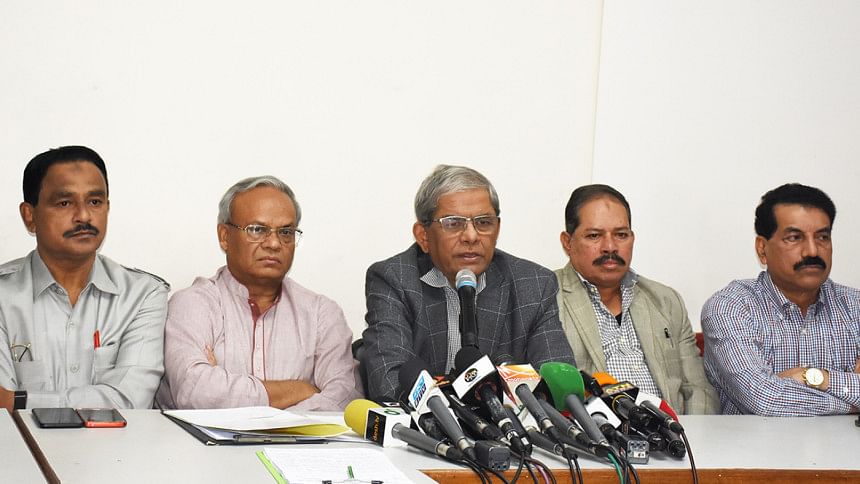 BNP today announced to stage demonstration across the country tomorrow demanding immediate release of party's imprisoned Chairperson Khaleda Zia.
Leaders and activists of the party will stage demonstrations at all upazila and district level headquarters to press home their demand.
BNP Secretary General Mirza Fakhrul Islam Alamgir announced the programme at a press conference at the party's Nayapaltan central office in Dhaka this afternoon.
Earlier, a joint meeting of BNP was held at the party office to discuss the country's latest political situation and to work out the party's next course of action to mount pressure on the government to free Khaleda Zia from jail, party sources said.
Khaleda has been in jail since February 8, 2018, in the Zia Orphanage Trust corruption case. She was found guilty in Zia Charitable Trust corruption case in the same year, though her party claims both cases are politically motivated.
The BNP chief has been receiving treatment at the BSMMU since April 1 this year.
Earlier on Thursday, the Appellate Division deferred until December 12 the hearing on Khaleda Zia's bail petition in Zia Charitable Trust graft case.
The court also asked the medical board, formed by the Bangabandhu Sheikh Mujib Medical University (BSMMU) to treat Khaleda Zia, to submit a report on her health condition before it within December 12, as they could not place the report on Thursday as per the directive was given on November 28.
Referring to the deferment, Fakhrul, during the press conference, said the government has staged a heinous drama over the bail petition of Khaleda Zia.