Fakhrul in NY at UN invitation, not to make complaint: Moudud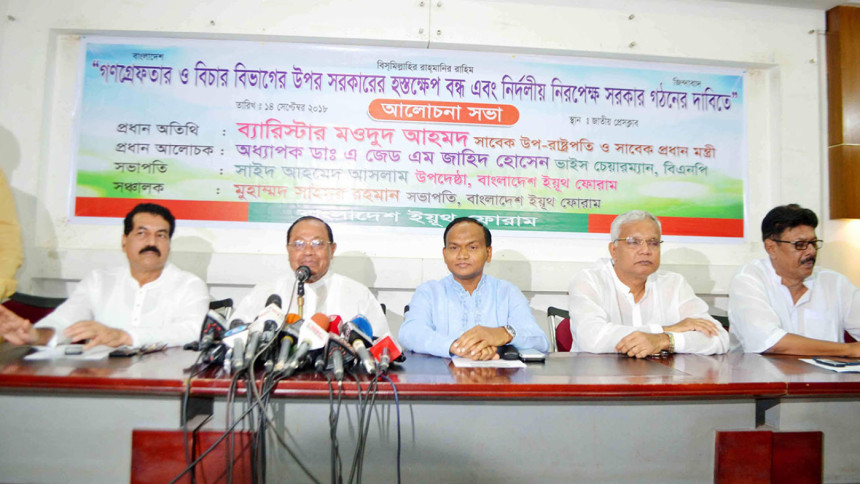 BNP standing committee member Moudud Ahmed today said the party's Secretary General Mirza Fakhrul Islam and others went to the UN Headquarters following an invitation of its Secretary General Antonio Guterres.
The former law minister also said the delegation went there to present the country's "current real situation", not to make any complaint.
"Our secretary general did not go to the UN on his own, rather he went there at the invitation of the UN Secretary General to present the real situation of the country, not to complain," Moudud said while speaking at a discussion at the Jatiya Press Club in Dhaka.
The BNP delegates will also present before the UN the prevailing situation of the country, oppression and repression on opposition leaders, activists and on common people, and violation of human rights, he said.
Moudud said the UN Secretary General invited their party leaders to its headquarters as he could not manage time to meet them during his recent visit to Bangladesh.
Moudud said there is no atmosphere for credible election in the country, though only three months are left for arranging the next general election. "Is talking about election atmosphere the same as making complaint?"
The government has become worried as the UN Secretary General invited the BNP leaders to New York, he added.
A three-member delegation of the party, led by its Secretary General Mirza Fakhrul Islam Alamgir, held a meeting with UN Assistant Secretary-General for Political Affairs Miroslav Jenča at the UN headquarters yesterday.
Fakhrul was accompanied by assistant international affairs secretary Humayun Kabir and executive committee member Tabith Awal. Four other UN high officials were also present there. The delegation had left for New York on Tuesday night.