47-member new cabinet announced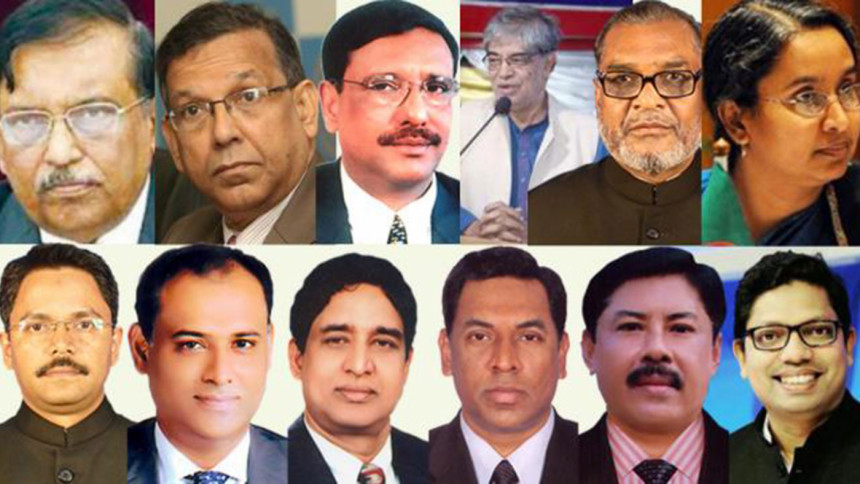 Awami League President Sheikh Hasina is heading towards a fresh start forming her third consecutive government with 31 new faces of the 47-member cabinet.
The new cabinet will be comprised of 24 ministers, 19 state ministers and 3 deputy ministers.
Cabinet Secretary Mohammad Shafiul Alam announced the names of the lawmakers to be picked in the new cabinet.
The new members of cabinet members will take oath at the Bangabhaban around 3.30pm on Monday, he said at a press conference at the secretariat this afternoon.
AKM Mozammel Haque (Liberation War Affairs), Obaidul Quader (Road Transport and Bridges), Md Abdur Razzak (Agriculture), Assaduzzaman Khan Kamal (Home), Hasan Mahmud (Information ministry), Anisul Huq (Law), AHM Mustafa Kamal (Finance), Md Tajul Islam (LGRD), Dr Dipu Moni (Education), AK Abdul Momen (Foreign), MA Mannan (Planning), Nurul Majid Mahmud Humayun (Industries), Golam Dastagir Gazi (Textiles and Jute), Jahid Malek (Health), Sadhan Chandra Majumdar (Food), Tipu Munshi (Commerce), Nuruzzaman Ahmed (Social Welfare), SM Rezaul Karim (Housing), Md Shahab Uddin (Environment), Bir Bahadur Ushoi Shing (Hill Tracts), Saifuzzaman Chowdhury (Land), Md Nurul Islam Sujan (Railways) and Yafes Osman (Technocrat – Science and Tech), Mustafa Jabbar (Technocrat -- ICT).