BNP top brass sued after rally
At least 10 cases filed against senior leaders, hundreds of activists; over 300 arrested, claims party lawyer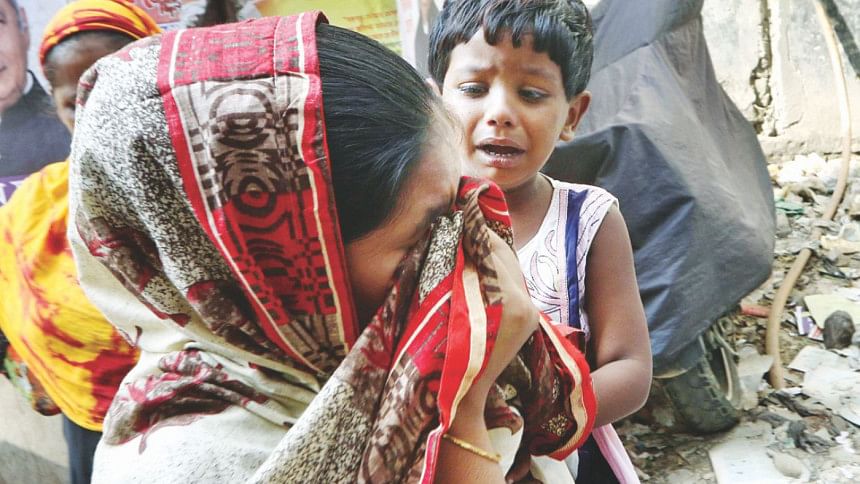 ♦ Fakhrul, Moudud, Moyeen Khan, Mirza Abbas, Nazrul Islam Khan, Goyeshwar among accused 

♦ Amir Khasru, now travelling abroad, also accused of 'instigating subversive acts' through rally speech 

♦ Ruhul Kabir Rizvi, who did not even attend the rally,  also named as accused 
Top BNP leaders, including Mirza Fakhrul Islam Alamgir, were sued early yesterday for "instigating" subversive activities, hours after the party staged a rally at Suhrawardy Udyan and asked its activists to prepare for both movement and elections.
The case statement says some party supporters blasted crude bombs, attacked police in an attempt to kill them, vandalised vehicles and obstructed police duties in Moghbazar area around 8:15pm on Sunday. 
And the crimes were committed at the instigation of top BNP-Jamaat leaders, which police learnt interrogating those arrested during the occurrence, it added.   
Apart from BNP Secretary General Mirza Fakhrul, the accused include standing committee members Mirza Abbas, Moudud Ahmed, Nazrul Islam Khan, Goyeshwar Chandra Roy, Amir Khasru Mahmud Chowdhury and Moyeen Khan.
Filed with Hatirjheel Police Station, the case also names BNP leaders Ruhul Kabir Rizvi, Amanullah Aman and Ruhul Kuddus Talukder Dulu and 45 other party men as the accused.
The case statement reads that the leaders delivered "provocative and anti-government speeches" at the rally on Sunday, and party supporters committed the offences while returning from the programme.  
Interestingly, Amir Khashru has been staying in the US since September 23 while Rizvi was not even present at the rally.
A reporter of The Daily Star yesterday evening visited Moghbazar Railgate, which is the place of alleged occurrence, and nearby areas and talked to around 100 shopkeepers, residents and pedestrians. 
They all said they were unaware of any incident of vandalism and explosion of crude bombs on Sunday in their locality.
However, several street vendors said they saw some people were being picked up by a group of plainclothes men near Moghbazar flyover between 4:00pm and 5:30pm that day.
"It is not possible that any incident of vandalism and explosion of crude bomb will go unnoticed," said an employee of a shop located near the spot.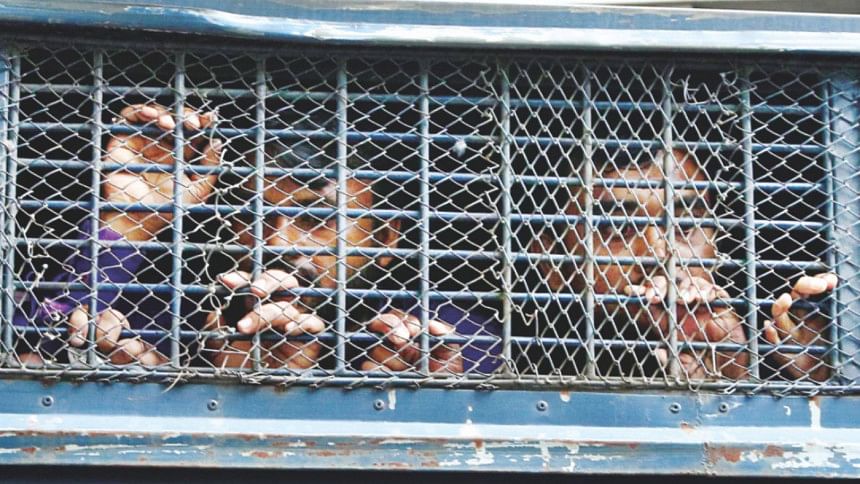 This apart, at least nine other cases were filed with the city's Ramna, Shahbagh, Motijheel, Paltan, Jatrabari, Kadamtoli, Lalbagh and Dhanmondi police stations between Sunday afternoon and early yesterday against hundreds of named and unnamed BNP men.
They have been sued for subversive activities, vandalism and creating obstacles to duties of the law enforcers.
"The cases are all false and fabricated and meant to harass us," Fakhrul, who now stands accused in a total of 87 cases, told The Daily Star last night.
The case statement, however, said five arrested accused told police that speeches delivered by Fakhrul and other senior BNP-Jamaat leaders provoked them into committing the crimes.
The five are Mobashwer Alam Bhuyian, vice president of Cumilla BNP and an MP aspirant; Md Sharfuddin, a ward councillor in Gazipur; Rashed Bin Sulaiman, president of ward-18 BNP in Dhaka; Salauddin, general secretary of Bhaluka thana BNP, and Shamsul Haque, war-41 Jubo Dal president of Dhaka.
They were held on the spot, police claimed.          
Police also "recovered" five sticks, 1.5-litre petrol, pieces of exploded cocktails from the place of occurrence, said the statement.
An assistant sub-inspector and two constables were hurt being hit with brick chips. And unidentified 20-25 people fled after carrying out the subversive activities, it added. 
As the charges are cognisable offences, law enforcers can arrest anyone anytime.  
The accused will now appeal to the High Court, seeking anticipatory bail to avoid arrest, said Sanaullah Mia, a pro-BNP lawyer who deals with such cases on behalf of party leaders.
Sanaullah said over 300 BNP leaders and activists, who were arrested in the 10 cases, were produced before different Dhaka courts yesterday. Some of them were placed on remand of different terms while others were sent to jail.
Sabuj Hawlader, who is a bus driver from Mirpur 1, was arrested from Shahbagh area on Sunday.
His wife Ishita Akhtar told this newspaper, "As I found no information about my husband till 11:00pm, I visited different police stations and the DB office, but failed to find him."
Finally around 11:00am yesterday, she said, someone from the DB office called her and asked her to go to the Chief Metropolitan Magistrate's Court in Dhaka where her husband Sabuj, 32, would be taken.
Sabuj was sent to jail after being produced before the CMM's Court, she added.
Asked about her husband's political affiliation, Ishita said she does not know about any such connection.
Just a month ago, police filed dozens of cases against thousands of BNP leaders and activists across the country centring on the BNP's founding anniversary programmes.
Even, people who had died much before the date of alleged occurrence, an Oman expatriate and hajj pilgrims who were outside the country at the time were made accused in some of the cases. Even a man was named twice as accused in a single case.
Many accused had alleged that those cases were false and politically motivated.