Khaleda ready to go abroad for treatment if gets bail: BNP's Harun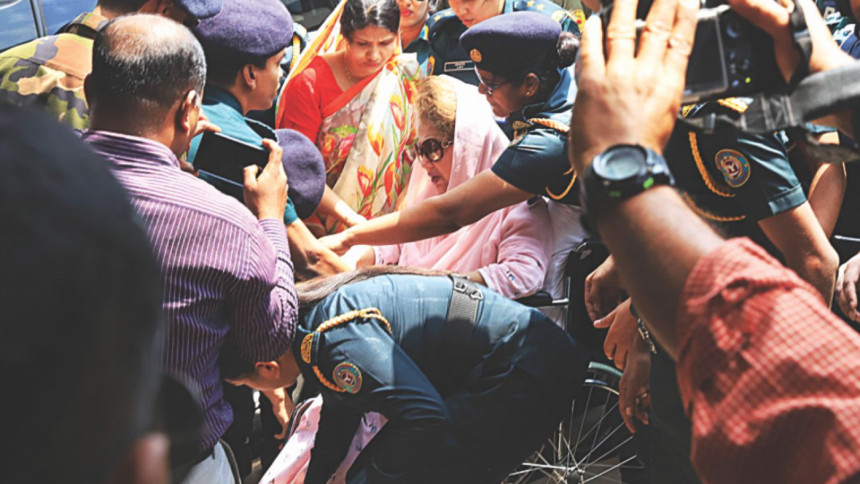 BNP Chairperson Khaleda Zia is willing to go abroad for better treatment if she gets bail, party's Joint Secretary General Harunur Rashid said today.
Harun, also a BNP lawmaker, expressed Khaleda Zia's willingness while talking to reporters after meeting with her at Bangabandhu Sheikh Mujib Medical University (BSMMU) in Dhaka this evening.
On April 1, Khaleda was shifted to BSMMU from Old Dhaka Central Jail with severe pain in the joints of her hands and legs, insomnia, weakness and high sugar level.
Harun along with his party's lawmakers Ukil Abdus Sattar and Aminul Islam went to the BSMMU around 4:00pm and met their party chief to oversee her health condition.
After passing an hour with the party chief, Harun said, "Our party chief Zia is now suffering from several complexities and she is needed immediate treatment at a specialised hospital. The illness requires her treatment abroad."
"Khaleda Zia desires bail on moral ground, I would like to request the government so that she does not denied the bail," Harun said.
On February 8 last year, Khaleda was sent to jail as she was convicted in the Zia Orphanage Trust graft case Later, she was convicted in the Zia Charitable Trust corruption case.