Khaleda's graft case: SC judges leave courtroom amid chaos by pro-BNP lawyers
Court adjourns hearing till Dec 12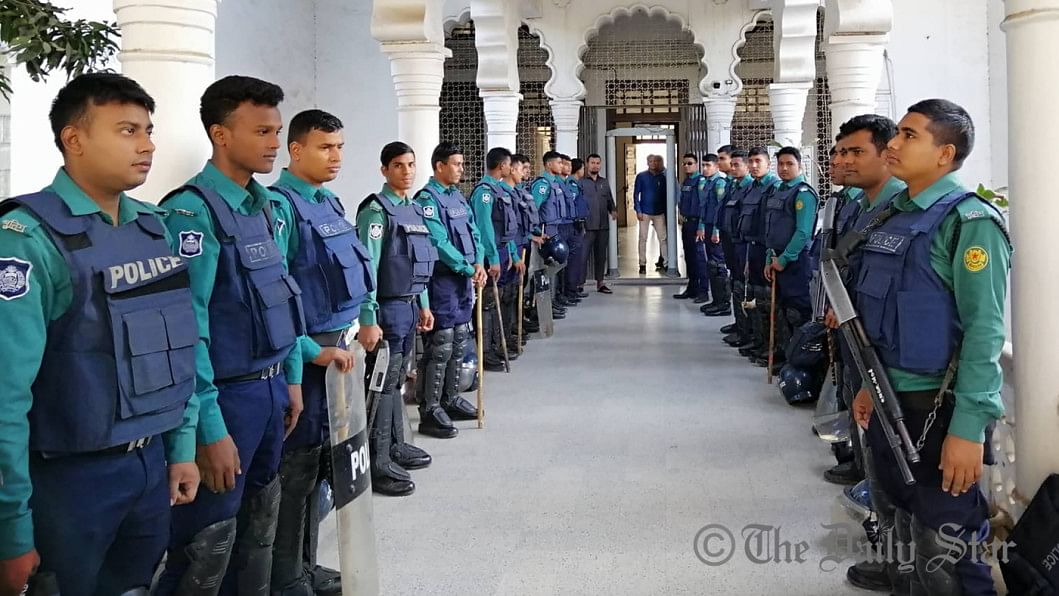 A group of pro-BNP lawyers shouted and made chaos in a courtroom during the hearing of the party chairperson Khaleda Zia's bail appeal in a corruption case, forcing all the six judges of the Appellate Division including the chief justice to leave the courtroom.  
During the chaos, the pro-BNP lawyers were shouting "shame, shame" at the judges.
The lawyers said they will not leave the courtroom until the Supreme Court hears the appeal filed by Khaleda challenging a High Court order that rejected her bail in Zia Charitable Trust corruption case and grant her bail.
Around 9:45am today, a six-member bench of the Appellate Division led by the Chief Justice Syed Mahmud Hossain started hearing on the appeal.
Attorney General Mahbubey Alam told the court that the authorities of Bangabandhu Sheikh Mujib Medical University (BSMMU) are yet to prepare the medical reports on Khaleda's health condition.
He prayed to the court to adjourn the hearing of the appeal till next Thursday (December 12).
Khaleda's lawyer Advocate Zainul Abedin opposed the attorney general saying that Khaleda's health condition is not good and she is about to die.
He requested the apex court to hear the appeal today and grant her bail considering health and human aspect.
The attorney general told the SC that it may adjourn the hearing until the medical report is produced before the court.
Then, the chief justice said the court will hear the appeal on next Thursday and also asked the BSMMU authorities to prepared the report by December 11.
Hearing the order, the pro BNP lawyer started shouting and the judges could not run their judicial functions due to this chaos.
At this stage, the judges left the courtroom around 10:00am.
After one and a half hours, the judges returned to the courtroom. But they again halted court proceedings as the lawyers against started shouting.
The judges left the courtroom around 1:15pm.
On November 28, the Supreme Court asked the BSMMU authorities to submit a report on Khaleda's health condition before the court by December 5.
The court gave the order while hearing an appeal filed by Khaleda, seeking bail in Zia Charitable Trust corruption case.
She was sentenced to seven years' imprisonment by a lower court in the case.
Khaleda on November 14 filed the appeal with the SC challenging the High Court order that on July 31 rejected her bail petition in the same case.
On October 29 last year, a special court in Dhaka convicted Khaleda in the case and sentenced her to seven years' imprisonment in her absence. Anti-Corruption Commission filed the case with Tejgaon Police Station on August 8, 2011.
The BNP chief landed in jail after being sentenced to five years' imprisonment in Zia Orphanage Trust graft case by the same court on February 8. The HC on October 30 enhanced her punishment to 10 years in the case, after dismissing her appeal.