Khaleda to surrender before court Apr 5, lawyer says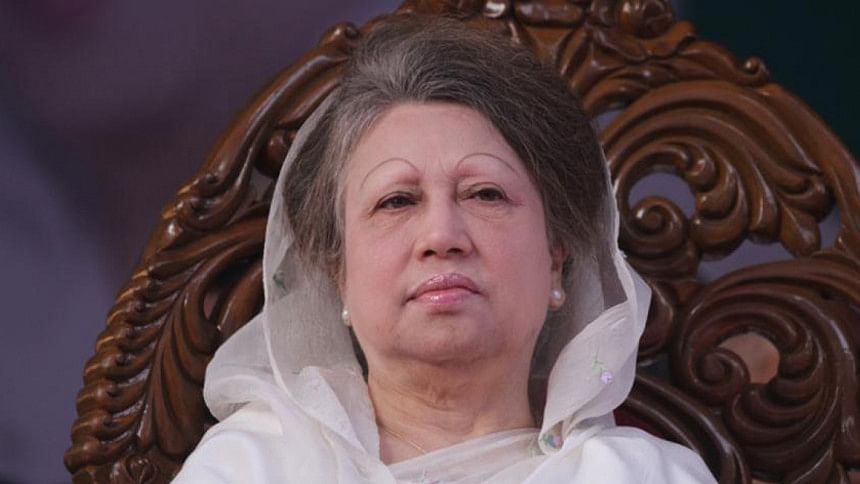 BNP Chairperson Khaleda Zia will surrender before a Dhaka court and seek bail in a case filed for an arson attack on a passenger bus in the capital's Jatrabari in January last year.

Also READ: Arrest warrant issued against Khaleda

Khaleda will surrender before the Court of Metropolitan Sessions Judge on April 5, Sanaullah Mia, one of the lawyers of Khaleda, told The Daily Star this afternoon.
On March 30, the court issued arrest warrants against Khaleda and 27 others in the case.

READ more:  28 burnt in city bus arson

Judge Kamrul Hossain Mollah of the Metropolitan Sessions Judge's Court passed the order after accepting charges against 38 people, including the 28.
The order came after the investigation officer showed Khaleda and 27 others fugitives and appealed to the court to issue arrest warrants against them.
The court directed the officer-in-charge of Jatrabari Police Station to submit reports by April 27 on execution of arrest warrants.
Detectives on May 19 last year pressed charges against Khaleda and 37 others, mostly her party men, for allegedly carrying out subversive activities through a petrol bomb attack on the passenger bus on January 23 last year.
One person was killed and 30 others were injured in the attack, one of many bomb attacks that the country had witnessed during the BNP-led 20-party alliance's three months' blockade.