I'm made loan defaulter with tricks: Kader Siddique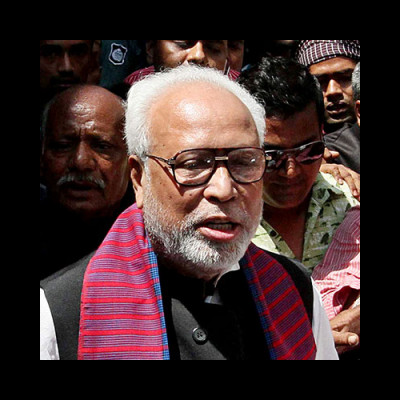 Krishak Sramik Janata League President Abdul Kader Siddique today claimed that state-run Agrani Bank made him a loan defaulter with tricks to have his nomination paper filed for contesting Tangail-4 by-polls cancelled.
"As per bank documents, I was not a loan defaulter on the day I submitted the nomination paper and also not the following day. But, later Agrani Bank Tangail branch sent a letter to the returning officer. This is how my nomination paper and that of my wife have been cancelled," he said.
Speaking at a press conference at his party's Motijheel office, Kader Siddique said he will go to the court challenging the Election Commission's decision that cancelled his nomination paper.
On October 13, the Election Commission turned down the nomination papers submitted by Kader Siddique and his wife Nasrin Siddique to contest the by-election on loan default charges.
The Krishak Sramik Janata League chief, his wife, party joint secretary Iqbal Siddique and Kalihati unit party president Hasmat Ali submitted their nomination papers to contest the Tangail-4 by-election scheduled for November 10.
Kader Siddique said his party will be in the election race even after if the court also upholds the EC's decision as his party has alternative candidates.