Ershad made me acting chairman to avoid arrest: Mahmud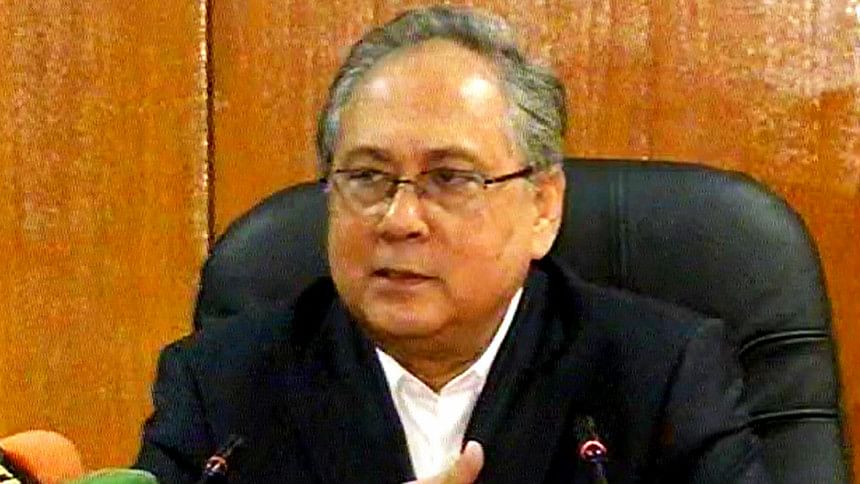 Jatiya Party Presidium Member Anisul Islam Mahmud today said that party chief HM Ershard appointed him as the party's acting chairman after the 1/11 political changeover in 2007 in a bid to avert arrest.
His statement came couple of days after Ershad branded Mahmud, now serving as water resources minister, as one of the masterminds behind the 1/11 changeover and demanded that he be tried.
ALSO READ: Ershad wants Mahmud tried for '1/11 role'
"As I took charge of the party then on his advice, he [Ershad] managed to escape arrest. Otherwise, Ershad too had to go to the jail like Sheikh Hasina and Khaleda Zia and it would be minus-three," Mahmud said at a press briefing at his ministry's conference room.
He said he was a minister in Ershad's cabinet [1981-1990] for seven years and enjoyed much freedom at that time. "This is why I did not say anything against him [Ershad] openly yet. But today, I have been compelled to say something. What he [Ershad] said about me is not true."
"He [Ersahd] gave me the charge of party's acting chairman after 1/11. It was done as per the party decision following consultation with him. The appointment was not for removing him [Ershad] from politics," added Mahmud.
The JP leader said Ershad made him the legal guardian in the documents while making fix deposit for his son Eric. "He didn't even use his brother GM Quader's name as the legal guardian in the FDR (fixed deposit receipt) of Eric."
Alleging that Ershad had asked JP leaders to come out of the cabinet on Quader's advice, Anisul said it is Ershard who wrote Prime Minister Sheikh Hasina to make Quader a minister.
He criticised the JP leadership for making GM Quader co-chairman of the party saying that there is no such position in the party constitution. "A party could not be run like this."