Civil society for honest, capable people in new EC
Civil society members tell EC search panel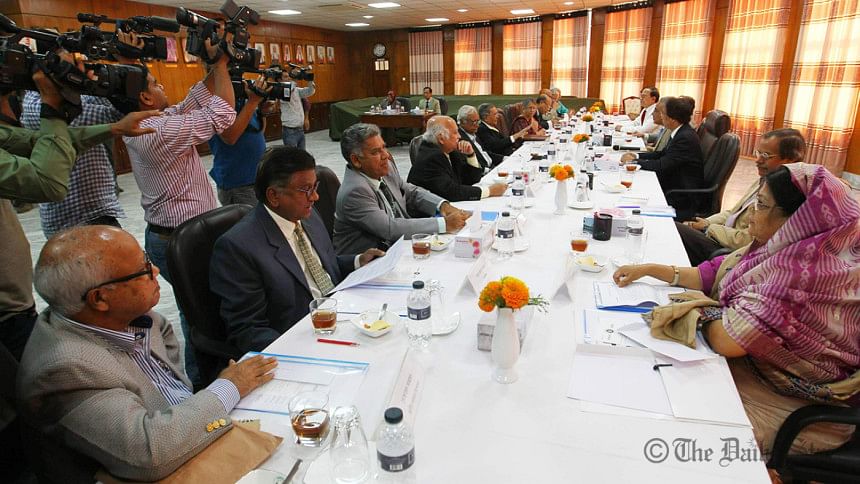 Civil society members today suggested the search committee to pick honest and capable people for reconstituting the five-member Election Commission who will be able to conduct the next general election in impartial and transparent manners.
The search committee held a meeting with 12 eminent personalities of the country's civil society at the Supreme Court Judges' Lounge in Dhaka this afternoon.
"We suggested the search committee to form the new Election Commission with honest and capable persons who can conduct the next general election in transparent and impartial manners," Sultana Kamal, a rights activist and one of the civil society members, told journalists after the meeting.
READ MORE: EC must be competent, courageous
The other eminent personalities among the civil society members are: former High Court judge Md Abdur Rashid, former vice chancellor of Dhaka University Prof Dr AK Azad Chowdhury, Serajul Islam Choudhury, former vice chancellor of Dhaka University SMA Fayez, former chief election commissioner ATM Shamsul Huda, former election commissioner Sohul Hussain, former election commissioner Sakhawat Hussain, local government expert Tofail Ahmed, Secretary of Shushasoner Jonno Nagorik Badiul Alam Majumdar, eminent educationist and Dhaka University professor Abul Quasem Fazlul Huq and former inspector general of police Nurul Huda.
READ MORE: Turn in 5 names, panel asks 31 political parties
Earlier on January 25, President Abdul Hamid formed the six-member search committee, headed by Justice Syed Mahmud Hossain, after holding a series of talks with 31 political parties over reconstitution of the EC.
The other members of the search committee are: Justice Obaidul Hassan, a High Court judge, Muhammed Sadique, chairman of Bangladesh Public Service Commission (BPSC), Masud Ahmed, comptroller and auditor general of Bangladesh, Prof Syed Manzoorul Islam, trustee board member of Transparency International Bangladesh (TIB), and Shireen Akhter, pro-vice chancellor of Chittagong University.
ALSO READ: EC search body to sit with 5 more civil society members Feb 1
The tenure of the incumbent commission expires next month.
According to the gazette notification published on January 25, the search committee will recommend two names each for the posts of the EC chief and four election commissioners.
Later, the president, on the prime minister's advice, will appoint the EC chief and other commissioners.
This is the first time a search committee on EC formation is holding a meeting with civil society members, as the previous committee formed in 2012 did not do so.