Democrats sue Trump, Russia and WikiLeaks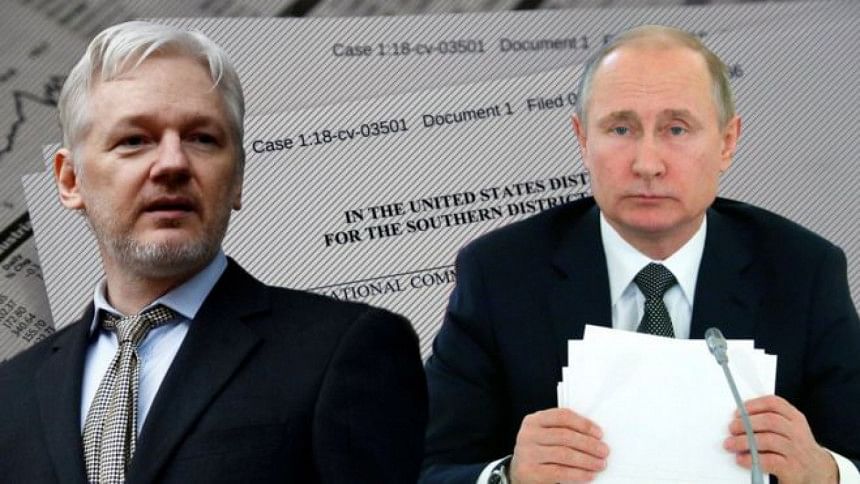 The Democratic Party filed a lawsuit Friday alleging that Russia, WikiLeaks and top officials from Donald Trump's campaign conspired to tilt the 2016 US presidential election in the Republican's favor.
The civil complaint filed in federal court in Manhattan by the Democratic National Committee alleges that Russia informed Trump's campaign that it had conducted a cyber attack on the DNC, leading to the release of information damaging to Trump's rival Hillary Clinton.
It also says a close Trump advisor, Roger Stone, appeared to have "advance knowledge" of plans by the anti-secrecy group WikiLeaks to disseminate some of the stolen information -- as part of what the suit alleges was a wide-ranging illegal conspiracy to influence the election.
Republican Party chair Ronna McDaniel called the lawsuit "a last-ditch effort by a bankrupt party still trying to cope with the fact that their candidate lost the 2016 election."
Trump tweeted that the lawsuit "can be good news in that we will now counter."
The Democrats allege that in a series of meetings and communications, Russian officials or representatives coordinated with Trump campaign personnel or associates for more than a year as they sought to lay the groundwork for a Trump upset.
"The Trump campaign and its agents gleefully welcomed Russia's help," according to the 66-page complaint, which demands monetary damages and a declaration that the defendants conspired illegally.
"The conspiracy constituted an act of previously unimaginable treachery: the campaign of the presidential nominee of a major party in league with a hostile foreign power to bolster its own chance to win the presidency," it added.
The lawsuit targets Trump's campaign, his son Donald Trump Jr, his son-in-law Jared Kushner and numerous campaign officials such as Paul Manafort, as well as the Russian government, including its foreign military intelligence agency, and WikiLeaks and its founder Julian Assange.
"During the 2016 presidential campaign, Russia launched an all-out assault on our democracy, and it found a willing and active partner in Donald Trump's campaign," DNC chairman Tom Perez said in a statement.
Detailed chronology
The Democratic move comes at a time of legal turmoil for the president, marked by a raid on the offices of his personal lawyer, and the release of a book by James Comey that alleges Trump was obsessed with the Russia meddling probe when he sacked the former FBI chief.
Special counsel Robert Mueller and congressional investigators are probing possible Trump campaign links to what US intelligence has concluded was a sweeping effort to tilt the 2016 vote in Trump's favor.
Trump has consistently rejected charges that he or his campaign colluded with Russia -- tweeting earlier this week about "the phony Russia investigation where, by the way, there was NO COLLUSION (except by the Dems)."
The complaint lays out a detailed chronology of activity largely in the public sphere, thanks to news reports and previous court proceedings.
The events include a June 2016 meeting in Trump Tower between members of Trump's team and a Russian lawyer, and a series of emails and messages that Democrats say confirm coordination between Russia and Trump's campaign.
Manafort, who has been indicted for money laundering and tax evasion related to his work for Ukraine's pro-Russia government, is also in the Democrats' spotlight, along with former campaign advisor George Papadopoulos, who tried to arrange a Moscow trip for Trump, and Aras Agalarov, a Russian oligarch with reputed close ties to President Vladimir Putin.
Whether the lawsuit heads to litigation is unclear. Many countries have immunity from US lawsuits, so suing Russia has its challenges.
While the suit seeks compensation for the "damages and losses" suffered as a result of the hack, putting a financial value on the stolen emails -- other than the $1 million the DNC said it cost the organization to re-secure its servers -- might prove difficult.