Gibson meets Khaleda, welcomes her move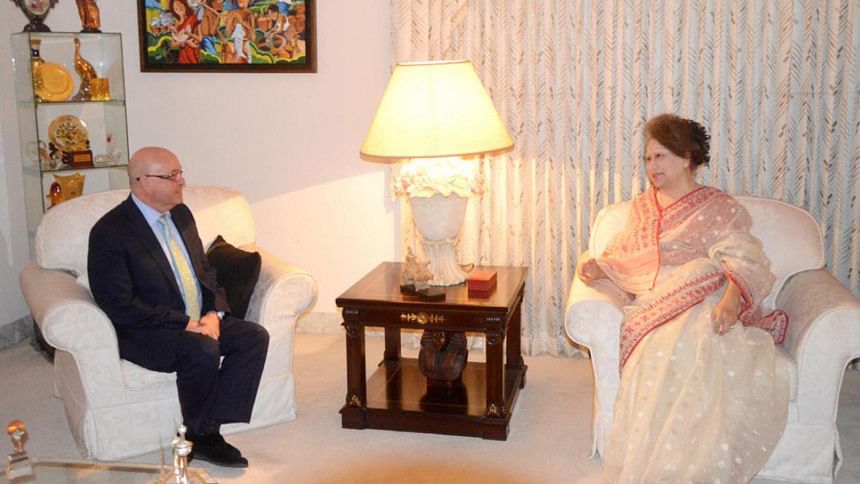 Two days into BNP chief Khaleda Zia's return to her house, she met British High Commissioner Robert Gibson and discussed Dhaka city corporation polls.
Robert Gibson hoped that the Bangladesh's Election Commission will play its due role in the management of the city polls through a statement after an hour-long unscheduled meeting with the BNP Chairperson Khaleda Zia at her Gulshan residence.
Gibson welcomed the BNP chief's decision to reduce tensions by returning to her home and expressed hope that other confidence building measures would follow, the statement reads.
He also welcomed BNP's decision to endorse candidates for the forthcoming city corporation elections allowing the electorate a real democratic choice and hoped that the campaign would be conducted without violence, it added.
Mentioning that that it was the responsibility of the Election Commission to ensure full compliance with all the rules and regulations, the statement said the High Commissioner anticipated that "the Election Commission would play its due role in the management of these elections".
Earlier, Gibson entered Khaleda's Khaleda's residence "Firoza' around 4:55pm and had an hour-long meeting with her.
BNP standing committee member Abdul Moyeen Khan and Khaleda's adviser Sabihuddin Ahmed were present at that time.
Talking to reporters about the meeting, Moyeen Khan said it was a courtesy call. "Various issues relating to the country's current political situation and political crisis were discussed at the meeting."
After 92 days of her stay in her Gulshan office, Khaleda returned to her residence on Sunday getting bail in two graft cases she was charged with.
It was the first meeting of any diplomat at her residence since she returned it.
Earlier on February 11, Gibson met Khaleda when she was said to be confined to her office.