Rohingya crisis: BNP stress for sanctions on Myanmar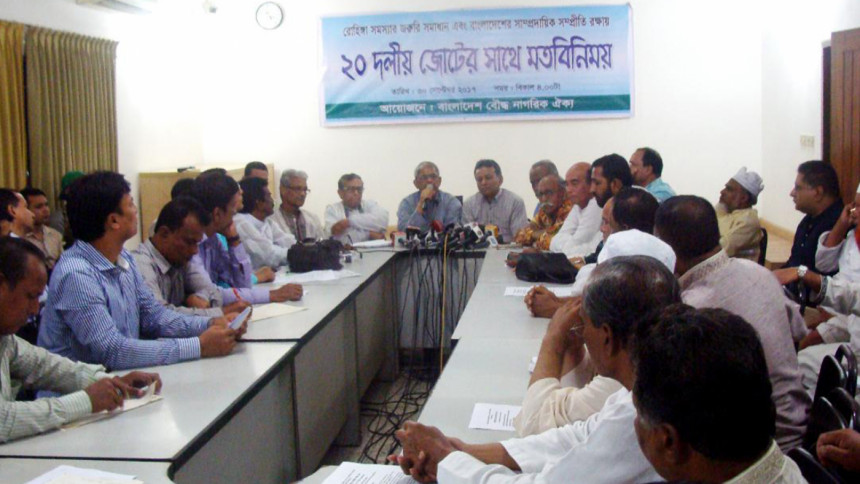 BNP Secretary General Mirza Fakhrul Islam Alamgir today called upon the external world to impose sanctions on Myanmar, compelling the country to resolve the Rohingya crisis. 
"A strong diplomatic pressure will have to be mounted on Myanmar after convincing the external world," Fakhrul said while addressing a press conference at the party Chairperson Khaleda Zia's Gulshan office in Dhaka this evening.
Earlier, he held a meeting with the representatives of Buddhist Nagorik Oikya and leaders of the 20-party alliance to discuss the Rohingya issue.
The BNP leader also reiterated his party's call to the government for forging a national unity ignoring hypocrisy to cope up with the Rohingya crisis. 
Criticising the government for its failure to convince India and China over the Rohingya issue, he said one-way friendship cannot bring any result.
"What a fantastic diplomacy and what a fantastic friendship it is! We are unfortunate as our all closest friends have stood beside Myanmar," he said.
Govt diplomatically helpless: Mosharraf 
Earlier in the day,  BNP Standing Committee Member Khandakar Mosharraf Hossain today slammed the government for its "diplomatic failure" in convincing India and China to mitigate the Rohingya crisis.
"The government can neither convince China nor India to solve the Rohingya crisis. It proves the government is diplomatically helpless," Mosharraf came up with remarks while addressing a discussion at the National Press Club in Dhaka.
After Chinese president visit to Bangladesh, Prime Minister Sheikh Hasina said the bilateral relation between the two countries reached a new height. After returning from India without any success, the prime minister termed the Bangladesh-India ties as high as the Himalayas, Mosharraf said.
"When we are facing Rohingya crisis, neither China nor India stand beside Bangladesh," Mosharraf said adding that the situation would be different if the government could have taken appropriate diplomatic efforts.
The BNP leader also expressed his disappointment as the UN Security Council ended its meeting without taking any resolution to peaceful end to the Rohingya crisis.
Mosharraf also underscored the need for imposing sanctions on Myanmar forcing the country to take back its Rohingya citizens fled to Bangladesh in the face of persecution.