BNP leader Aslam Chy arrested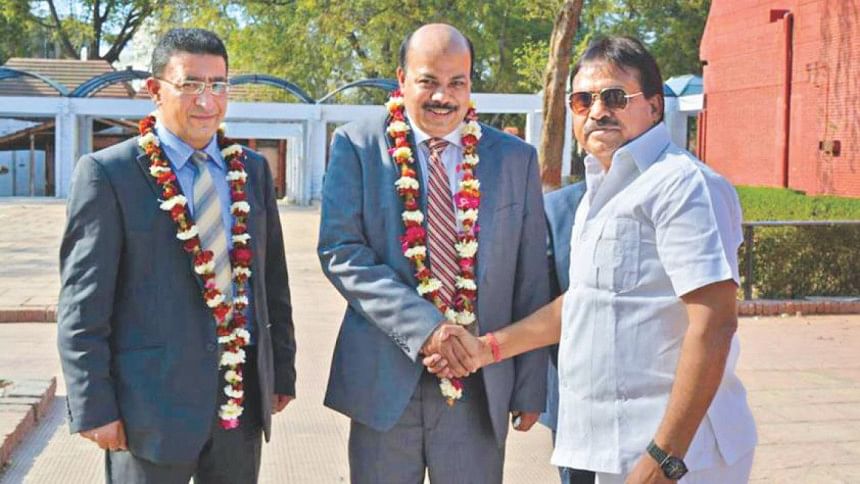 BNP's newly appointed Joint Secretary General Aslam Chowdhury was arrested in the capital for his alleged involvement in a oust-government plot this afternoon, hours after police authorities had announced that he would be arrested wherever he is seen.
Maruf Hossain Sorder, deputy commissioner (media) of Dhaka Metropolitan Police, confirmed The Daily Star about the arrest in Dhaka's Kuril area, which came at 5:30pm.
READ MORE: I met Israeli accidentally
Two other "accomplices" of Aslam Chowdhury were also arrested during the drive conducted by a team of detectives.
Police claimed that Aslam conspired with an Israeli politician to overthrow the Awami League-led government of Bangladesh. A photograph of him with the politician has recently been published.
Addressing a press conference earlier in the day at the CMP headquarters, Chittagong Metropolitan Police (CMP) Commissioner Iqbal Bahar said Aslam Chowdhury would be arrested wherever he is found.
A restriction was imposed on Aslam's travelling earlier, said the CMP commissioner.
Amid swirling controversy, Aslam admitted he met the Israeli politician but claimed the meeting was accidental.   
Recently, a Bangla daily ran a series of reports where it was alleged that the Bangladesh Nationalist Party (BNP) was involved in hatching a plot to topple the AL-led government by joining forces with an Israeli politician in New Delhi early this month.
The reports mentioned that Aslam met Mendi N Safadi in New Delhi earlier this month. The newspaper also published two photographs of Aslam and the Israeli leader.
Amid swirling controversy, Aslam has admitted he met the Israeli politician but claimed the meeting was accidental.  
ALSO READ: Friendship with Israel is 'political suicide'
Following the report, State Minister for Foreign Affairs Shahriar Alam and ruling Awami League leaders alleged that the BNP had been trying to come to power by using the Israeli intelligence agency.
Chittagong-based businessman Aslam came under severe criticism at the party's standing committee meeting on Monday.
In the face of strong criticism from the party's policymakers, BNP Chairperson Khaleda Zia on Tuesday warned Aslam that action would be taken against him if he repeated such acts in future, according to the party insiders.