BNP condemns sedition charges against Tarique
BNP condemns pressing of sedition charges against the party's senior vice-chairman Tarique Rahman, saying that it was an "unjustified and undemocratic move."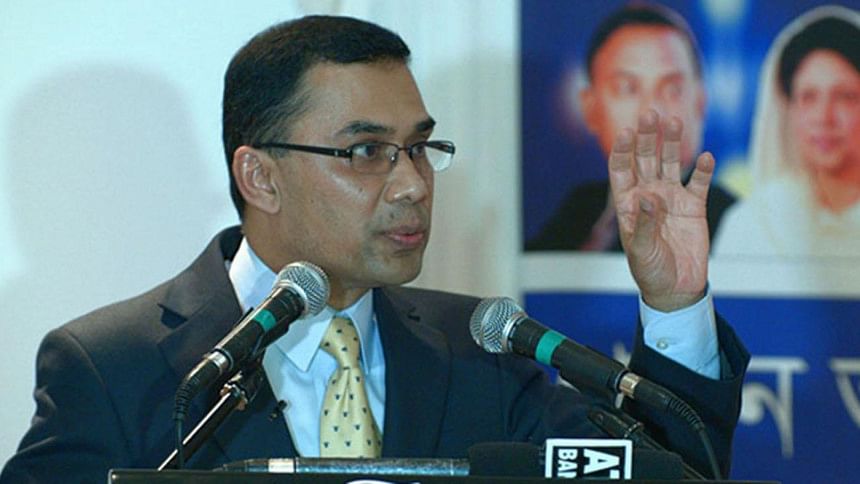 BNP today condemned the pressing of sedition charges against the party's senior vice-chairman Tarique Rahman, saying that it was an "unjustified and undemocratic move."
Addressing a briefing at the party's Naya Paltan central office, BNP Spokesperson Asaduzzaman Ripon said, "it can't be a logical step in any way to bring sedition charges against Tarique Rahman. BNP strongly opposes and denounces the move."
"We think the charges were brought against him [Tarique] as part of the government's evil efforts to harass him. It's an unjust, undemocratic and uncivilised move," Ripon, also an international affairs secretary of BNP said.
Detective Branch of Dhaka Metropolitan Police on Sunday submitted probe report against Tarique, elder son of Khaleda Zia in a sedition case filed for terming Bangabandhu Sheikh Mujibur Rahman 'Pakbandhu'.
Moshiur Rahman Malek, president of Bangabandhu Foundation filed the case on October 19 last year with the Chief Metropolitan Magistrate Court of Dhaka against Tarique.
In the case statement he said, Tarique termed Father of the Nation Sheikh Mujibur Rahman 'Pakbandhu' while Tarique was addressing a programme in London on September 29, 2014.
Defending Tarique's remarks, Ripon in the briefing said Tarique's remarks was not his own as he mentioned those with references from different books and articles on the Liberation War.
"If any sedition case is needed to file it should be lodged against the writers of those books and articles. Instead of doing that, the sedition charges were brought against Tarique Rahman. So, it's not a justified action," Ripon added.
He called upon the government to come to the path of national unity, shunning the political vengeance and repressive acts.