Intensify diplomatic effort to repatriate Rohingyas: Khaleda
Stresses strong diplomatic steps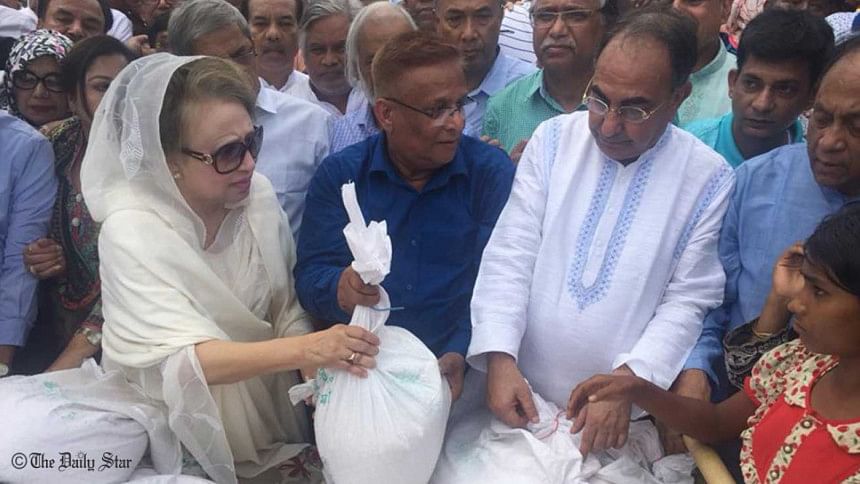 BNP Chairperson Khaleda Zia today called upon international communities and powerful countries to mount pressure on Myanmar to ensure safe return of Rohingyas, who fled to Bangladesh following persecution of Rakhine.
Khaleda Zia, also former prime minister, urged the government to intensify its diplomatic initiatives immediately to make the efforts a success.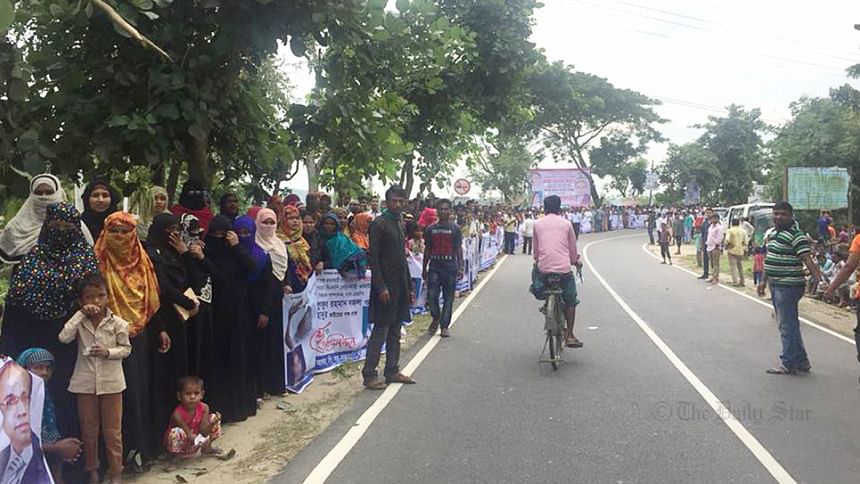 "Only condemnation and sympathy is not enough. Take steps immediately so that Rohingyas can return to their motherland safely," Khaleda said while distributing relief materials among Rohingyas at Moynargona camp in Ukhiya upazila in Cox's Bazar this afternoon.
Iterating that BNP government became able to send back Rohingyas to Myanmar in 1978 and 1992 through talks, Khaleda said strong diplomatic efforts and discussions with Myanmar are needed to resolve the issue.
"We believe that it's not possible to bear the burden of Rohingyas in Bangladesh for a long. The government must strengthen its efforts," she said.
Claiming that the relief work is not enough for the Rohingya people, Khaleda said, "We will continue our relief distribution programme as we can."
Urging the international community to take result-oriented steps, Khaleda reiterated, "Your words will go in vain unless appropriate action is not taken to deal with the crisis."
Mentioning that Bangladesh is a not rich country rather poor, small and densely populated country Khaleda Zia said, "The foreign countries will have to understand that our people are very kindhearted and sympathetic and thus we extended our supports to the Rohingyas." 
Khaleda Zia also called upon the Myanmar government to take back its Rohingya people immediately.
Expressing concern over the impact of Rohingyas in Bangladesh's environment and ecology, Khaleda said Bangladesh's environment and ecology is now under threat due to Rohingyas inhabitation and tree cutting by them.
Later, Khaleda visited Rohingya camps at Hakim Para, Balukhali and a medical camp set up by pro-BNP physicians' body, Doctors' Association of Bangladesh (DAB) at Ukhia.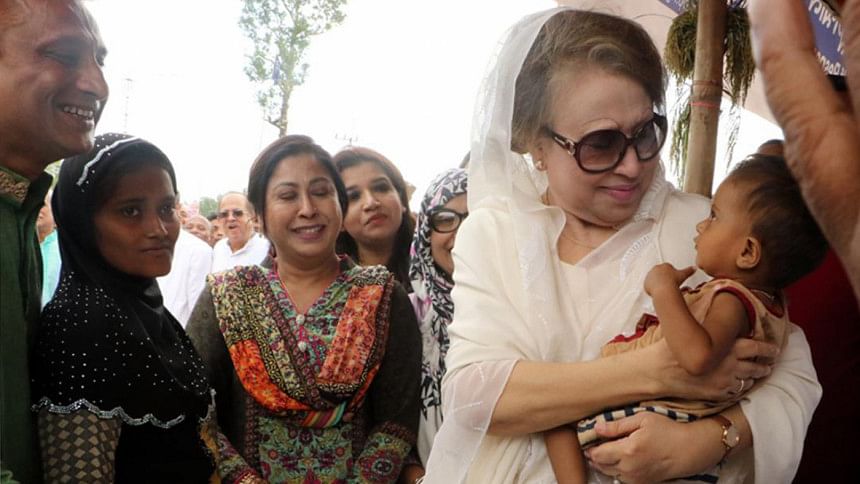 She talked to the Rohingyas and distributed relief materials there. She also handed over food, other goods and medicine for Rohingya children and lactating mothers to the DAB medical camp to distribute those among them.
When asked about the attack on her motorcade and journalists, Khaleda said, "It is a humanitarian programme. My motorcade came under attack and many journalists were injured. Government knows who launched the attack and their pictures were also seen by all."
"I hope government will stop such acts as it doesn't bring any good. I think steps should be taken so that we all can work together on humanitarian grounds to deal with the crisis," she said.
Khaleda Zia left Cox's Bazar circuit house 7:25pm and now on the way to Chittagong where she will stay overnight at the circuit house.