BNP picks 90 candidates for 53 constituencies in 3 divisions
Khaleda to contest for Bogura-6, 7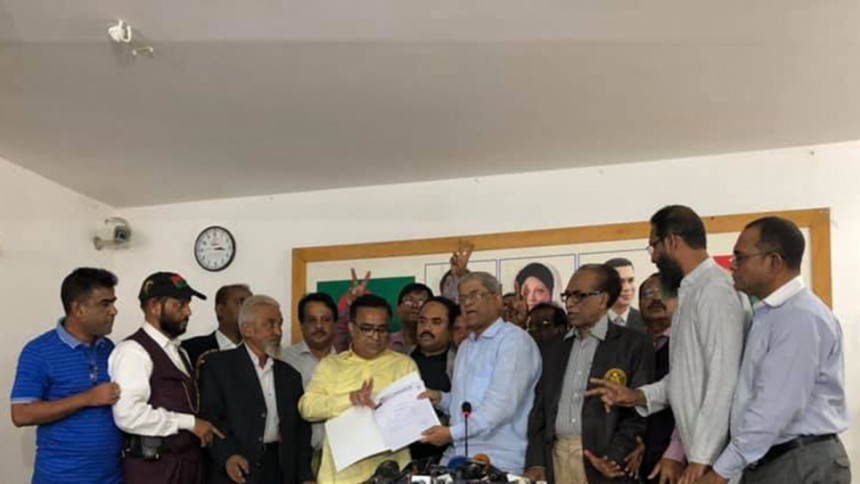 BNP has picked 90 candidates against 53 constituencies in Barishal, Rajshahi and Rangpur divisions to contest the 11th parliamentary election slated to be held on December 30.
BNP Secretary General Mirza Fakhrul Islam began handing out the party's nomination to chosen candidates this afternoon at its Gulshan office.
Here is the list of the candidates:
Barishal Division

Candidates

Barguna-1

Matiur Rahman Talukder/ Nazrul Islam Molla

Barguna-2

Nurul Islam Moni

Patuakhali-1

Air Vice Marshal (retd) Altaf Hossain Chowdhury

Patuakhali-2

Suraiya Akhter Chowdhury/ Shahidul AlamTalukder/Salma Alam

Patuakhali-3

Md Hasan Mahmud/ Md Shahjahan

Patuakhali-4

ABM Mosharraf Hossain/ Moniruzzaman Moni

Barishal-1

Zahiruddin Swapan/ Abdus Sobhan

Barishal-2

Moazzem Hossain Alal/Sharfuddin Swapan/Shahidul Hoque Jamal

Barishal-3

Ad Joynal Abedin/Selima Rahman

Barishal-4

Mejbauddin Farhad/Rajib Ahsan

Barishal-5

Mujibur Rahman Sarwar

Barishal-6

Abul Hossain Khan

Jhalakathi-1

Barrister Shahjahan Omar

Jhalakathi-2

Rafiqul Islam Jamal/Israt Jahan Elen Bhutto/Jeba Alam Khan

Pirojpur-3

Ruhul Amin Dulal

Bhola-1

 

Bhola-2

Hafiz Ibrahim/Rafikul Islam Moni

Bhola-3

Hafizuddin Ahmed/ Kamal Hosen

Bhola-4

Nazimuddin Alam/Md Nurul Islam

 

 

Rajshahi Division

Candidates

Naogaon-1

Saleque Chowdhury/Mustafizur Rahman

Naogaon-2

Shamshuzzoha Khan/Khaza Najibullah

Naogaon-3

Rabiul Alam Bulet/Parvej Arefin Siddique

Naogaon-4

Shamshul Alam Pramanik/Ekramul Bari Tipu

Naogaon-5

Jahidul Islam Dulu/Nazrul Haque Moni

Naogaon-6

Alamgir Kabir/Sheikh Rezaul Islam Rezu

Rajshahi-1

 

Rajshahi -2

Aminul Haque

 

Mizanur Rahman Minu/Shaheed Hasan

Rajshahi-3

Matiur Rahman Mantu/Shahidul Islam Milon

Rajshahi-4

Abu Hena/Abdul Gafur

Rajshahi-5

Nadim Mostafa/Nazrul Islam Mandal

Rajshahi-6

Abu Sayeed Chan

Chapainababganj-1

Md Shahjahan Mia/Belal Baki Idrisee

Chapainababganj-2

Anwarul Islam

Chapainababganj-3

 

Sirajganj-1

Abdul Wahed/Harun-Ur-Rashid

 

Rumana Islam Kanak Chapa 

 

 

Rangpur

Candidates

Dinajpur-1

Manzurul Islam/Mamunur Rashid

Dinajpur-2

Sahdique Riaz/Mamunur Rashid

Dinajpur-3

Syed Jahangir/Mazharul Dolon

Dinajpur-4

Hafiz/Akhtaruzzaman Mia

Dinajpur-5

Rejuanul Haque/ Bachhu

Dinajpur-6

Lutfar Rahman Azad/Shaheen

Rangpur-1

Mosharraf Hosen Sujan

Rangpur-2

Wahiduzzaman Mamun/ Mozaffar Ali

Rangpur-3

Rita Rahman(PPB)/ Mozaffar Ahmad

Rangpur-4

Emdadul Huq Bharosa

Rangpur-5

Solayman Alam/ Dr Mamtaz

Rangpur-6

Saiful Islam

Lalmonirhat-3

Asadul Habib Dulu

Kurigram-1

Abul Hasnat Kaykobad

Kurigram-2

Abu Bakar Siddique

Kurigram-3

Tajbhirul Islam/Abdul Khalek

Kurigram-4

 

Nilphamari-4

Azizur Rahman/Mokhlesur Rahman

 

Baby Nazneen 
Earlier this noon, the party started distribution of nomination letters at its' Gulshan office with BNP chairperson Khaleda Zia, who will contest for Bogura-6 and Bogura-7 constituencies in the upcoming general election.
HOW MANY CANDIDATES DID AL PICK?
Yesterday, Awami League handed out nomination letters to 248 aspirants picking around 50 new faces to run for the upcoming parliamentary polls and dropping 38 MPs.
The party said it has kept some 70 seats for allies including Jatiya Party, the main opposition in the current parliament. The final decision may come today.
WHEN IS THE ELECTION?
Election Commission has revised polls schedule, deferring the 11th general election by a week to December 30 – a decision taken on November 12.
The authorities have fixed November 28 as the deadline for filing nomination papers, December 2 for scrutiny and December 9 last date of withdrawal.
The move came following demands from several opposition political parties.