'Bangladesh still bears stigma of Bangabandhu's killing'
Says law minister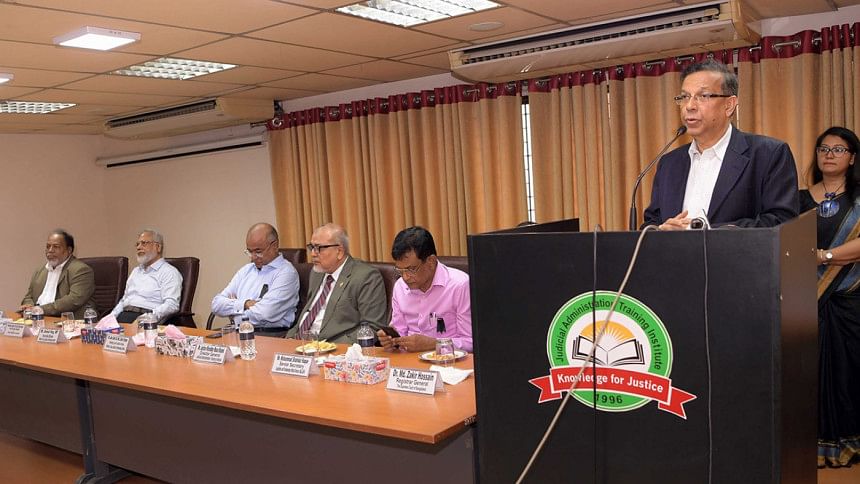 Law Minister Anisul Huq today said Bangladesh has yet to become free from the stigma of Bangabandhu Sheikh Mujibur Rahman's killing although the trial of the incident of his murder has been finished.
The stigma will be removed only when Bangladesh will be built as a Sonar Bangla as dreamed by Bangabandhu Sheikh Mujibur Rahman, he said, adding that Bangabandhu had lived for 55 years and he had sacrificed everything for the country throughout his life. 
He made the remark while presiding over a meeting on the occasion of farewell of Law and Justice Secretary ASSM Zahirul Haque Dulal at Judicial Administration Training Institute (JATI) in Dhaka.
The law minister said Zahirul Haque Dulal, who believes in the spirit of the Liberation War and in the independence of the country, has never compromised against the interest of the country.
Law Commission's Chairman Justice ABM Khairul Haque, JATI Director General Justice Khondker Musa Khaled, Legislative and Parliamentary Affairs Secretary Mohammad Shahidul Haque, Supreme Court Registrar General Dr Md Zakir Hossain and Inspector General of Registration Khan Md Abdul Mannan, among others, spoke to the occasion.