Govt, ACC file leave-to-appeal petitions against Khaleda bail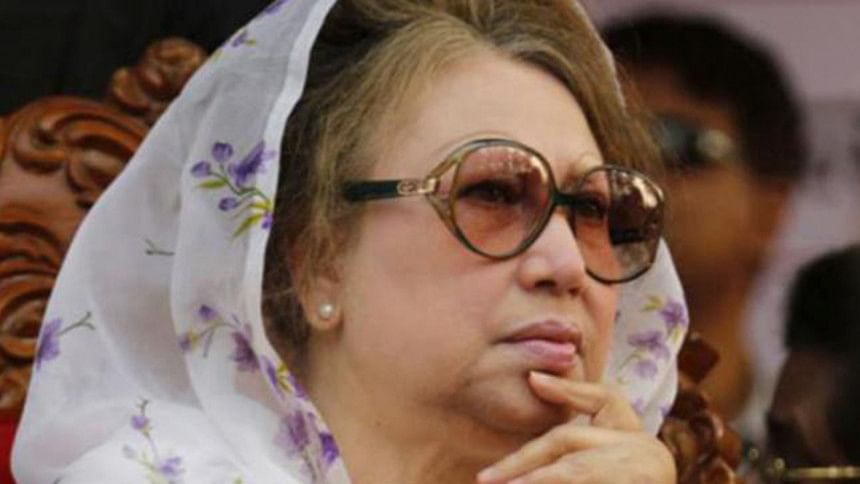 The government and the Anti-Corruption Commission today filed separate leave-to-appeal petitions with the Supreme Court challenging the High Court order that granted bail to BNP chairperson Khaleda Zia in the Zia Orphanage Trust Corruption case.
The attorney general's office and the ACC both submitted separate petitions seeking extension of the Supreme Court order that stayed the High Court order of bail to Khaleda till Sunday.
Citing from the petition filed by the government, Deputy Attorney General Ekramul Haque Tutul told The Daily Star that the lower court has found Khaleda guilty of misappropriating the money and it sentenced her to five years' imprisonment considering her old age, sickness and social status.
Therefore, there is no scope for granting bail to Khaleda Zia on these grounds, he said.
DAG Tutul also said the Supreme Court will also hold hearing on the leave-to-appeal petition on Sunday.
Meanwhile, ACC Lawyer Advocate Khurshid Alam Khan told The Daily Star citing from the petition, that Khaleda did not submit any medical certificate in support of her claim that she has been suffering from various diseases.
"Khaleda Zia has misused bail as she went abroad during the trial proceeding for the case before the lower court," Advocate Khurshid said.
The ACC lawyer also said, Khaleda was sentenced to five years' imprisonment in the case which is not a short sentence and she cannot be granted bail on this ground.
The SC may hold hearing on the leave-to-appeal petition filed by ACC on next Sunday, the lawyer added.
The HC last Monday granted 4 months' bail to Khaleda in Zia Orphanage Trust corruption case in which she was convicted and sentenced to five years' imprisonment. She was given bail on four grounds: a short sentencing of five years, health condition, her facing trial proceedings and that the case records have reached the High Court.
Following two separate petitions filed by the ACC and the government the SC on March 14 stayed the HC order of bail till Sunday. The apex court also asked the ACC and government to file separate leave-to-appeal petitions with this court against the HC order by Sunday.