Xi Jinping's milestone visit: transforming dynamics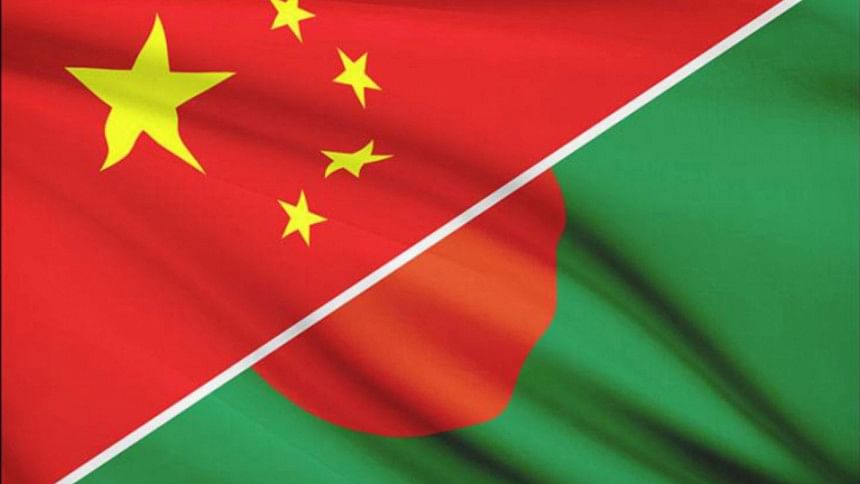 Chinese President Xi Jinping, considered by many as the most powerful leader in China after Mao Zedong, arrived in Dhaka on his milestone visit to Bangladesh on Friday, October 14, about half an hour before the mid-day stroke of the clock; and only a couple of hours later he and Bangladesh Prime Minister Sheikh Hasina were together witnessing China's signing of the largest investment deals yet concluded by Bangladesh with any single country at the latter's office. China signed 27 deals worth USD 24.45 billion with Bangladesh to provide soft loans for some key infrastructural, power and energy, and other projects. And even as the two leaders were attending the deal signing ceremony, at a different hotel in Dhaka, 13 Chinese companies and as many Bangladeshi entities inked 13 joint venture agreements involving USD 13.6 billion of Chinese investment in Bangladesh to promote bilateral trade. The investment pledges that together amounted to USD 38.05 billion caught most Bangladeshis by surprise. It is heartening to note that all political parties hailed the huge investments pledged by China. And our business community was overjoyed.  
It has been the first Bangladesh visit by a Chinese president in 30 years since the visit of then president Li Xiannian to Dhaka in March 1986. True, the people of Bangladesh had expected big pledges from the Chinese President during his much awaited visit. But most people were not confident that the investments would be really so big, so staggering. Apart from signing the deals, the two countries used the occasion to upgrade their ties of strategic partnership, which was indeed essential to infuse requisite synergy into the further deepened and expanded bilateral relations, following the massive investment deals between China and Bangladesh. 'Strategic relationship' signifies more intensive engagements and consultations, and heightened coordination and cooperation on all issues  of mutual interest – including counter-terrorism, counter-piracy, and other security issues – at bilateral, regional and global levels. And all those initiatives will have nothing clandestine about them. Noteworthy here is the fact that China has strategic partnership with India and Pakistan too.
The two countries have agreed to work together for the implementation of the OBOR project and the BCIM-EC, a south-running offshoot of the new Silk Road Economic Belt (SREB). The OBOR project, masterminded by Xi Jinping himself, would prove beneficial to all the countries along the belt and the 21st Century Maritime Silk Road. These international connectivity projects, President Xi's brainchild, are meant to open up China's vast land-locked central and western regions to the outside world and financially integrate them to the countries of Central Asia, South Asia, the Middle East, Africa and Europe in mutual benefit. AIIB and BRICS Bank are two other international cooperative initiatives launched by President Xi's China in the interest of economic integration and collective socioeconomic development of the countries across the world. And a by-product of all this would be China's enhanced positive image and political clout across countries and continents. 
With improved regional connectivity and transportation network, Bangladesh's trade would receive a major boost; and these would accelerate her march towards her goals of becoming an upper middle income country by 2021; and a developed and prosperous one by 2041. 
This visit of President Xi will definitely go down in the annals of Bangladesh-China bilateral relations as a major event that marked, to quote the president himself, "a new historical starting point." These large investments from China and the prospect for more in the course of time have indeed ushered in a new era for the Sino-Bangladesh ties; and these investments will spark new dynamics in the two countries' cooperative relations and engagements, which will lift them to a much higher trajectory. Consequently, it will yield and expedite further socioeconomic progress in Bangladesh. Thus far, the entire Bangladesh has remained Dhaka-centric. We may now witness the rise of Chittagong as a mega-city with two wings, one on either side of the river Karnaphuli, upon the completion of the multi-lane tunnel project under the river. Chittagong can truly develop as the financial capital of the country; and with such further loans from abroad in addition to our own national income, the whole of Bangladesh may be transformed into a vast city state over the next three decades or so. For a healthy growth of that vast city state, free from filthy and unliveable urban slums, Bangladesh needs continuous economic and technical assistance from her capable friends. We hope the massive Chinese investments will inspire other countries to choose Bangladesh as their investment destination. 
Many countries across the globe, especially in Asia, Africa and Latin America, were wallowing in poverty for lack of funds needed for socioeconomic development. China, with its enormous capacity for extending loans, is providing critical funds to many of those countries. It has extended a helping hand in mutual benefit and in a win-win situation, but with no hegemonic strings attached. China's history does not prove it particularly expansionist. It has generally preferred to remain within its frontiers, except during the Yuan dynasty when basically the Mongol Khans ruled over China and extended their empire across West Asia and parts of Europe.  
Opportunities do not always present themselves to be seized. They sometimes only briefly and softly knock at the door. If you do not respond, you miss the boat. Asian countries are generally doing very well economically, in sharp contrast to stagnation or very slow growth in the West. The current century is styled "the China-led Asian Century". Asia is in the limelight and is holding the global attention. Almost all our neighbouring and regional countries are prospering well. India is one of the fastest growing major countries. Even Myanmar is doing very well and is poised to attain 8.4 percent growth in the current fiscal year (April 2016 - March 2017), despite the fact that they are just emerging from protracted and atrophying junta rule. In FY2015-2016, Myanmar received an FDI of USD 9 billion, and the total amount of the FDI received by it from 1988 to 2015 was around USD 60 billion. 
We cannot afford to lag behind. We need technology, and we need requisite funds from abroad for further development of our country. And at the moment, it is only China that has the capability to provide us with funds as large as we have seen them pledge during the just concluded visit of President Xi. We must avail ourselves of development funds and we must be able to utilise them to materialise our cherished dream of a poverty-free, enlightened, knowledge-based, peaceful, non-communal and truly prosperous Bangladesh.
These huge investments from China and other recent investments from countries like Japan and India bear testimony to the confidence those countries repose in our government; and are also indicative of its success in conducting the country's foreign policy with tact and acumen.  
There are, however, a host of formidable challenges. Terrorism, militancy, religious extremism, communalism, sectarianism, inordinate delays in implementation of the projects, lack of trained, efficient and skilled manpower, unplanned and uncontrolled growth of the population, as well as political unrest and instability, etc, could cause serious impediments to the implementation of the projects within stipulated time-frames. The government will need to continue addressing these challenges to ensure reaping benefits from these staggering foreign investments. 
The writer is a former Bangladesh Ambassador to China.