Why maternal mortality is not declining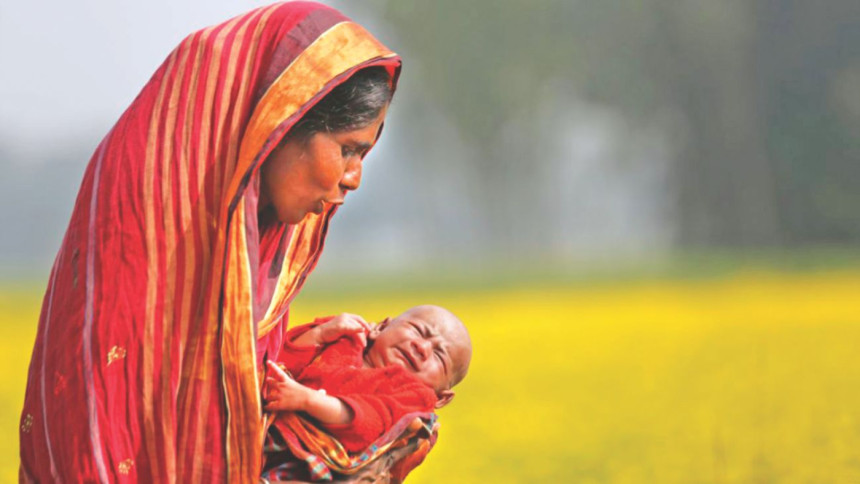 Maternal mortality has not declined in Bangladesh. The 2016 Bangladesh Maternal Mortality Survey (BMMS), the third of its kind, revealed that the current maternal mortality ratio (MMR) is 196 per 100,000 live births, which was 194 in 2010. The survey indicates not only the performance of our health sector; it also reflects poorly on how women are treated in our society.
The survey was conducted by the National Institute of Population Research and Training (NIPORT) under the Ministry of Health and Family Welfare with technical support from international agencies. It involved a massive scientific investigation collecting data from 300,000 households all over the country. Unfortunately, since the embarrassing results of the survey were made public, there has been little effort from the ministry officials other than denying the stall in MMR decline. No substantive counterargument was presented either.
Bangladesh's recent progress in health indicators has been impressive. We achieved the Millennium Development Goal 4 related to child survival. Over the last seven years, delivery in health facilities and care-seeking interventions in maternal complications increased significantly. Unfortunately, these achievements have not translated into a reduction in maternal mortality, leaving Bangladesh perplexed in a paradox. Citing global lessons, experts had earlier cautioned that "business as usual" and dependence on contextual factors only (like education, communication, remittance, etc.) would not work for the last mile, and such a stalling effect could happen. The ministry did not heed the warning, and consequently, 42,000 mothers died in the last seven years. These deaths are unacceptable because 90 percent of them were preventable.   
There are plausible reasons to believe that our health system has grossly underperformed in at least four areas that contributed to the current situation.
Vast majority of mothers are still deprived of essential care
More than half of the maternal deaths are due to haemorrhage and eclampsia. Solutions are known and financial provisions are available in the health sector programme. We simply failed to deliver. For example, every mother needs to consume two tablets of misoprostol within 10 minutes of delivery and that should substantially prevent postpartum haemorrhage. Only 17 percent of the mothers have received this so far. Despite having a large fleet of more than 150,000 health workers, both from the government and non-government organisations, the system failed to reach the mothers with tablets that would cost Tk 24 only. What is evident is the lack of prioritisation, proper planning, insincerity of the health workers, and inefficiency of the managers of different levels. This is just one of many similar examples.       
Health facilities are not equipped to provide standard care
Be it public or private, health facilities largely do not meet quality standards. Only 3 percent of all facilities meet minimal standards of normal delivery care. Shortage of appropriately trained manpower, absence of manuals and guidelines, and lack of equipment and essential drugs impede quality care. Only 39 percent of the facilities have doctors available 24 hours to provide life-saving emergency obstetric care (EmOC). While a woman can die of haemorrhage within two hours, the huge number of health human resources are simply not available at the right time in the right place. Aspirations for reduction in maternal mortality thus remain elusive.
Fundamentals of maternal health programming are not prioritised
Fifty-three percent of our mothers give birth at home. It's hard to provide them with standard care and support unless they are brought under high-quality facility level care. Only three percent of those mothers receive skilled care at home, leaving the vast majority with no one to help if any complications arise. We have not yet been able to establish a functional referral system which is a key prerequisite to EmOC. As a result, maternal deaths taking place on the way to a hospital have risen to 19 percent from 13 percent in 2010.
In order to ensure referral-level care, we need round-the-clock presence of specialists to perform emergency caesarean section at the EmOC centres, many of which are now non-functional owing mainly to non-availability of anaesthesiologists. While more than a hundred countries in the world allow nurses to be trained to provide limited anaesthesia, the Ministry of Health and Family Welfare hasn't yet done so.
Accountability is absent
Mothers have died in their thousands—and they still are—from preventable causes, and yet no one is held accountable. It's rare to find a health system that has near-zero accountability like ours. The ever-rising tendency for unnecessary caesarean section is a perfect example. As opposed to a WHO recommended maximum range of 15 percent, our C-section rate is now 31 percent of which three-fourths are unnecessary. Public or private, the health sector falls far short of being "regulated."    
Bits and pieces of maternal health interventions, best practices, skills, and strategies are available in the country. What's absent is ambition, strategic thinking to connect the discrete dots, and most importantly, action on the ground. It appears that the health leadership failed to understand the "business unusual" needed for the last mile towards ending preventable maternal deaths by 2030, as have been committed by nations of the world including us.
---
Ishtiaq Mannan is a public health specialist.
---
Follow

The Daily Star Opinion

on Facebook for the latest opinions, commentaries and analyses by experts and professionals.
To contribute your article or letter to The Daily Star Opinion, see our

guidelines for submission

.
---