The courage and strength within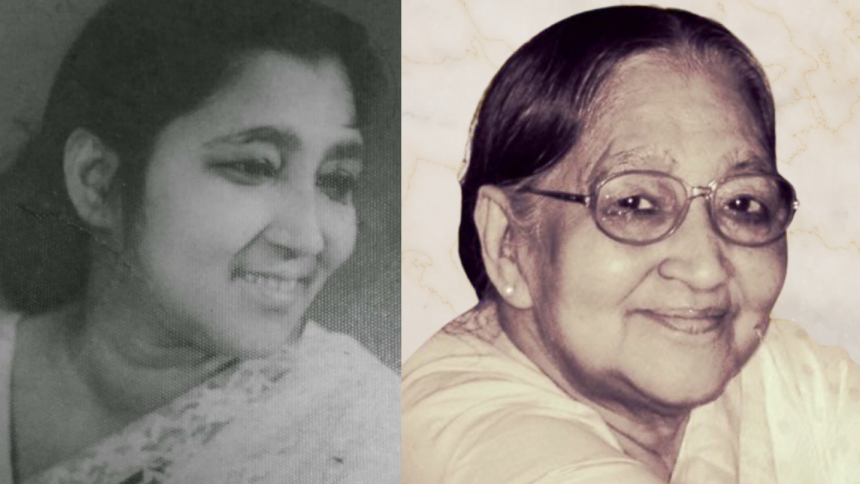 She loved Toblerone and KitKat chocolates. At the age of 90-plus years, there was still a twinkle in her eyes when she enjoyed a naughty joke with her beloved grandchildren.
Mrs Musleha Islam, known to many as Bucchu Apa, Khala, Nani, and Dadi, was born in an Urdu-speaking family in Kolkata. She was married to a Bangla-speaking man named Farukul Islam, from Sirajganj, who only spoke broken Urdu while she spoke no Bangla at all. He was 18 years older than her, and he loved and protected her from the outside world till he passed away, leaving her a widow at the age of 29, with four children to take care of.
Thus started the struggles and triumph of an amazing woman who I am so privileged to call my mother. She was an adored and sheltered housewife, content in running her household and taking care of her family. Cooking delicious meals and entertaining family and friends were her favourite pastimes. The demise of my father in 1959 left her shell-shocked, and she bore the weight of that tragedy with pain and grief till her demise at the age of 93 on August 5, 2021.
However, the tragedy could not break her; defying all odds, she stood up to meet the challenge of raising all four of her children alone and living independently. Her resolve was heroic as she vowed to let nothing come in the way of her children's upbringing, education, and well-being. I remember the many personal sacrifices she made to keep us comfortable. This sheltered housewife, with the help of my father's nephew, Moinul Islam, built a house in Dhanmondi, rented it out and raised us. Such was her resolve to give us a comfortable independent life that she even went out personally to buy bricks and rods for the building. She was determined to protect us from the many insults that fatherless children face in our society.
In remembering my mother, I want to pay tribute to the countless mothers in our society who face similar situations and overcome all odds with courage and determination. We have heard about the mother of a famous Rabindra Sangeet singer, who raised 10 children by stitching and selling kantha after her husband was killed in 1971. The same story is true of the mother of a famous writer, who was also left a widow during the Liberation War and raised her four children alone. However, there are countless mothers around us who remain unknown and unrecognised for the many sacrifices they make for their families. The fact is, women in our society are capable of demonstrating amazing courage and strength when their families need them. These are ordinary women who show extraordinary strength, and are willing to go to any length to protect their children. My mother was one such woman.
She never received a formal education, yet knew what the two most important assets for our future well-being were. She chose sound health and good education. She made sure that we had a balanced diet and insisted on a good breakfast (which I hated); she fed us soup made from bones and forced us to take cod liver oil capsules all winter. Our present health and natural immunity is due to her intuitive knowledge of nutrition. As for education, she sacrificed all luxuries in life, but insisted that we go to the best schools and never compromised on our studies. As part of our overall education, she inculcated in us the values of compassion, honesty, and integrity.
For me, what set my mother apart was her commitment to gender equality. I was the only girl in the family, with three brothers. She never made me feel in any way less important than my brothers; in fact, I was given special treatment for being the "only girl in the family" and was never deprived of any opportunities that my brothers had. She encouraged me to excel in whatever I did. She was indeed the first feminist in my life, who gave me the confidence to believe that being a female, I was equal and important like everyone else. She taught me the skills she thought would give me a head start in life. I enjoyed doing traditional "girl" things like cooking, sewing, and taking care of my younger brothers as much as I did cycling, reading, climbing up trees, and even getting into physical fights with my cousins and brothers.
My mother was deeply religious and believed in justice and standing up for what was right. That is why, during the Liberation War in 1971, she did not hesitate to let us join the war efforts and even assisted us in many ways. Our house at Road 4 in Dhanmondi became a place to store blankets, medicine, etc for our Mukti Bahini. It was a sanctuary and a meeting place for urban guerrilla fighters. Members of the famous Crack Platoon were welcomed with her ever warm smile, food, and at least a cup of tea. She even allowed them to store rifles and grenades in her backyard, which the enemy eventually got wind of. She showed such unbelievable wit and courage when my youngest brother Rizwan was taken away by the Pakistan Army for interrogation on the morning of August 30, 1971. Our house was raided as the army came to know our brother Wasif Islam's involvement in the war. She successfully negotiated his release and saved him. I was present at the scene and, seeing her determined face, knew that the Pakistani captain raiding our house would not be able to take my brother away from us.
Another aspect of her personality was her ability to forgive. Throughout her life, many had betrayed her. Close family members and trusted people tried to deprive us of the income and financial security that our father had left behind. Even in the face of immense hardship, she forgave them and taught us the value of forgiveness, and to be grateful for whatever we had.
Such was her positive attitude towards life that she seldom spoke or complained about the many physical challenges she faced during the latter part of her life. On the other hand, she always made an effort to look her best in her ironed cotton saree, greeting her loved ones with her beautiful smile and warm embrace. She was loved and admired by her extended family, sisters, nieces, and nephews, as well as our friends who often sought her company beyond ours. But her unconditional love was reserved for her nine grandchildren and five great-grandchildren, who were her pride and joy till the end of her life.
She faced life and all its adversaries with courage, compassion and wisdom. I want to end by paying tribute to all mothers like her by saying, "Thank you, we are who we are today because of you; you have blessed us with your presence in our lives."
Shaheen Anam is the executive director of Manusher Jonno Foundation (MJF).