What Bangladesh needs to consider before devaluing the taka further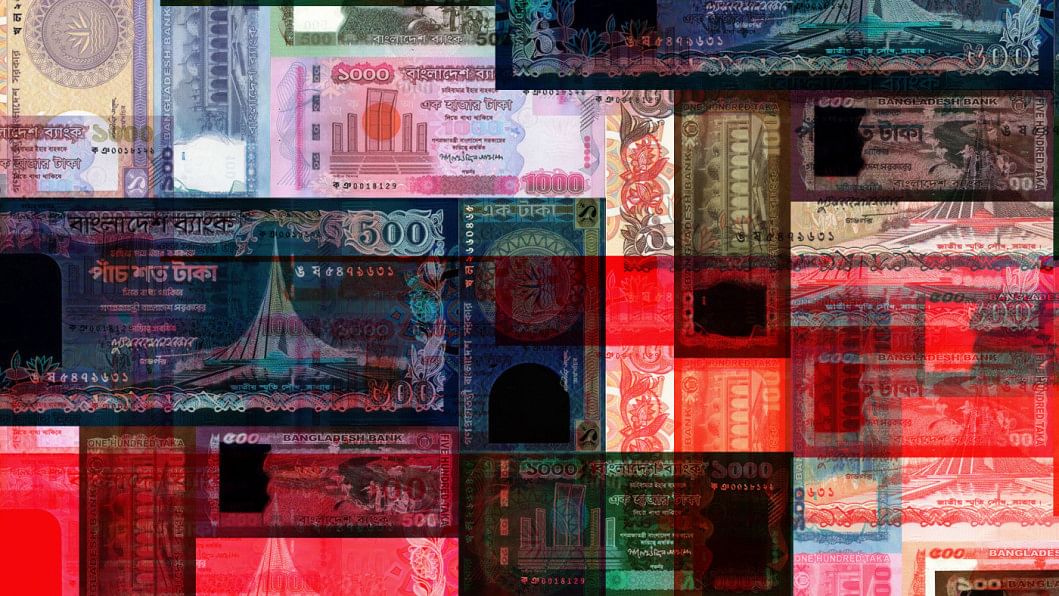 One of the hottest global news items right now is the effect of the dollar's strength on local currencies and on everyday life. Bangladesh loosened its grip on its currency and allowed the taka to weaken to a record low to preserve dwindling dollars. Like many other countries in the developing world, Bangladesh is dependent on imports, and the high cost of the US dollar is creating a drain on dollar reserves and pushing up the price of essential goods. There is hardly a single item in the country that has not been affected.
The US dollar, one of four reserve currencies in the global financial system, is now at its highest in 20 years. The strong dollar and high interest rates in the US, UK, and other countries are "wreaking havoc" around the world, exporting inflation, forcing developing countries to raise their own interest rates, and leading to capital outflows. Bangladesh, like others, may soon face difficulties in the sphere of debt repayment.
Although Bangladesh Bank (BB) puts the official dollar rate at Tk 95, it reached its highest peak in history in the kerb or open market when it hit Tk 119.9 on August 10, and the dollar rate difference between the Bangladeshi interbank channel and kerb market became Tk 25. The trade deficit widened to USD 27.2 billion in the July 2021-May 2022 period as imports surged to nearly USD 59 billion, while exports rose at a slower pace to USD 31.5 billion.
The government and monetary authorities now face a dilemma. How much should they adjust the taka to dollar exchange rate, and how fast? The decision has been up in the air for quite a while, and economists, business groups, and other stakeholders have joined the chorus, sometimes offering divergent views on the matter.
The negative effect of any devaluation is felt immediately by importers, who now have to recover higher costs of the items they sell by raising prices or taking a cut on their profits. If you are in a competitive market, where imported goods vie with domestic products (as is the case of many electronic goods), the higher cost of imported goods results in reduced demand for the imported item and boosts the sale of local substitutes. The moral of this story is, devaluation helps domestic industries and facilitates "import substitution," providing a boost for exporters.
Local reactions to fast and steep devaluation are expected to be mixed. "Devaluation of taka should be gradual" was the call made by Mostafa Kamal of Meghna Group of Industries. He and some other businesspeople have cautioned the government against drastic action, arguing currency depreciation might "have a huge impact on every sphere of the economy and life."
His view was echoed by many others I spoke to. One businessman, who sells Microsoft products, reported that the price of an MS Windows license has already jumped since March 2022 by Tk 3,000-4,000. The members of the FBCCI are openly voicing their concerns regarding the increase in the interbank price of the dollar from Tk 84 to Tk 108.
Domestically, inflation has caught families with fixed budgets completely off-guard. Even utilities are becoming costlier. After the gas price hike, a proposal to raise electricity tariffs by 66 percent has been submitted. The Bangladesh Energy Regulatory Committee has suggested a 58 percent raise for per unit power.
Former BB governor Dr Salehuddin Ahmed, on the other hand, joined many economists in calling for quick action on adjusting the value of the taka against the dollar to reflect market realities. "It is time to think about inflation, our competitiveness and exchange rate," he said recently. "The wait-and-see policy will not bring any good. Crises snowballed in Sri Lanka over the last four to five years as the country did not act properly to set things right. I wish Bangladesh will not walk the same path."
Nonetheless, a careful assessment shows that devaluation will hurt the average consumers sharply and will only add marginally to our export earnings. One RMG exporter who was in the US recently told me that the recent down-swing in exports is transitional and will pick up once the war in Ukraine reaches a steady state and US importers take stock of market conditions, particularly the inventory on hand.
Bangladesh is dependent on imports; during the first eight months of 2022, it imported goods worth USD 50.2 billion. Of this amount, essential commodities account for 72 percent: USD 5.67 billion for food commodities, 4.41 billion for intermediate goods, 19.28 billion for industrial raw materials and 4.46 billion for petroleum products.
The taka has been devalued against the dollar in seven steps this year. This measure adds to the cost of business. The Bangladesh Bank has resisted mounting pressures on the taka for a while, but it is increasingly running out of options. The exchange rate of the dollar against the Bangladeshi taka was Tk 84.9 on January 1, 2020. On August 15, 2022, the rate went up and is currently Tk 95, with a decline of the value of the taka by 12 percent. While this is a significant decrease, the currency has held up better than many others. Currencies of the world's top economies, as well as those of our neighbouring countries, have lost their value against the US dollar. India has spent more than 10 percent of its reserves on interventions in the foreign exchange market, which are down USD 27 billion.
There is a silver lining in this bleak scenario. The BB has taken several steps to stem demand for foreign exchange and curb inflation – by raising the repo rate, raising the deposit margin on letters of credit of imports of non-essential items, and restrictions on imports of luxury items. The government has decided to go slow on major projects to manage the import bill of construction materials and hardware.
Going forward, Bangladesh Bank can consider a policy regime where exchange rate interventions will not be needed on a regular basis. The Nobel Prize-winning economist Paul Krugman had proposed a system where a currency can float a little above and a little below a target rate within a narrow band. This system, also known as "broad target zones," and followed by China among others, would require market intervention only if the market rate drifts far away from the "fix," an exchange rate set by Bangladesh Bank.
Dr Abdullah Shibli is an economist and works for Change Healthcare, Inc., an information technology company. He also serves as senior research fellow at the US-based International Sustainable Development Institute (ISDI).