Education minister's comments against bigotry are commendable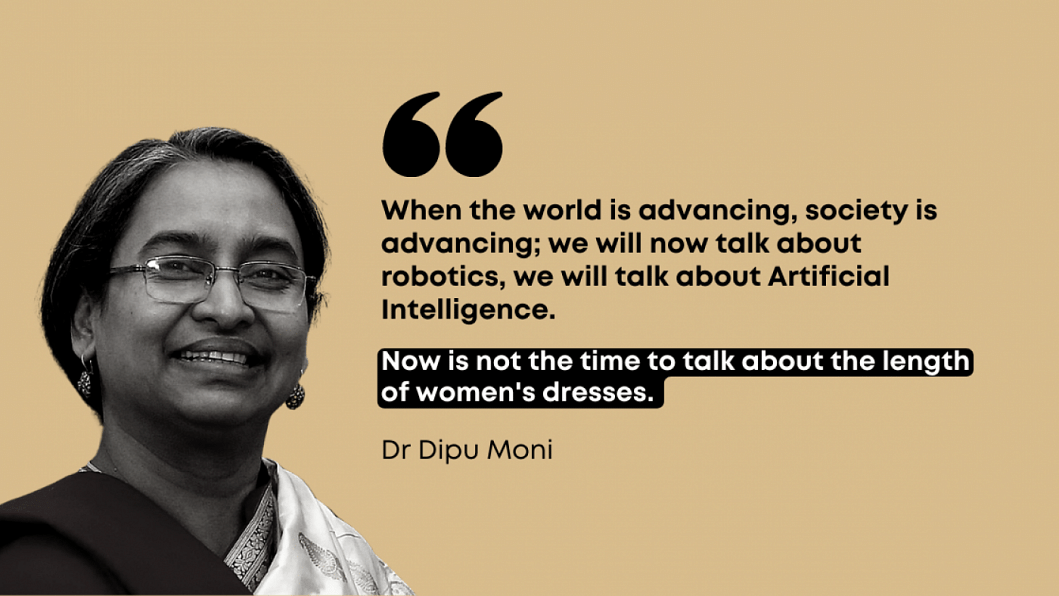 It is not always that we see a politician making comments that criticise misogyny and bigotry. In fact, in many cases, we see politicians taking the road to the appeasement of groups they consider either politically expedient or too difficult to control. Which makes the comments of Education Minister Dipu Moni all the more refreshing.
Reacting, no doubt, to the recent demonstration by a group of university students holding placards with such crass messages as asking women not to wear "short clothes" that served to seduce men and turn women into products, she quipped that at a time when the world was advancing so fast, we as a society should be talking about robotics and artificial intelligence – not about the length and breadth of (women's) attires. She also referred to the "teep" controversy and mentioned the communal trends that were a threat to democracy.
The fact that she brought up such prickly issues and critiqued them with logic is quite rare in our present times, when politicians are either too busy trying to outdo each other in obsequious flattery of their leader, or making the most bizarre gaffes in public. She tried to point out how culture dominates a region, "Am I a Bangalee first or am I a Muslim first? I am both." Muslims in Bangladesh have "holud" (a Bangalee pre-wedding programme) for their children, she mentioned, while those in the Middle East have ululation (uluddhani) at weddings, which is also a part of the religious ceremonies of other faiths performed in Bangladesh. She criticised bigoted views that frowned upon issues like children learning how to sing or recite poetry. It was an unusual and rather welcome stance from a person holding such a powerful position.
One also appreciates the risks she took by challenging the overt misogyny that seems to be accepted by society when it is done in the name of religion or opposition to Western cultural appropriation. The underlying message of her statements is that Bangladesh has to move forward through technological advancement, not fall backwards into the darkness of bigoted lampooning.
Sadly, though not surprisingly, when the video of her comments was first posted on social media, many unsavoury responses appeared underneath the post. The level of hatred, contempt, and prejudice in those comments would leave one reeling. Is this how many people think? That her comments were somehow anti-religion and promoting debauchery "imported" from the West? I read comment after comment and just could not believe the intensity of the trolling. Aside from a few very appreciative comments, the majority were in the same attacking, hostile, sanctimonious tone.
So what is the impact of such trolling on society in general? It would be naive of us to think that all this misogyny has turned up just because of social media. Social media definitely provides a "safe" and free platform to individuals who can vent their hatred as explicitly as they want, against anyone. They don't generally have to face any repercussions for their attacking behaviour. But social media, as its name implies, is a reflection of the thoughts and mindsets of society in general. The hateful comments that we see under videos, posts or articles by women does give an idea of how a large number of individuals, mostly men, view women and use religion as an excuse to vilify them. Thus, an article criticising child marriage would get a comment that it is promoting promiscuousness among teenagers by opposing the practice!
And this vitriol against women is not confined to the walls of cyberspace. We have seen how vicious and terrifying it can be post the Narsingdi incident, when a young woman was physically assaulted in a public space by a mob led by an older woman. It displayed the audacity of extremists who seemed to believe that their criminal actions were justified. A comment by a judge questioning the woman's choice of clothing did not help.
The tacit condoning of violent acts against women/girls in order to "teach them a lesson" for not complying with certain dress codes or behaviour dictated by the self-proclaimed defenders of religion and culture has resulted in an increase in these incidents.
Unfortunately, most of our political parties – including the ruling party – have shown uncharacteristic tolerance when it comes to religious groups adhering to ideologies that are quite contrary to the inclusive nature of our constitution and the progressive values of our liberation struggle. Again, this serves as encouragement for these groups that seem fixated on women – what they should wear, where they can go, etc.
The education minister's comments, therefore, are not just bold, but also much needed in an environment where sexism and bigotry are such formidable threats to women's security and agency.
Aasha Mehreen Amin is joint editor at The Daily Star.