DAP: The high stakes of high-rise buildings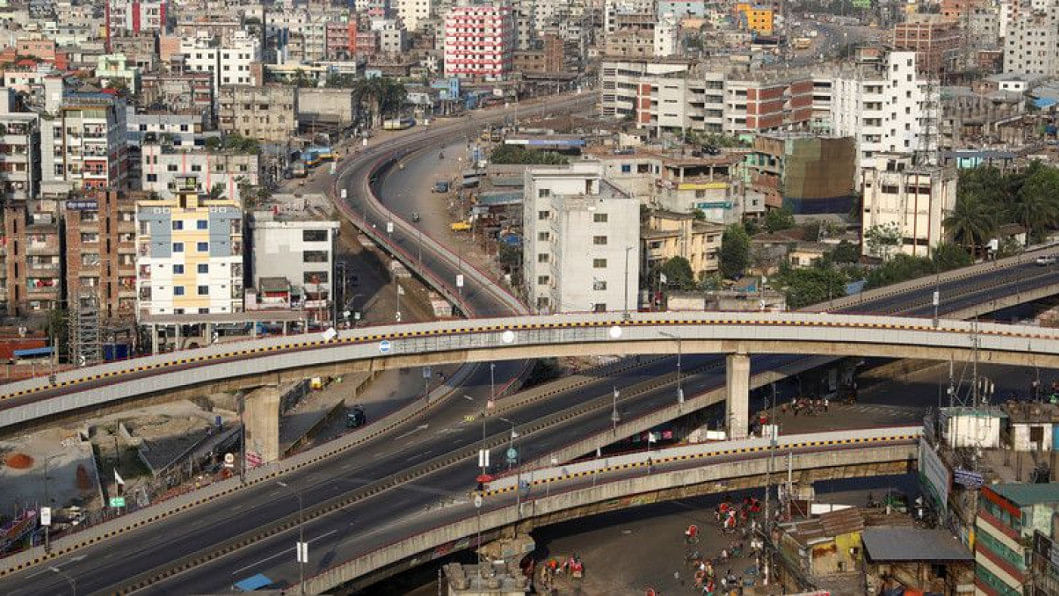 The Detailed Area Plan (DAP) for Dhaka city, which will guide planning and development for our capital in the coming years, has many proposals for making Dhaka more liveable and also includes loopholes that should be discussed in the public interest. However, ironically, one of the debates – revolving around the size of residential buildings – is mainly being raised by building developers who have direct business stakes in it.
The issue centres on the Floor Area Ratio (FAR) values allocated for different urban areas. Generally, FAR is a value that determines the gross floor area that can be built for a land area within different storeys of a building. According to planning considerations, building size, volume and height in a residential neighbourhood are determined based on factors like the level of urbanisation in the area, facilities and amenities of the neighbourhood and its built environment, width of the access road, playground, parks, open spaces and waterbody facilities, social infrastructure, etc.
According to the Building Construction Rules, 1996 – which are still implemented in the country's urban areas, except in Dhaka and Chattogram – building height is generally determined by doubling the width of the access road plus setback distance adjacent to the plot. The Imarat Nirman Bidhimala 2008, in use in Dhaka and Chattogram, has proposed an FAR value ranging from 3.15 to 6.5, which is staggeringly high in terms of global planning practices for individual plot-based development. This model of housing development makes housing more unaffordable for lower income people. This is becoming increasingly clear in various cities across the world, including in India, where high-rise buildings do not cater to lower and lower middle-income groups, since they are costly to build and maintenance charges are higher.
In urban planning practices, plot-based housing usually gets relatively small FAR values, generally ranging between 1 and 2, in order to control density and overall population. That's why even for individual plot development in a city like Singapore, the FAR value is around 1 to 1.5, which allows maximum two-storey buildings. In liveable cities across the world, if any landowner or developer wants to build a high-rise building, they should have adequate land, like one bigha or minimum one acre, to justify a relatively higher FAR for block development.
It is regrettable that it has taken so many years to formulate the different FAR values for Dhaka's different urban areas, which have finally been outlined for implementation in the DAP. Planned and developed areas have been recommended for relatively higher FARs, and unplanned and organic areas have been provided with lower FARs in the DAP.
We must now keep in mind that higher FAR values, to whatever extent, exacerbate the prevailing disparity between landowners and landless urbanites. Exceeding an FAR value of 1 to 1.5 can only pave the way for landowners to invest in the business of housing, which we have already witnessed in Dhaka.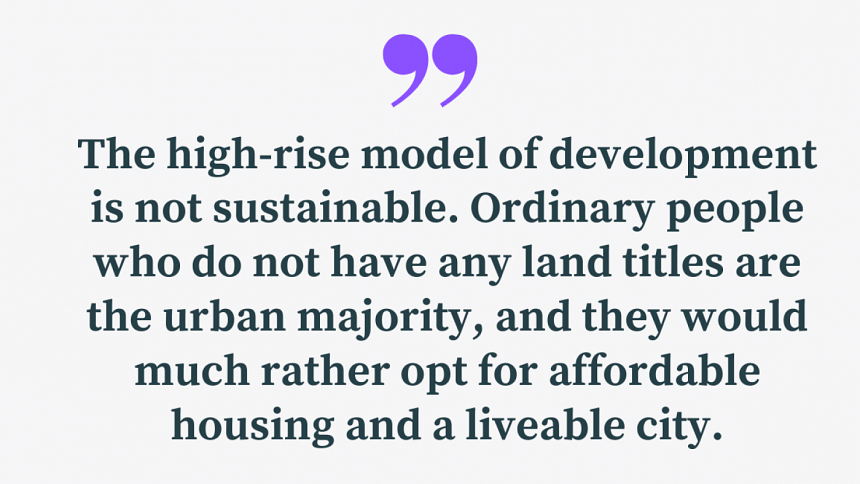 One major national daily organised a poll last year regarding the Draft DAP's proposals on building heights. Roughly 70 percent responded positively, and 30 percent had other ideas. This is perhaps the true reflection of public opinion regarding the building height debate. Because ordinary people who do not have any land titles are the urban majority, they would much rather opt for affordable housing and a liveable city.
FAR incentives for low income units in a residential building is an excellent proposal that could go a long way in meeting the demands of the low-income urban population for formal housing. In addition, planning strategies like dwelling unit per katha, and flat-based and block-based development instead of plot-based development in urban areas, can have enormous impacts on controlling population density and preserving agricultural land and waterbodies, leading to more planned development.
So what about the claims from certain quarters that the proposed FAR values have created disparities between different types of urban areas in the city? According to planning standards, it is quite obvious that planned areas will get higher FAR to build taller buildings. However, plot-based development in planned areas usually have lower base FAR for individual plot housing development, and FAR incentives or bonuses can be provided for developed areas with adequate facilities and amenities through the purchase of Transfer of Development Rights (TDR), which is a strategy proposed in the DAP. So, FAR values for planned areas of the DAP should not exceed 3 and additional FAR values should be purchased from TDR, which will ensure some sort of parity among different urban areas.
Another important point we are perhaps missing is that the debate surrounding FAR value and heights of residential buildings is only focusing on the issue of density of the city. However, modern urban planning has moved far away from the concept of density alone, and takes in other considerations, such as the "development intensity" of an area – which measures volume of development alongside population density – public health, environmental sustainability, and affordability. Public health considerations include sunlight, air ventilation and indoor air quality, whereas sustainability considers volume of construction impacting urban heat islands, electricity consumption through air conditioners, generators and other appliances that significantly contribute to climate change, groundwater recharge issues, etc.
The high-rise model of development is not sustainable if we consider these elements. And it is significant that the new DAP used the term "development intensity" instead of "density planning". We should, therefore, construct our arguments on the broad spectrum of development intensity, city liveability and sustainability, rather than just debating how much floor space do landowners need when building on their land.
We certainly believe that city authorities should welcome any suggestions for making the city liveable and sustainable, and promote collective welfare. However, the state and government should also have clear ideas about the business interests of different stakeholders that will impede the liveability and sustainability of the city.
A city is a living entity, and planning is a serious game. But in the end, it is the state that has the responsibility to uphold public interest, and ensure the collective wellbeing of its people, land and environment.
Dr Adil Mohammed Khan is professor at the Department of Urban and Regional Planning in Jahangirnagar University.