International Day for the Elimination of Violence Against Women
Orange the World
Robust funding critical to ending the pandemic of violence against women and girls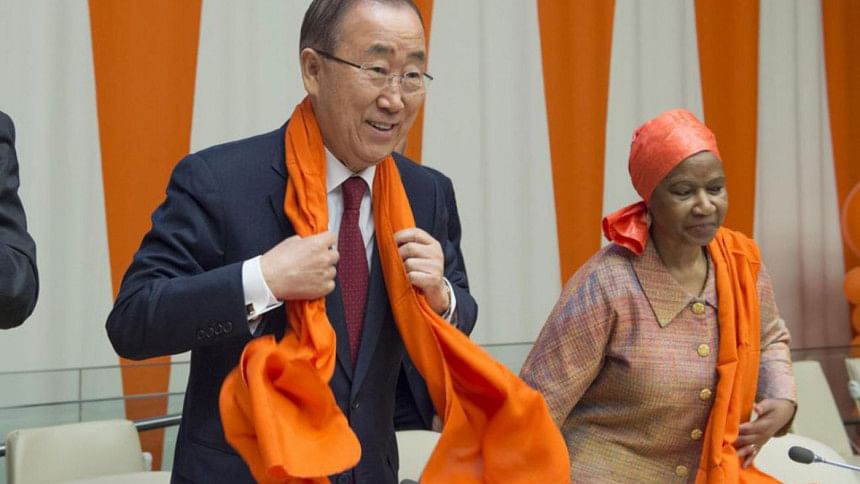 Galvanising global attention and action to end violence against women and girls, led by UN Women under the 'Orange the World' umbrella, starting this week, a host of public events will draw attention to the pandemic that impacts one in three women worldwide. From marches in Uganda, Serbia and Timor-Leste, to a public rally on motorbikes in Pakistan, people will take to the streets to say no to violence.
Despite growing recognition that the pandemic of violence against women is a gross human rights violation and a serious obstacle to development, concrete efforts on preventing and ending violence against women and girls continue to be a low priority on the international development agenda, with inadequate funding. Achieving the ambitious targets set by the Sustainable Development Goals by 2030, which emphasise ending violence against women and girls as a core objective, demands innovative solutions and the forging of new partnerships to mobilise funds from all available sources - including national governments, overseas development agencies, private sector, philanthropic bodies and individuals.
Urging governments and international actors to back up agreed international commitments, this year's "Orange the World" initiative, will focus on raising money to end violence against women and girls. Activities will be carried out during the civil society-driven 16 Days of Activism against Gender-Based Violence, which runs from November 25, the International Day for the Elimination of Violence against Women, until December 10, Human Rights Day.
"Women and girls who experience violence have their rights trampled on, they live in fear and pain, and in the worst cases they pay with their lives. Yet, still in many countries, the laws and services are inadequate, or unavailable, and the criminal justice system is remote, expensive and biased in favour of the male perpetrators", said UN Women Executive Director Phumzile Mlambo-Ngcuka. "Change to these elements has a cost, yet the price of no change is unacceptable. Even relatively small-scale investments that are timely and well targeted can bring enormous benefits to women and girls and to their wider communities," she reiterated.
Of all women who were victims of homicide globally in 2012, almost half were killed by intimate partners or family members. Not only does violence against women and girls have negative consequences for those who experience it, but also their families, the community and society at large. Available evidence shows the immense cost of violence against women and girls on many levels, with significant threats to the household's economic welfare both in the short and longer term.
A recent study estimated that the cost of intimate-partner violence accounting in 2013 could be as high as 5.2 percent of the global economy. Evidence also illustrates how even relatively small-scale investments that are timely and well targeted can bring enormous benefits to women and girls and to their wider communities. A recent multi-country study in Southeast Asia found that the cost of delivering a minimum package of essential services (over three fiscal years) for women and girls who experience violence amounted to 0.31 percent of GDP (in 2015) for Timor-Leste and 0.25 percent of GDP (in 2015) for the Lao People's Democratic Republic - a fraction of the cost of the consequences of violence.
The United Nations commemorates the International Day today with an event convened by the UN Secretary-General Ban Ki-moon, who has been a champion at the highest levels for women and girls, including through his UNiTE to End Violence against Women campaign.
The UN Trust Fund to End Violence against Women celebrated 20 years of grant-making to vital work around the world at a fund-raising gala co-hosted by UN Women Executive Director and Oscar-winning actress and Goodwill Ambassador Nicole Kidman.
Global events marking the 16 Days of Activism this year will include lighting major landmarks in orange - the colour chosen to symbolise a bright and optimistic future free from violence - from the New York City Mayor's Gracie Mansion and City Hall to the European Commission Headquarters Building in Belgium; the Panama Canal Administration Building and the Presidential Palace in Ecuador; Uganda's Parliament building, as well as seven municipalities in Italy including Trieste, Pisa, Venice and Naples, and more than 30 buildings and landmarks in Istanbul. A range of activities will support the awareness raising efforts from public rallies to creative endeavours including a new song on the issue by the famous Egyptian rapper Zap Tharwat, to artists producing comic strips, short films, photo and art exhibitions and contests in the Dominican Republic, Cambodia and Kazakhstan. In New York today, First Lady Chirlane McCray and NY Police Commissioner James O'Neill are to be recognised by UN Women for the city's commitment to preventing domestic violence. In other efforts, bus drivers in Paraguay and truck drivers in Brazil will engage in awareness raising.
This story was replicated from the UN Women website. The Daily Star is an official partner of UN Women's Step It Up! Media Compact, an alliance of media organizations committed to playing an active role in advancing gender issues within the framework of the SDGs.