A voice that still resonates
In memory of Moin Hossain Raju who was gunned down on this day in 1992 while protesting violent student politics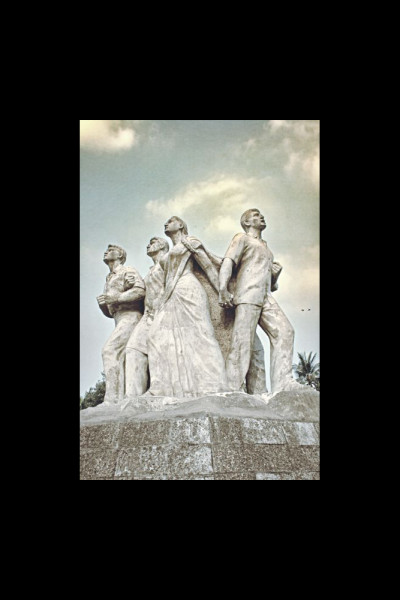 The Shontrash Birodhi Raju Sharokh Bhashkorjo (Anti Terrorism Raju Memorial Sculpture) near TSC in the University of Dhaka is one of those landmarks of Dhaka that is familiar to virtually everyone. The sculpture by Shaymol Chowdhury depicts a group of students, arms linked, marching in defiance. Yet, the story behind the sculpture remains largely unknown, to the point that many think the sculpture is a remembrance of '52 or '71. The Raju Bhashkorjo is dedicated to the memory of Moin Hossain Raju, an activist of Bangladesh Chatra Union, who was gunned down near where the sculpture now stands, on this day in 1992 while protesting terrorism in the name of student politics on campus.
For students who participated in the 1990s mass uprising against the dictatorship of Hussain Muhammad Ershad, the time must have seemed like the dawn of a new era—full of possibilities of a strengthened democracy for Bangladesh. Instead, by 1991, for leftist students who had joined the movement, disillusionment had set in. With the fall of Ershad, both Awami League and BNP were trying to exert dominance on the Dhaka University campus.
By 1992, Dhaka University was rife with clashes between the student wings of the two parties, often violent and involving shootings. Abdullah Mahmud Khan, then a student of the university and an activist of Chhatra Union, remembers being worried about the increased Jamaat-Shibir activity on campus. This was the year known war criminal Ghulam Azam was elected the Amir of Jamaat-e-Islam and Jahanara Imam had organised the Ghatak-Dalal Nirmul Committee demanding trial of the war criminals and collaborators of 1971. Abdullah Mahmud was a close friend of Raju and his roommate in Shahidullah Hall.
"It has been 26 years since that day, but some things one does not forget," he says over the phone. He remembers that the day was a Friday and that Raju had gone home instead of going to the hall the day before. On Friday morning, Shibir had tried to bring out a procession in the campus, which the general students, including Raju, had protested. This had led to a confrontation between the police and the students, and Raju was injured. So, instead of going home for lunch as he had planned, he went back to his hall room to rest. "In the evening, me, Raju and some others went out to get something to eat near Hakim Chattor," says Abdullah Mahmud.
By this time a clash had broken out between the activists of Chatra Dal and Chhatra League over control of the campus. Gunshots could be heard from the area encompassing TSC, DUS and Hakim Chattor. The police were nearby, stationed but not interfering. Raju and his friends were caught between the two sides, and at one point the police fired a tear gas shell, not at the gun-toting activists, but near TSC where general students, including Raju, were standing. Seeing the situation, Raju along with a group of 7-8 people started a procession protesting the violence on campus and the silence of the law authorities. Soon, a few hundred students had joined in, with Raju in the front leading the procession and Abdullah Mahmud right beside him. At one point, remembers Abdullah Mahmud, Raju turned to him and said, "They are firing towards us." "Suddenly, I felt Raju was dragging me towards the ground since our arms were linked," he says. He was squirming on the ground. A bullet had hit Raju's head. With the help of some other students, he was rushed to Dhaka Medical College and was soon declared dead.
Raju died in protest of a brand of student politics which was about exerting power, which was about dominance—in short, terrorism in educational institutions in the name of student politics. Since then, this has come to define mainstream student politics—clashes, fights, wielding arms, shootings, both intra- and inter-party. And, while with the change in political circumstances, clashes between BCL and Chatra Dal have almost vanished, its place has now been taken over by BCL factions fighting amongst themselves for superiority or terrorising general students simply because they can.
One does not even need to look back far: a few examples from only this month are enough to illustrate this point. On March 3, we reported how a second-year undergraduate student of Rajshahi Government College was beaten unconscious by a group of BCL activists of that college with a hammer, leaving him with a severely bruised face. A story published on March 5 involved 15 people injured in a clash between two factions of BCL on the Islamic University campus over an altercation. A student of mass communication and journalism of Rajshahi University was beaten up by BCL men over some altercation or the other, we reported on March 8. On March 10, we reported how seven students of Rajshahi University of Engineering and Technology (Ruet) were injured when two groups of BCL activists clashed over establishing dominance on campus.
One could go on and on, from reports of sexual harassment and indiscriminate assaults carried out by activists of student wings of political parties. We are continuously reminded of the brave and heroic acts of our students in the major political movements of this country's history. But what we witness today, and have been for decades now, is a situation which hints at nothing beyond pettiness and lust for power. Our history, even when shorn of exaggerations, shows us the power of student politics in challenging unrestrained power. But, what do you do when student politics becomes the embodiment of that same thing? Instead of speaking for students and challenging wrongs, it is more interested in accumulating power? And even when punished, the punishment is merely a symbolic slap on the wrist, perpetuating the culture?
Twenty-six years after Raju was killed, we do not need this day or the sculpture to remind us what drove Raju and his friends to take a stand that day. It is a shame, that in all these years, our political parties have failed to challenge this form of student politics, and have instead perpetuated it through impunity in the form of inaction and silence. This day is not about Moin Hossain Raju, student of botany and lover of Jibanananda's poetry, but what he stood for, and what we are yet to achieve.
---
Moyukh Mahtab is a member of the editorial team at The Daily Star.
---
Follow

The Daily Star Opinion

on Facebook for the latest opinions, commentaries and analyses by experts and professionals.
To contribute your article or letter to The Daily Star Opinion, see our

guidelines for submission

.
---