Remembering Razzak as I saw him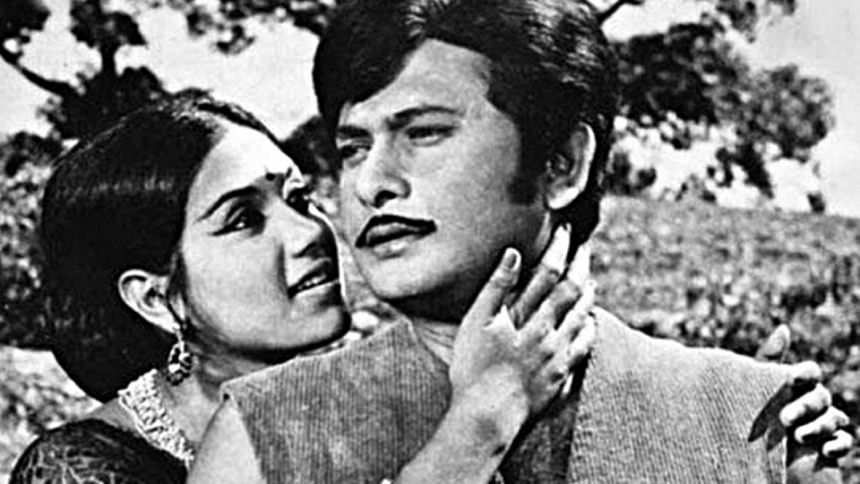 Aficionados of classic films might remember the lines Amar shopon, adho-jagoron, chirodin tomare chini from the song Tumi Je Amar Kobita, a timeless melody from the 1970 Bengali film Dorpo Churno. The song, and indeed the film, gave the Bengali film industry four cultural figures that would be adored by millions of fans on both sides of the border. Sabina Yasmin and Mahmudun Nabi sang the song, which added to the magical on-screen chemistry between Kabori Sarwar and Abdur Razzak. Nabi died in 1990 but the other three would outlive him by over two decades and counting, taking the industry to new heights and emerging as national icons. Razzak's death on August 21, 2017 brought down the curtain on an illustrious career spanning nearly five decades. His absence will surely be felt for many years to come.
There is no doubt that the nation adored him. Many of his fans and friends even worshipped him. Film lovers in India and Pakistan also highly respected his skills and versatility as an actor. Yet Razzak was a humble man and gave our film industry everything he possibly could without asking much in return. I was lucky to have known him personally. His grandson, Tahmid, is a good friend of mine. When we were younger, we used to play cricket in front of Razzak's residence. As he sat on his rocking chair and talked to the people who came to him for advice and assistance, he used to call out in his robust voice: "Oderke Nasta De." 
I found him to be an extremely simple man. He sat in the veranda, enjoyed watching his grandson and his friends play cricket, like any other grandfather. His son, Samrat Chacha, and his friends would sometimes join us. And those 10 am cricket matches meant that he remained observant, inquiring about who was bowling or batting, and most importantly, whether we were being fed and taken care of. He loved to personally give us sweets whenever he could. It gives me great joy to remember that he took quite a liking to my younger brother's cricketing qualifications. Family meant a lot to him, and it is because of his love and affection for his family, friends and peers that he received their unquestioning support to become the man that he was. 
Razzak's life story is one for the history books. Born in Kolkata, he and his family moved to the then East Pakistan after a Hindu-Muslim riot broke out in 1964. The Nayak Raj was perhaps one of the few artists who worked and achieved success in Bangladesh, Pakistan and India. His on-screen partnerships with some legendary actresses such as Kabori Sarwar and Farida Akhter Bobita were an enduring source of inspiration for the emerging actors and actresses. After several unsuccessful attempts, Razzak's first major breakthrough came with the director Zahir Raihan's Behula (1966), which turned him into a household name overnight. Since then, his acting career was constantly on the rise, starring in films such as Neel Akasher Nichey, Maynamati, and Jibon Theke Neya. 
In 2015, Razzak received the prestigious Independence Day Award for his lifelong service to the cultural sector in Bangladesh. On numerous occasions before, he had been selected as Best Male Actor by the National Film Awards judges. Shortly before his death, the West Bengali film fraternity presented him with a lifetime achievement award. With over 300 films to his credit and numerous awards and accolades, could there be anything that troubled the mega star? 
According to a story by The Daily Star in 2016, Razzak was concerned about the deteriorating condition of the film industry. After working tirelessly to improve the image of the Bangladeshi cinema, Razzak had to witness the unfortunate downfall of the same industry in his own lifetime. He was absolutely right when he expressed his dissatisfaction with the state of affairs in the film industry. These days, quality films rarely get made. The young population of Bangladesh are unwilling to support a venture that has lost its grace and dignity with which it produced films in the past. So, if there was a dream that remained unfulfilled in the glorious career of Razzak, it was in the collective failure of the industry in institutionalising the efforts of the artists of yesteryears. 
The country has lost its most treasured and cherished actor, who deserves the title of being Bangladesh's greatest artist. My friend has lost his grandfather. But most importantly, Razzak's demise brings to the end an era of graceful and quality film-making, which one can hope will be revitalised in the coming days. And as his timeless song from Dorpo Churno suggests, as long as there is a Bangladeshi film industry, we will forever remember you. 
---
Mir Aftabuddin Ahmed is a student of economics and international relations at the University of Toronto, Canada.
---
Follow

The Daily Star Opinion

on Facebook for the latest opinions, commentaries and analyses by experts and professionals.
To contribute your article or letter to The Daily Star Opinion, see our

guidelines for submission

.
---