Celebrating Abbasuddin Ahmed's 117th Birth Anniversary
Weaving the tapestry of folk melodies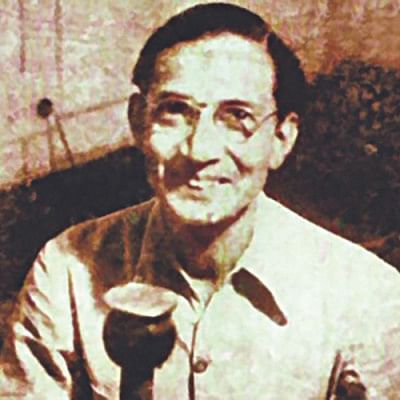 In the shade of the mighty Himalayas, the Torsha, Dhorla and Kaljani Rivers flow gently across the village of Balrampur in Cooch Behar. It was in this peaceful place that Abbasuddin Ahmed, the doyen of folk songs, was born on October 27, 1901 to Zafar Ahmad, a lawyer and Hiramon Nesa.
Abbasuddin Ahmed spent his carefree days surrounded by the natural beauty of his village, drawn to the rhythm of the gentle river, listening to the rustic gidals (folk singers) with a dotara and the echoing songs of the buffalo cart drivers as they made their way through town.
While studying for his graduation, his path crossed with Kazi Nazrul Islam's, who at that time was the chief trainer of Gramophone Company of India or better known as HMV. HMV was then a celebrated platform for the talented lyricists, composers and singers. As chief trainer of HMV, it gave him the opportunity to work with the talented group of musicians of that era (1928-1932). Around this time Abbasuddin, the self-taught singer began to perform his own brand of folksongs—Bhawaiya, Khirol and Chatka with strong influences of the rural and regional songs of Cooch Behar and Rangpur region. It was not long before he too became a leading exponent of the elite musical circle.
Besides their shared love of music, Abbasuddin and Nazrul Islam also took up the mantle of revolutionaries in the renaissance of Muslim Bengal. They were joined by leading poets and writers who inspired a cultural revival across the region.
Drawn to his music, Nazrul Islam also began to develop unique styles that included Islamic songs such as Hamd, Nath, Hajj, Zakat and more which had a profound impact on the Bangali Muslim community of undivided Bengal. Side by side the two maestros formed an unwitting partnership contributing extraordinarily to a cultural revolution.
The song "O Mon Ramzan er oi Roja'r sheshey" became an instant hit and marked the beginning of a golden era for Islamic songs. The songs of communal harmony also had a powerful effect across religious lines, becoming popular across both the Muslims and Hindu community. In many recorded instances, researchers point to examples when such songs were commonly sung by Hindu artistes often under a pseudo name.
Abbasuddin also recorded several folk songs composed by Nazrul. These became widely popular especially with the urban audience who did not have much access to the realm of Bangla folk music. Nazrul also often noted his fondness for Abbasuddin's unique voice and style of rendering Bhawaiya songs. Many music lovers will claim that songs such as Nodir naam shoi Anjana; Padmodighir dharey dharey appear to have been composed only to be rendered timeless by Abbasuddin.
The contribution of Abbasuddin cannot be understated. He recorded approximately seven hundred songs. He had an unparalleled capacity to bring to life, through his songs, the love stories of the village belle, the pains of the disenfranchised and the grandeur of our heritage.
His autobiography, "Amar Shilpi Jiboner Katha" vivifies the life and music he lived. A dozen books have been published on him at home and abroad. His Bhatiali songs are listed in "Bhatir Dasher Bhatiali" Volume No 1, edited by Mustafa Zaman Abbasi, his Bhawaiya and Chatka songs are documented in "Bhawaiyar Janmobhumi" Volume No 1 and Volume No 2 edited by Mustafa Zaman Abbasi (Abbasuddin's youngest son and noted scholar, researcher and singer).
Most of his Bhatiali songs are composed by Pallikobi Jasimuddin, while the best Bhawaiya and Chatka compositions are by his brother Abdul Karim; and the Bichhedi songs were collected by Kanai Lal Shil, the famous dotara player from Faridpur. O Rangila Nayer Majhi is regarded as an all-time favourite. Nadir Kul Nai another popular song has been re-recorded by many artistes including his daughter the celebrated singer Ferdausi Rahman, and his grand- daughter noted singer Dr Nashid Kamal. Fande Poria Baga Kande Re is another ageless song of the North Bengal.
His first record of "Adhunik" Bangla song, "Laili tomar eshechhey phiriya" has become iconic among modern Bangla songs.
After the Partition Abbasuddin relocated to Dhaka and joined the Department of Publication, DP and Agriculture. In 1955, he represented the country in the South Asian Conference of Folk Singers. In 1956, he joined the Session of International Folk Songs Council held in Germany. In 1957 he performed for the last time overseas at a conference in Yangon.
A recipient of highest civilian honour (received posthumously), the Shadhinata Padak, Abbasuddin's songs, in each niche, struck a chord at the heart of the country's culture. As a major part of Bangladesh was rural, the vast population of villagers could readily identify with the lyrics and the musical storytelling. The country was also criss-crossed with rivers, the banks often reverberating with songs of hundreds of fishermen and boatmen. It was also here that Abbasuddin's timeless Bhatiali—the boatmen's song—found a passionate following. The other major genre of folk song called "Bhawaiya" or the "cartman's song" were sung in the northern parts of Bangladesh like Rangpur and Dinajpur. There, the dusty, muddy roads take the place of rivers, bullock carts replace boats, and "Bhawaiya" and "Chatka" take the place of Bhatiali. The "Bichhedi" genre was more rooted in pangs of separation and stories of separation. An emotional people by nature, it is not hard to see how these songs also left an indelible mark on Abbasuddin's listeners.
The similarities in folk songs of many countries, for instance, Mongolia, Tibet and Southern China is apparent in our Bhawaiya songs.
Mustafa Zaman Abbasi, who himself has been a central figure in the cultural field for over fifty years, likes to refer to an interesting anecdote about a famous Chatka song of North Bengal, "Abo Nao Darita Maria". The song is about a young man lamenting the death of his wife. He confides to his grandmother (Abo), likening his sadness to the absence of all resonance and echoes which his sweetheart's passing had robbed him from his life. In English, this expression of a sound echoing a sense is called "onomatopoeia".
George Gearson, DC of Rangpur during the British rule and a famous folklorist, first collected the two-hundred-year-old song. The song was later printed in the Linguistic Survey of India, Volume XIII and was first recorded some 80 years from now by the folk maestro Abbasuddin Ahmed.
Similarly Nak Dengaran Betata, a comical song, narrates how a lady, married to an imposter, later on realises that she is deceived by false promises.
Since folk songs weave a story of our heritage they have survived the test of time and to the delight of each new generation, play an important role in communicating traditional values, patriotism and sense of bonding with the soul of the nation. For this reason, Abbasuddin shared a deep connection across the arena of folksongs.
Abbasuddin offered patronage to several other folk singers such as Abdul Alim, Sohrab Hossain, Bedaruddin Ahmed, Kanai Lal Sheel, Nayeb Ali Lepu, Abdul Latif, Osman Khan, Mumtaj Ali Khan and more after he had settled down in erstwhile East Pakistan.
During the 1960s folk music festivals were held in Dhaka during winter where authentic folk songs were presented by singers from different parts of the country. Without such patronage such folk instruments like sarinda, khanak, and dhol are becoming obsolete nowadays.
Reflecting on Abbasuddin's life, it begs the question on how to best preserve the thousand-year heritage for which such artistes dedicated their lives. Heritage is given utmost importance by Unesco. A dedicated folk museum with archival facilities, documentations, and seasonal performance of genuine folk artistes does not seem far-fetched. A dynamic country like Bangladesh, rapidly taking centre-stage should not shy away from showcasing its roots to the world. It is through preserving and nourishing such rich work that we can commemorate the life of such legendary artistes as Abbasuddin Ahmed.
---
Sadya Afreen Mallick is Chief, Culture Initiatives, and former Editor, Arts and Entertainment, The Daily Star.
---
Follow

The Daily Star Opinion

on Facebook for the latest opinions, commentaries and analyses by experts and professionals.
To contribute your article or letter to The Daily Star Opinion, see our

guidelines for submission

.
---