Tribute to Sir Fazle Hasan Abed
A compassionate listener and an innovative problem solver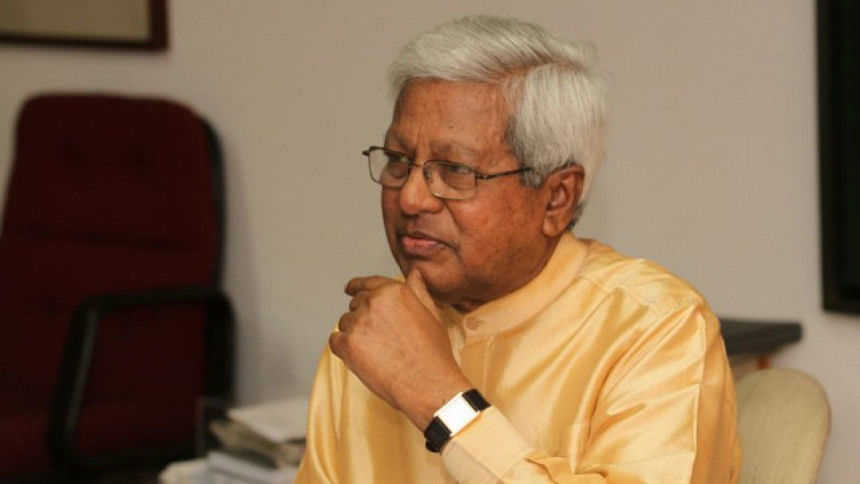 It is with deep sadness that we learned of the passing of Sir Fazle Hasan Abed, our Abed bhai. In one life time, he founded Brac and transformed it into the largest and one of the most respected, effective and sustainable development institutions in the world. He was a fountain of ideas to address the needs of the most vulnerable in our communities, and a genius in finding ways to implement them. In my personal association with Abed bhai, even more striking has been his unceasing interest in the work of others and his generosity to help them every step of the way. The creation and growth of the Asian University for Women (AUW) is an example of Abed bhai's abiding interests in and support for other institutions that aid in the struggle to overcome poverty and ignorance.
At the time of its conception, AUW did not have an office or staff or any other tangible asset. As we pursued the idea, we turned to Abed bhai to temporarily use Brac as our address. He agreed without any hesitation and throughout the early years of AUW's planning, 66 Mohakhali Road in Dhaka where Brac's premises used to be served as our contact address.
When we applied for a major grant from the Bill & Melinda Gates Foundation, the Gates Foundation sent a young officer named Rajiv Shah (now the President of the Rockefeller Foundation) to do their due diligence. We had nothing to show, as we were still an organisation without any staff or office or other resources. So, accompanied by Mrs Rokeya Rahman, we took Rajiv Shah to meet with Abed bhai (and Dr Muhammad Yunus). And that was enough—the Gates Foundation made a significant start-up grant to AUW that enabled the institution to come into being.
At a later point, AUW faced some hurdles with the land that the government had allocated for its campus. As was our habit when we faced any serious problem, we went to Abed bhai for counsel. His response to our perceived crisis was that Brac had a sizable piece of land not too far from where the designated site for AUW was. If we needed it, we could have it. Two days later I was at that Brac property assessing our options. We did not need to find an alternative site for AUW in the end. But Abed bhai's assurance that day had a profound effect on us and our belief of what would be possible for AUW.
As a regional women's university, AUW had a particular interest in serving women in Afghanistan who arguably suffered most from lack of educational opportunities. It was not easy for AUW to connect with people and institutions in Afghanistan in the midst of all its conflict. So, once again, we went to Abed bhai. Brac became the organisation through which AUW would recruit Afghan students. Today Afghanistan is the second largest source of students for AUW—over 60 Afghan students have graduated and another 150 or so are currently attending the university. Brac remains our partner in recruiting these students from that country. It is possible that without Abed bhai's intervention, AUW would have never reached Afghanistan; it certainly would not have done so as early as it did, in 2009.
Abed bhai also had an uncanny way of simplifying the most complex and difficult challenges in order to render them actionable. He was once speaking at a standing-room-only meeting with the Clinton Global Initiative in New York. When the question arose as to what it takes to successfully execute scale-up programmes, you could see everyone drawing to the edge of their seats to hear from the man who was undeniably the best at it.
Abed bhai's answer: "Well, you have to get good HR people; you have to get really good accountants." What he was saying was that if you got the right people and created an honest institution, you could deliver the services that you had set out to provide.
At another meeting in Boston at the offices of AUW's Chairman and former head of the Harvard University endowment, Jack Meyer, somebody asked Abed bhai, "How do you know what programmes to develop?" All the consultants from McKinsey and others pulled out their yellow pads. Abed bhai answered, "Well, I go to the communities and sit down with the women there and ask [them what] they need. We provide what they tell us they need."
As we mourn the passing of this extraordinary soul and celebrate his great achievements, we at the Asian University for Women express our profound gratitude to Abed bhai for helping us to bring our idea into reality. We will miss his kindness, his unfailing grace and his wise counsel. We will miss him.
Kamal Ahmad is Founder, Asian University for Women.