My teacher, mentor and role model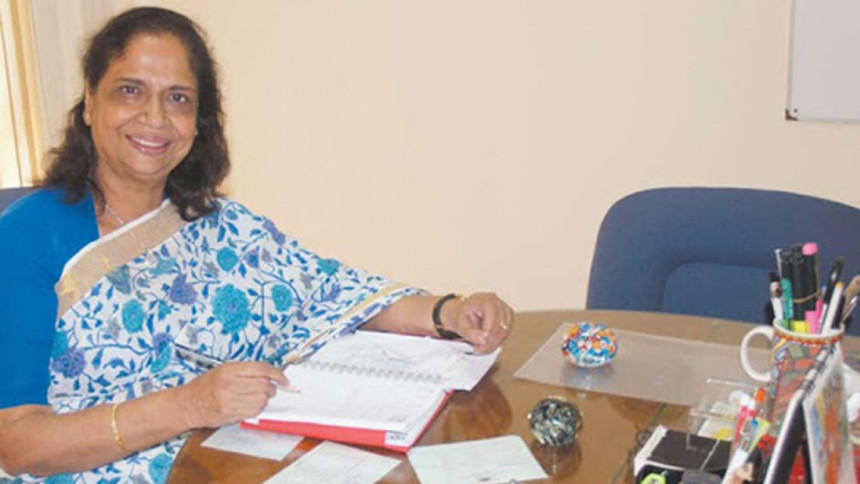 My heart is filled with sorrow as I bow in respect to you, my teacher, my mentor and my role model. And then your words of wisdom and courage lift my spirit as I can hear you say, "When you stumble and struggle in despair, look around you and find the person who needs help, extend your hand and console his or her pain and soon you will find your solace..." You taught us to be grateful for all our blessings and reminded us that no matter what we achieve in life, we must at first be a good human being, kind-hearted, humble, thoughtful and sincere. Like so many of us, I have been privileged to be a part of the Sunbeams family. This is not just an institution, it is like a tree that is evergreen and lives on—over the seasons and beyond time.
Mrs. Manzur, as I first learned to address her, was my teacher at Geeran's Tutorial. My mother's ardent desire to ensure the necessary skills for her children brought about my changing of schools post half-yearly exams, sometime in August 1973.
I started the journey as one of the first students of Sunbeams. Our classes began in the living room and the veranda of her home at Indira Road, and history has written itself since that January day in 1974. To this day when I hear someone say they are students of Sunbeams, I glow in pride and joy to know I have met a schoolmate; they are part of my family. 
My principal with a principle, Mrs. Manzur empowered each one of us, during the first few days of our initiation, to choose a name for our own school. The teachers and the students were all quite young, but that did not matter. I still recall the day: there were stacks of our English textbooks… Radiant Way- First Step, Second Step, Third Step… and then there was one named Sunbeams! And we had a name for our school! The cover of the book was red and our first benches that were built in front of us were also of the same bright red colour. From the first day, we also met the first "computer" of our school, Nurul Islam Bhai. Each morning he ushered us in with a smile, knew each one of our names, whom we came to school with and their identities, relentlessly making sure to never let us leave school with anyone unless he knew them. Her dream and her team emerged with ease because she was one who emanated commitment, responsibility and affection—a unique combination of attributes that she instilled in all of us.
I learned at an early age that all good intentions are always well rewarded. Mrs. Manzur opened her home to us with generosity so we could learn, and she opened our minds' doors with her aspiration to shower children with the gift of knowledge. Humility and commitment were her strength. She was steadfast in her commitment to enlighten each mind and give us, the new generation, the opportunities she had received. We were a family, one that evolved from a handful of students to an institution that has since generated many achievers over the last four decades. I have had the honour to be a student, a teacher's assistant and later a teacher at Sunbeams. I have learnt at each step from her.
Mrs. Manzur has always been my role model, my mentor, the reason why I became a teacher. She was a monarch on her own; she attained love and respect from all of us—students, teachers, peers, and anyone who had the honour of knowing her. She was a pioneer in offering a platform for private education so students could be exposed to new and emerging ideas. In her desire to enlighten us, she introduced us to many acclaimed instructors such as Professor Razia Amin who taught us literature—the reason why each of Shakespeare's tragedies is embedded in my mind to this day—and Mrs. Alam who taught us history and geography. There were so many more. My principal wanted all of her students to learn from the best. We were her children, her family, and she worked tirelessly to ensure we always had the best facilities. At a time when there was no Internet, she introduced us to the British Council Library membership allowing us access to a plethora of sources of knowledge. We could explore all our interests and learn as we pleased.
When early childhood education was not the most emphasised phenomenon, she knew it was the most necessary step in shaping the minds of children who would grow up to be the leaders and nation builders of tomorrow. Her vision was impeccable; she knew the importance of educating the young mind during their foundation years. My most important lesson when I joined as a teacher was her words during our weekly teachers' meeting: "Remember, once you are a teacher, you are always a teacher, whether you are in class or outside. Carry yourself in a way that you may earn the respect of your colleagues and your students at all times." To this day, I remember these words with gratitude.
Over the years, Mrs. Manzur had become my Niloufer Aunty, the love and affection evolved, and she was overjoyed when I went to inform her of my PhD. Her smile has always been my inspiration, her confidence my encouragement. She would always embrace me with love and affection and ask about my parents, my sister, and my aunt who was a teacher during the initial years. Her grace and magnanimity instilled a value of morality and respectfulness that has shaped my mind-set. As I stand in front of my students today, I reminisce her thoughts and tell my students, I teach so you can learn and achieve greater milestones than I could ever attain. This is what my role model, my mentor, my teacher taught me. I know that my schoolmates, like me, are also immersed in sorrow as we wipe our tears and remember each of our unique experiences with her and the honour of having her as a teacher and so much more... we are better today because she showed us the way.
Mrs. Manzur, you are like the sun in our solar system; as we revolve around you, you hold us with your strength. And like the sun, you keep us united. May we continue to uphold your ideals and values of compassion and caring.
Rubana Ahmed, PhD, is an assistant professor at Brac University.