A leader ahead of his time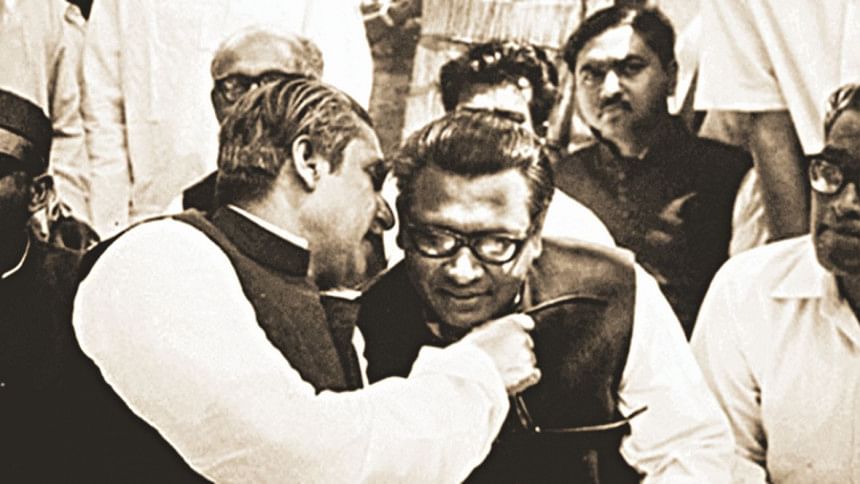 "Tajuddin came much before his time and we are not yet ready to understand him properly."
Professor Sardar Fazlul Karim's famous words aptly describe the key architect of Bangladesh's Liberation War. In the physical absence of Bangabandhu Sheikh Mujibur Rahman, Tajuddin Ahmad was the key actor, who led the war with remarkable diplomacy to achieve freedom from the Pakistani colonial occupation.
Tajuddin Ahmad was born on July 23, 1925, to a traditional conservative family in the village of Dordoria, which sits 82 km north of Dhaka. His school friend M Wahiduzzaman, a former government official said that he was a star since his childhood, adding, "He used to visit the Muslim League office at Kolta Bazar. He had many senior friends there. During one such visit, he declared that Pakistan could never remain united as per Jinnah's expectations." The prophecy that a school boy made became the core political vibe of Awami League in the early seventies.
As he grew into an adult, Tajuddin found himself more and more engrossed with politics, shaping his own political ideology along the way. He studied Economics at the University of Dhaka, a department that was a hotbed of politics. He helped to set up a student party on January 4, 1948, which was named the "Pakistan Chhatra League". A year later, when the Awami Muslim League was formed, Tajuddin joined the party, and became an integral part of our nation's history.
At 29, Tajuddin became a legislative member of the parliament by defeating his heavy weight opponent Fakir Abdul Mannan, then General Secretary of the East Pakistan Muslim League. From then on Tajuddin was arrested under various pretexts. In the meantime, his personal life was also changing. He got married to Sayeda Zohra Khatun in 1959, but politics gave him little chance to live a family life.
After the death of Huseyn Shaheed Suhrawardy in 1963, and under the leadership of Bangabandhu, Tajuddin Ahmad helped to reorganise the Awami League. It was a time when Awami League had lost much of its charm and political ground in the grassroots level. Thus, it was of utmost importance to revive the party once again. The six-point programme came into being during this time, and Tajuddin played a crucial role in formulating the historic demand.
After Bangabandhu's historic speech of March 7, 1971, he became the most popular leader of East Pakistan. Under his guidance, all the administrative directives were issued by Tajudddin Ahmed during the non-cooperation movement from March 7 to 25.
On the terrible night of March 25, 1971, the Pakistani military went on a killing rampage in Dhaka. According to Barrister M Amir-ul Islam, it was previously planned that both Sheikh Mujib and Tajuddin Ahmad would take shelter in a secret hideout during the night. But Bangabandhu reiterated that if they were found the Pakistani army would destroy all the neighbouring areas of their hiding place, and he wasn't willing to risk the lives of thousands. Tajuddin Ahmad went ahead with the plan, and left for the hideout with Dr Kamal Hossain and Barrister Amirul Islam. Dressed in a lungi, Tajuddin carried only a shirt and a gun with him. "Eventually, Dr Kamal Hossain decided to stay back in Dhaka. And so it was just me and Tajuddin Ahmad who followed the original plan. On our way to India, we were surprised to see that people from all walks of life were ready and willing to fight for emancipation," says Barrister Amirul Islam.
Before leaving Dhaka, Tajuddin left a small note to his family, which read, "Bangladesh's war of independence has begun. Join the masses. We will meet again, if we win." Even at this daunting hour, Tajuddin didn't lose his nerve, as he was willing to leave behind his family in the dark, confident that they could fend for themselves, and was ready to sacrifice his life if it meant freedom for his people.
When he crossed the border on March 30, 1971, he was not only leading a political party but also a nation to its freedom. It was a difficult challenge for him, since Awami League was a democratic party not a revolutionary one.
Tajuddin was wise enough to understand, even at that early stage of war, the need for international assistance in an armed struggle to free his country. After their meeting with Indira Gandhi, Tajuddin immediately decided to form a government with the elected members of parliament. He realised that forming a government was the only way to fight against the occupational power and to gain international support for a free nation. The whereabouts of his colleagues remained shrouded in mystery. But he was able to confront the situation by announcing the formation of a government, the first ever in the history of Bangladesh, on April 17, 1971. After the new government's oath, Prime Minister Tajuddin Ahmad said in a press statement, "We do not aspire to join any bloc or pact but will seek assistance from those who give it in a spirit of goodwill free from any desire to control our destinies."
However, it was not easy being a prime minister and running the newly formed government.
When the party was bridled with pettiness within its own domains, Tajuddin was busy uniting a nation.
In his first meeting with Indira Gandhi, he clearly stated that this war was being fought to free Bangladesh from oppression. "This is our war and we want to fight it on our own. We do not expect any interference from the Indian army. But we need training, arms and help for the refugees, who have taken shelter in West Bengal," he said.
His determination and flawless leadership attracted the Indian government. Indian politician-diplomat DP Dhar said, "Only Tajuddin was mentally equipped to lead Awami League out of a situation like this (the liberation war). That was his biggest strength. He took all the initiatives, while his rivals (within AL) failed to identify what else they were looking for apart from recognition from India."
On November 23, 1971, before the vigorous attack on the Pakistani army by Mukti Bahini, Tajuddin Ahmed delivered an inspiring speech to the nation, "We are fighting for our freedom in exchange of our tears and blood. The day of that final destination is very much within our reach. But we have to sacrifice more lives; we have to suffer even more. The inner meaning of independence is deep and profound. The essence of freedom is related to the price we pay for it during war and how we use it during the time of peace. As we eliminate our enemies in the battlefield, we have to pledge to build a society that befits the blood of our martyrs."
After the nation gained its independence, when Tajuddin returned to the newly formed Bangladesh on December 22, the country was in a devastating state. Downtrodden, dispirited people were coming back home from refugee camps, and the rest of the nation was struggling to stand on its feet. From December 22 to January 10, the socialist in him emerged in every speech he made in public, as he emphasised on the need for secularism, socialism and democracy to build a new nation. He believed that these could be the key pillars in the transformation of the society. Tajuddin made a plan to build a militia force with the freedom fighters. He was against the withdrawal of weapons from the fighters, as he believed that the people who fought for the country could build a better nation. However, this proposal was not accepted by Bangabandhu's cabinet.
As a minister of finance, Tajuddin demonstrated tremendous courage. At that time, the government treasury was empty. All foreign exchanges were emptied by the Pakistani government. Import of essential goods and industrial raw materials had to be resumed without delay before acute shortage developed and local industries were forced to shut down. But he fought against all odds, and by September 1972, Bangladesh's foreign exchange reserve had soared to around USD 400 million.
***
During those difficult days of post-war Bangladesh, Tajuddin had to follow a strict line to build a better nation since he believed it was possible to get an independent land through an armed struggle but in order to complete the true revolution we still had to travel a long way.
Bangladesh was the only country in the world that successfully got its freedom by winning a liberation war, in between 1945-1971. Our history would have been a lot different if the lives of these great leaders had not been brutally cut short.
---
Ananta Yusuf is a journalist at The Daily Star.
This is an abridged version of an article originally published in The Star magazine on March 21, 2014.
---
Follow

The Daily Star Opinion

on Facebook for the latest opinions, commentaries and analyses by experts and professionals.
To contribute your article or letter to The Daily Star Opinion, see our

guidelines for submission

.
---