What it means to live in a surveillance society
'To be at liberty is to be free from suspicion'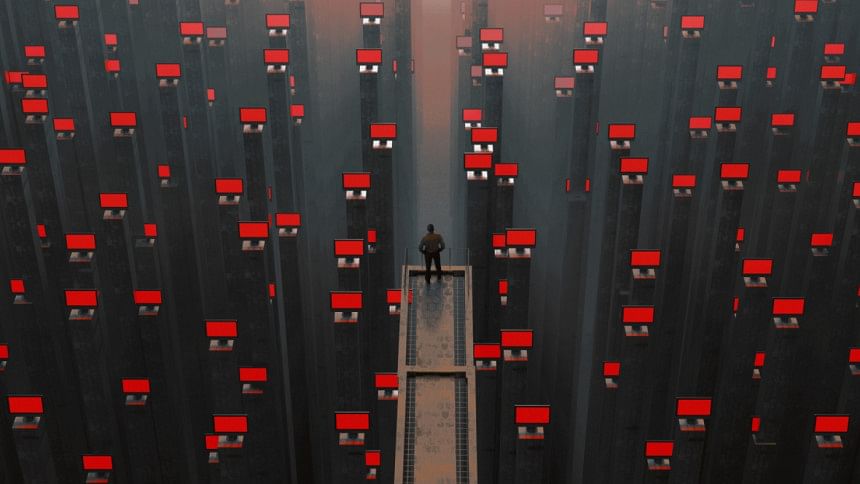 If you said pre-2013...that the most private moments of your lives were being watched and recorded...people would call you a conspiracy theorist." – Edward Snowden
Six years have passed since former CIA contractor Edward Snowden blew the whistle revealing numerous global surveillance programmes run by the US National Security Agency (NSA) and the Five Eyes Intelligence Alliance involving the US, UK, Canada, Australia and New Zealand. Informing people across the globe that the world they are living in far exceeds the frightening dystopia George Orwell described in his prophetic novel 1984.
With the spread of advanced technology, and as civilisation merges with the Internet, it is no longer about which governments are doing the spying, because all of them are, to whatever extent they can, which itself is kept secret using the excuse of "national security". And so are various private organisations, many of whom are developing surveillance systems specifically to service governments.
We are currently in the midst of the "greatest redistribution of power since the industrial revolution. Because everyone, from bureaucrats, judges and even private individuals, is working to compile perfect records of private lives."
One such Israeli organisation, known as the NSO Group, developed a programme called Pegasus, which a Canadian group of academic researchers, known as Citizen Lab, discovered on the phones of journalist Jamal Khashoggi's associates right before he was murdered. According to Israeli newspaper Haaretz, "agents apparently linked to the Saudi regime" had also "used spy technology from Israeli firm NSO Group Technologies to eavesdrop on a Saudi dissident in Canada." Citizen Lab further revealed that similar technologies have been used around the world not only against journalists, but even their children.
For the surveillance industry, the product is you and the story of your life, says Snowden. "It is the people that you care about, and who mean the most to you; it is the ideas that attract you and the things that repel you; it is a system designed to put your mind on a shelf with a price tag, available to anyone who has got the money" to pay for it. Hence, the business model of the surveillance industry is the commercialisation of public insecurity, which he explains is the biggest cyber-security risk that the world faces today in this science-fiction-like society we are living in, but with real-life consequences that affect us all and are reshaping human civilisation.
We are currently in the midst of the "greatest redistribution of power since the industrial revolution. Because everyone, from bureaucrats, judges and even private individuals, is working to compile perfect records of private lives." Aware of the fact that they are constantly being watched. Living in fear that the tiniest aspects of their lives can at any time be used against them as society increasingly abandons the idea that being imperfect human beings, we are all entitled to make at least a few mistakes.
We live "in the assumption that every sound" we make is "overheard, and, except in darkness, every movement scrutinised," as Orwell predicted. And even more terrifyingly, it seems nothing right now is able to get in the way or slow down our gallop towards becoming a society under constant and total surveillance—if we aren't there already.
As a result, the power wielded by those who have access to such information extends beyond all imagination. Using their vast knowledge about each individual, they can pretty much get anyone to do anything they want, and ensure that any opposition to the existing power structure is quickly and most effectively neutralised—which means that this power structure ends up assuming a life of its own, self-perpetuating its own existence, starting from monitoring us, to predicting us, to then influencing and acting against us. After all, as has happened repeatedly throughout history, even the best intentions among those in government (or nearly all hierarchical structures) inevitably give way to the desire to maintain power and control over the citizenry, at all costs. Usually beginning with the suppression of free speech and free thought which cannot materialise in the first place without privacy, as surely, when we are aware that we are being watched and listened to, our thought pattern is bound to change along with the contents of our speech.
According to American journalist Jacob Appelbaum, who was a core member of the Tor project, not only do people who are aware that they are being constantly watched and judged form something called a "double consciousness"—an oppressed state of mind—but they are no longer free. That is because one who is being surveilled all the time is always under suspicion, whereas "to be at liberty is to be free from suspicion." And if we are "not free from suspicion when we are innocent, then we aren't free" at all.
Therefore, what total surveillance of populations does is make people fear each other as well as make them shift from being innocent until proven guilty, to effectively being guilty until proven innocent—as once one's life is combed through in such fine detail, we are, ultimately, all guilty of something.
Only under conditions of total surveillance, that guilt becomes a means of control at the hands of those who have access to our data. And who also have the power to manipulate and portray that data however they wish—that is, create a reality of their choosing using the information that they have on us.
As the surveillance of every individual becomes transnational and even global in scope, there are a number of very important questions that people everywhere desperately need to ask: do we wish to be free from other people thinking they understand us, having seen some data about us? Do we want people to think they know who we really are just by looking at our digital data-trail? Or does being human make us more than that? And if it does, then doesn't the direction that we are heading towards reduce us to something much less—like a perfectly regimented population of uniform individuals who have lost all their individuality, which arguably is the most important imperfection that makes us human?
Finally, given the realities and results of what it's like to be watched 24/7 and listened to, as described by Orwell and others, do we really want to live in a surveillance society? Because if we do not, or cannot freely ask such questions now, then this last message of Orwell's was perhaps one of the few that he did not leave for us, but had again prophetically sent on our behalf: "To the future or to the past, to a time when thought is free, when men are different from one another...From the age of uniformity, from the age of solitude, from the age of Big Brother, from the age of doublethink—greetings!"
---
Eresh Omar Jamal is a member of the editorial team at The Daily Star. His Twitter handle is @EreshOmarJamal.
---
Follow The Daily Star Opinion on Facebook for the latest opinions, commentaries and analyses by experts and professionals.
To contribute your article or letter to The Daily Star Opinion, see our guidelines for submission.
---