Our health sector is 'sick' because of government apathy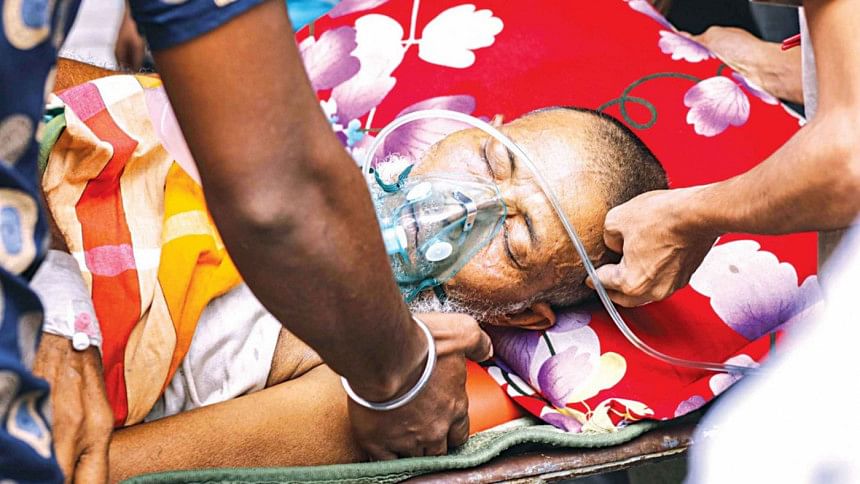 In a report published on May 1, this newspaper revealed that according to a recent study, the Covid-19 treatment cost is abnormally higher in private hospitals compared to public hospitals. Whereas the government spends on average Tk 1.28 lakh for the treatment of a Covid-19 patient in general beds and Tk 4.08 lakh in an intensive care unit (ICU), private hospitals spend around Tk 2.42 lakh in general beds and Tk 5.09 lakh in ICU beds, which is completely borne by the patients. This illustrates that private hospitals are not following the national Covid-19 treatment protocol, recommending unnecessary tests and/or prescribing more expensive medicines despite the availability of cheaper alternatives.
Not only is this something for the Health Directorate to look into, but it also perfectly captures the lack of ethicality that is plaguing our health sector. Who is to blame for this, really? Only the profit-hungry private hospital owners? The answer isn't that simple.
After all, in every country, it is the public healthcare sector that sets the trend for how its private health institutions, and even the non-profit ones to some extent, get to function.
In 2019, ICDDR,B and BRAC's James P Grant School of Public Health published a study that found that 68.9 percent of the country's citizens found it hard to bear their medical bills, with the annual average bill per household being Tk 40,000 and the lowest being Tk 18,000. While the majority of the people struggle to afford quality healthcare, people from affluent sections go abroad even for simple medical treatments, draining out huge foreign currencies. Additionally, the absence of quality public healthcare services for critical diseases like cancer, kidney diseases, heart complications and brain diseases compel people to go to private or overseas hospitals for treatment on their own finance. As a result, "most of the private hospitals are making money cashing in on the critical diseases," according to public health expert Quazi Quamruzzaman.
The lack of competitiveness of the public health sector, especially in terms of its quality (and also its lack of capacity to treat many patients at a time), means that the private sector can pretty much run riot as people know very well that they have no option but to rely on it for much of their medical needs. Lack of competition—from the public healthcare sector which lags far behind its private counterpart in most cases—to reign in healthcare cost in private hospitals, as well as the lack of government monitoring of the private health institutions, have given rise to private healthcare costs skyrocketing.
Public expenditure on health in Bangladesh stands at 0.47 percent of GDP. This is not only one of the lowest expenditures in the world but also low even when compared to the average of the lower-middle-income countries, which is 2.8 percent, or the average in the South Asian region, which is 2.1 percent. The high cost of private healthcare services along with the low budgetary allocation for public healthcare mean that Bangladesh has one of the highest out-of-pocket (OOP) health expenditures in the world—74 percent, compared to the global average of 18 percent. This large share of OOP expenditures also means that most households remain vulnerable financially to any serious or unforeseen health complications. This is also evident from the fact that in 2016, about seven percent of the population were forced into impoverishment due to OOP expenditures. One can only guess as to what that number rose to during the Covid-19 pandemic, which has already caused so much economic strife for the people.
What is worse is that the little amount that is allocated to the healthcare sector is often left unused, due to the Ministry of Health and Family Welfare's lack of capacity, or is poorly spent. This is the reason why, according to planning ministry officials, the health ministry did not see a significant rise in allocation in the last budget, despite the Covid-19 pandemic dominating budgetary discussions at the time.
Lack of implementation has remained a major "problem for the health ministry", according to Professor Syed Abdul Hamid of the Institute of Health Economics at Dhaka University. "A lengthy process of preparing proposals for development projects, feasibility tests and tender are some of the key reasons for the delay in [health related] project implementation", as well as "corruption". Since the pandemic began, we have seen one corruption-related disaster after another in this sector.
First, we had Regent Hospital hogging the headlines with its business of issuing fake Covid-19 certificates—and its owner enjoying undue privileges because of his political connections. Then we saw the debacle of a company favoured by government officials supplying fake N95 masks. JKG Health Care authorities were also caught issuing fake coronavirus test reports, affecting hundreds of migrant workers' travel to their destination countries. The involvement of officials of the Directorate General of Health Services in the scams led to major changes in the national health agency, including the removal of its director general, but health ministry officials, who were also accused of complicity in the irregularities, remained untouched while the health secretary received a promotion. Allegations of corruption in the World Bank and Asian Development Bank-funded emergency Covid-19 projects kept surfacing one after another, but no steps were taken, except for removing and transferring the officials involved in the projects.
While hospitals across the country were struggling to cope with the number of Covid-19 patients, a much-hyped 2,000-bed Covid-19 temporary hospital was set up in the open space of International Convention Center Bashundhara last year. According to health officials, the government spent around Tk 38.5 crore in five months on the project. Yet, it had to quickly shut down apparently due to no patients showing up, while the hospital itself had a huge operating cost. Like the Bashundhara hospital, the DGHS also closed 11 other Covid-19 hospitals. Has there been any inquiry made into how much public money was wasted on them? Most likely not!
So what does this all tell us?
That the government health projects are so poorly planned that it almost seems as if the authorities don't really care to improve the healthcare services available for the majority of the people. And why would they? Most members of the government themselves never really use the public healthcare system. They go abroad for their medical needs, or go for expensive treatment at private hospitals. Moreover, the ministry of health has remained largely incapable of catering to people's health needs, as evidenced by the fact that it cannot even spend the little money that is allocated to it, despite there being a desperate need for funds in the sector. And even when the money is spent, a lot of it is wasted, mainly because of lack of planning, transparency and corruption.
So, yes, private hospitals are making windfall profits from patients. And a lot of the time, they are doing so by ignoring government directives and any and all ethical considerations for patients and their families. But all that is being possible due to the "apathy" of our government and particularly the health authorities, who seem to care just as little for the wellbeing of people as some private hospital owners do. That is why our healthcare sector is in a shambles. That is why the quality of our healthcare, particularly in the public sector, is so poor. And that, in turn, is why private hospitals can get away with overcharging patients, even when we have a national health emergency on our hands.
Eresh Omar Jamal is a member of the editorial team at The Daily Star.
His Twitter handle is: @EreshOmarJamal