The Illusionist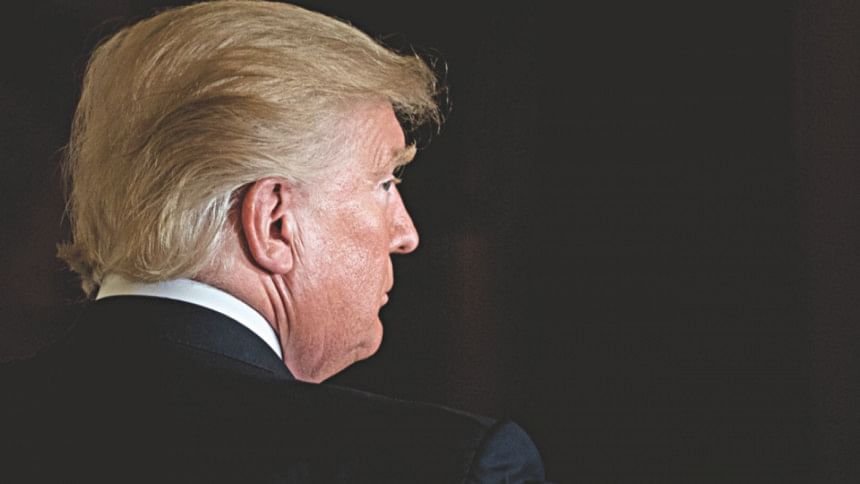 Donald Trump has many formidable attributes. He has united a beleaguered white population in a common goal to protect their fundamental right to be white. He is a vigilant guardian of our borders against undesirable non-whites, unattractive criminals, and essentially anyone who would not be on an Aryan Nation brochure. This is for our protection but also to make sure that America inches towards eugenic pureness. He is specific and focused, especially on his goals to prevent Muslims and Arabs from pursuing peaceful, productive lives if they come from countries whose stability have been materially undermined by the decades-long meddling of our government and indiscriminate drone dropping by his predecessor.
Trump articulates perfectly the aspirations of bigots, misogynists, and the entitled wealthy in nearly every public speech he makes, whether it be about foreign or domestic policy or just to harangue the press. His values are old-fashioned; children—in this case, the American people—should be seen and not heard, and even then, only seen if they have attractive figures. This applies mainly to women. He is a stern father figure at times, expecting his subjects to clean up their own messes as is the case with Puerto Rico, where people are still dying from lack of services and potable water over three months after Hurricane Irma devastated the island.
He also takes an active interest in the sciences, explaining the seeming lack of discernible climate change (homicidal hurricanes be damned) with ease. He can even be conciliatory at times. In an interesting twist, he gave political sanctuary to a paedophile yet was gracious when the state of Alabama decided not to follow suit, and even congratulated the candidate who defeated his personal pick. And now the President can add magician to his list of enviable qualities.
On December 6, Donald Trump stood up in front of the world and made an entire people and thousands of years of culture disappear; a land that had been first clearly referred to in the 5th century BC when the Greek Herodotus mentioned a "district of Syria called Palaistin" (Wikipedia). He did this by waving his sceptre, and saying he recognised Jerusalem as the capital of Israel, the country that is now, some would say, illegally occupying the Palestinian territory. If one were to go by international law, that is. In doing this, he has disavowed the existence of 5.8 million souls living between the river Jordan and the Mediterranean and six million scattered around the world. These souls identify as Palestinian. According to the United States of America, it has no capital and no claim to any portion of this holy place even though these people have been living there continuously even before the birth of Christ. A fact that is proven and indisputable.
Jerusalem is considered the spiritual epicentre of the three great Abrahamic traditions, but by stating only Israel has a legitimate claim to it, Trump is telling the world that Christians and Muslims do not, that their traditions, beliefs and faiths have less or no value in this case, thus rendering them, by some estimation, irrelevant in the Holy Land.
Trump is also a hypnotist, it seems, convincing specific groups of Americans to repeatedly act against their own self-interests, and faiths. In recognising Jerusalem as only Israel's capital, he is putting one religion above all others in the region. One would assume that this causes an ideological conundrum for the Christian Right, part of the backbone of the Trump constituency, the world over. The Pope has been clear in his condemnation of Trump's decision, appealing for wisdom. He called for "an internationally guaranteed special statute [to safeguard] the freedom of religion and of conscience [and] identity and sacred character of Jerusalem as a Holy City" (Reuters).
But many self-described Christians have paradoxically embraced the decision. Johnnie Moore, the informal spokesman for Trump's evangelical advisory board (how frightening is it that POTUS has such a board?) states: "This decision will be met by political praise and theological conviction…Evangelicals in every corner of the United States will be ecstatic" (NPR). And ecstatic they were. On Twitter, many so-called Christians were enraptured by this decision and I do not use that word lightly because by declaring Jerusalem the capital of only those of the Jewish faith, Trump just might have brought us closer to the rapture—the end of days which, as writer and commentator Wajahat Ali points out, will leave everyone, including Jews behind (Twitter, 12/7/17). 
I was gutted by the decision, though not surprised. I have never considered the US an honest broker for the two-state solution in the region. Now, all pretence is gone. Is that good or bad? Is it better to have all the poo out on the table, so to speak? I'm only thinking about the long game. Will it show the world more clearly how lopsided the conflict is? Is this the final insult that will lead the rest of humanity to recognise the injustice being wrought upon the Palestinian people and that this might further undermine the peace and safety of Israeli citizens? Jerusalem belongs to no one in my humble estimation. As Muslims, Christians and Jews, we belong to it. As do the historians, anthropologists, archaeologists, teachers, writers and artists who draw inspiration from its ancient stones. By assigning it to one group, Trump and Israel are disavowing its spiritual essence. 
On the day after he announced his decision, I found photos on Facebook of old Palestine before the 1948 war. There were photos of beautiful girls and pottery classes and dance parties and people having tea and posing for school pictures. These people existed. They did ordinary things and had extraordinary dreams, just like you and me. No matter what Trump, Netanyahu and their supporters do, there's no denying that Palestine did, and does, exist. Not even a sorcerer like Trump can make it disappear.
---
Sharbari Ahmed is a Bangladeshi American writer living in the US. 
---
Follow

The Daily Star Opinion

on Facebook for the latest opinions, commentaries and analyses by experts and professionals.
To contribute your article or letter to The Daily Star Opinion, see our

guidelines for submission

.
---