Chattogram desperately needs guardian angels
It is impossible these days to not notice Chattogram's spectacular urban decline. Go around the port city and you will only experience a place plagued by anemia, chaos, a collective greed to commercialise every open space, and overall, a curious lack of aspiration.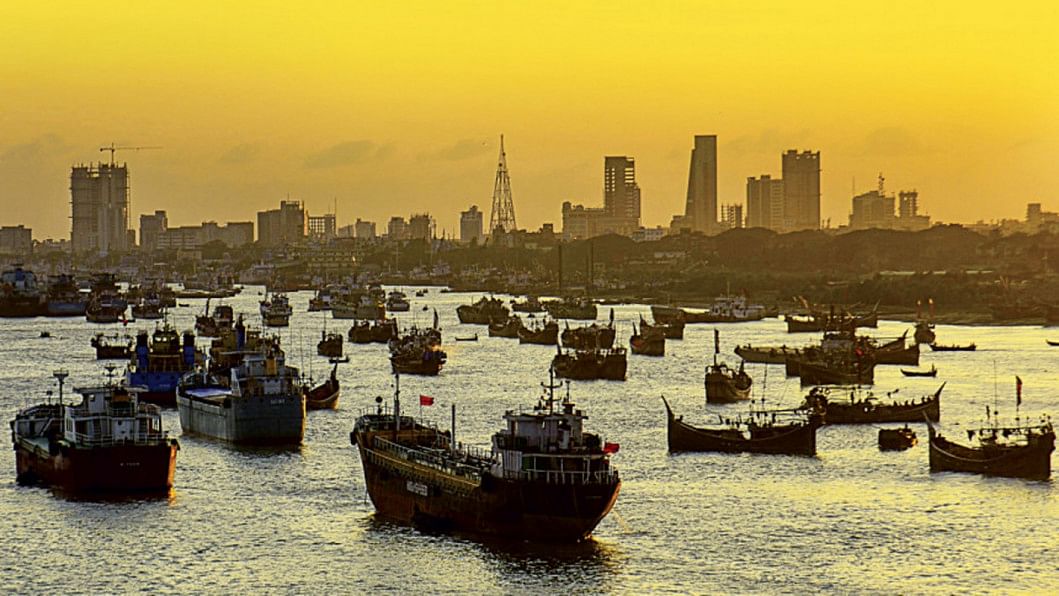 It is impossible these days to not notice Chattogram's spectacular urban decline. Go around the port city and you will only experience a place plagued by anemia, chaos, a collective greed to commercialise every open space, and overall, a curious lack of aspiration. I only find three things now in this city of my childhood: traffic congestion, incessant storefronts, and the tyranny of mediocrity. What kind of city does Chattogram want to be? The impression one gets on the streets is of a city that has no guardians to ask this question and address it. Chattogram feels abandoned and confused. Even the country's maiden tunnel under a river doesn't seem enough to boost the spirit of the city.
It is a sad deterioration for a city that has so much history, character, and potential to advance the national mission. But nobody seems to be worrying about preserving its rich history and geographic character, and harnessing its full potential. There seems to be no concern to steward its urban agenda on the national stage. The city has been caught in a downward spiral. But, why? Is it a lack of leadership? A weak civil society? A failure to groom and attract local talents? An ill-conceived notion of development? Dhaka's overwhelming primacy? All of the above?
It is unfortunate because Chattogram has all the ingredients—or "imageabilities," to use the American urban planner Kevin Lynch's term—to become a livable and inspiring city. The uniqueness of its geography, its urban origin, its local dialect, its complicated "melting-pot" racial history, its multi-faith social amalgamation, its role in anti-British movements and the Liberation War, its Porto Grande global attraction through the ages—all seem to have vanished in a rotting commercialisation of its soul.
Who could tell that a rich kingdom by the name of Harikela thrived on the bank of the Karnafuli River more than a millennium ago? Who could possibly relate today to how the Muslim Moroccan explorer Ibn Battuta described this city in c. 1346: "The first town of Bengal which we entered, was Sudkawan; it was a great city situated on the shore of a vast ocean."? The famous Nalapara site of Rabindranath Tagore's civic reception in 1907, Kamolbabu's Theater (established in 1906; later renamed as Bishwambhar Hall and then Lion Cinema Hall) has been razed to create an unsightly apartment building. Until recently, the historic site of Bangabandhu's declaration of the Six-Point Movement in 1966—Lal Dighi Maidan—was a minivan parking lot with the covert approval of the city administration!
Yes, 75 percent of the country's total export and 80 percent of the total import occur through Chattogram. But what is the state of urban public health in the city? If there is not a single public place where people can go to take a stress-free stroll in the late afternoon and breathe fresh air, what is the point of "75 percent of the total export"?
It doesn't have to be this way for a city with so many stories to tell. Uncharacteristic mountainous terrain in a predominantly flat deltaic country has always been an essential part of Chattogram's mythology. The Chinese traveler poet Hsuan Tsang's 7th-century depiction of the city as "a sleeping beauty emerging from mists and water" was no doubt a reference to Chattogram's hilly idyll.
The epitome of that idyll—Central Railway Building or popularly known as CRB, a picturesque hilly area with centuries-old Albizia Lebbeck or shireesh trees—has now been selected for a 500-bed hospital, as if this is the only space available in the entire city for a commercial healthcare facility. This unconscionable intrusion into a rare, oasis-like ecosystem is the result of an entrenched mercenary culture, one in which understanding a city and its history, its geographic personality, its mythologies is not only not valorised, but also ignored and resisted.    
Legend has it that the Buddha came to a vihara or chakrashala located in Patiya, a southern town of greater Chattogram, employing his miraculous powers for disembodied travels. According to some historians, Buddhism spread to Chattogram during the time of the Buddha himself, over 26 centuries ago, when Socrates was not yet born, and the Parthenon was not yet built in Athens! The presence of many viharas in the city lends credence to the suggestion that the name of Chattogram comes from chaitya (a Buddhist vihara).
Within a century after Islamic forces, under the leadership of Tariq ibn-Ziyad, crossed Gibraltar in 711 CE to colonise most of the Iberian Peninsula, Arab sailors began to arrive on the shores of Chattogram. They left enduring marks in the port city's life and local dialect. Names of places, such as Alkaran (Al Qarn) and Sulak Bahor (Sulukal Bahar), demonstrate Arabic influence. The use of negative before a verb in chatgaiya, Chattogram's local dialect, is another instance of Arabic contribution to the culture of the port city.
Portuguese explorers in the 16th and 17th centuries frequently called it the "City of Bengala." Duarte de Barbosa, one of the earliest Portuguese writers to offer a geographical account of the African and Indian coasts in the early 16th century—almost a century before the Mughal subahdar Islam Khan Chishti's arrival in Dhaka—described Chattogram as a natural attraction for traders, missionaries, and fortune-seekers from far-flung places.
This is not a place to belabour a chronological history of Chattogram, except to say that the port city's history is richly crisscrossed by actors of all sorts: Buddhist mendicants, Arab traders, Arakanese kings, Hindu landlords, Mughal governors, European seafarers, British colonialists, anti-British revolutionaries, Western development experts, wealthy industrialists, national leaders, and globally-known entrepreneurs. When history becomes a jigsaw puzzle of people, events, places, and narratives, myths thrive, and a city becomes interesting! This is why we love to go to Rome, Paris, Athens, Krakow, New York, Kyoto, Siem Reap, Lucknow, Udaipur, and Kolkata, among other cities. This interest itself is a driver of economy and culture.
Thus, to imagine Chattogram's future, one must first learn to negotiate its stories. The city's genius loci is found not just in its people, hills, dighis, rivers, and sea, but also in its stories, mythos, fables, and allegories. The fantastical tales of the Buddha's divine voyage to Chattogram, and a Muslim dervish's lighting of a chati on Cheragi'r Pahar to drive away demons, are as important as the city's life-giving river, Karnaphuli. These stories are phenomenologically ingrained in its geography. They propel how the people mentally map their city and weave their monojagot.
But today, the city is a muddled blob of generic and unrelatable development projects. Indiscriminate commercialisation of land is championed as progress. Empty flyovers (prime sites for mugging in the evenings) hovering over Chattogram are the embodiment of the city's urban vision bankruptcy. 
Planning a city is more than creating a "master plan" on the privileged tables of executives, bureaucrats, and planners. It requires the courage and patience to deliberate on a city's complex evolution, geographic pulse, and future potentials.
Adnan Zillur Morshed, PhD, is an architect, architectural historian, and professor at the Catholic University of America in Washington, DC. He also serves as executive director of the Centre for Inclusive Architecture and Urbanism at BRAC University. His books include DAC/Dhaka through 25 Buildings. Email: [email protected]