Is television ruining the future of our kids?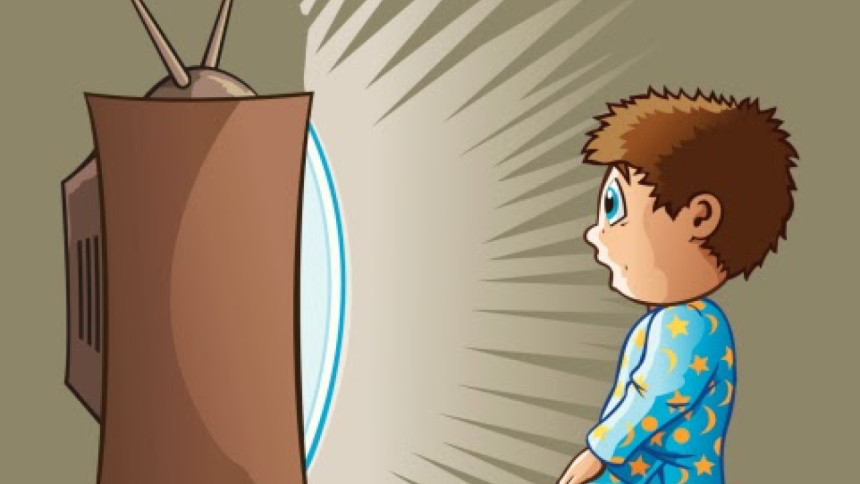 Whether or not there is any scientific basis upon which to base an answer to the above question doesn't matter; there is no doubt in my mind that humanity is getting dumber, and the human mind dimmer, all because of the amount of time people spend staring at screens.
Don't get me wrong. The list of television shows that I personally watch—and continue to watch again and again—is huge. Doctor Who, Game of Thrones, Hannibal, Sherlock, House of Cards, Breaking Bad, Better Call Saul; it's a list that could go on and on. Those who produce those shows will undoubtedly tell you that television and film are creative artforms that deserve respect, and who am I to argue with that? They are absolutely correct, but not everything we enjoy doing is necessarily beneficial. 
Great television shows are incredibly addictive, emotional roller coasters that leave you hanging on the edge of your seat wanting more and more. When I was a kid, we were actually left wanting more. England in the 1990's had four "free to air" channels, including the BBC, and to me at least, most of the stuff they showed was boring. Thus, I read books or listened to talk radio to pass my time.
Here in 2017, there are hundreds of channels, with event TV on a weekly basis. Then there's the sport—last year I remember scheduling a full two days of sport taking in non-stop football and cricket because it's now possible to watch everything from every time zone, and we're made to want to watch because each and every match is hyped as "the greatest match you will ever see!"
Television has become the default option for almost all of us. Who among us hasn't been guilty of dropping down in front of the TV, often without anything specific to watch? This is followed by a mindless flicking of channels, one by one by one to see if there's anything on. And most of the time it doesn't have to be something remotely invigorating—just something to justify sitting vegetative for hours, requiring minimum thinking effort (Hello, Star Plus).
Lazing about in front of the TV is the root cause of a very real and dangerous trend happening in our schools as reading, which is so important especially in early years, is becoming a forgotten and neglected pastime. 
Think of reading as gym work for a child's brain. Contrast that with television as the equivalent of sitting in a McDonald's, ordering every burger on the menu twice over and eating each one with a triple helping of fries. Kids who don't read end up with a metaphorical lump of useless fat between their ears.
Since coming back to Bangladesh, it has been a shock to see the declining ability of students when it comes to English writing and comprehension skills. Going through school, each batch seems to have deteriorated a little more than the last, with successive Grade 10's regressing in both their ability to think logically and critically by the time they get to International General Certificate of Secondary Education (IGCSE). Does this failing come from our own inability to promote reading as the best pastime for our kids?
Telling parents how to raise their children has never been my thing, even though sometimes it seems they hand over a bag of rotten vegetables and demand instant production of a 5-star dish. We all try our best with what we're given, right?
But very soon I am going to be a father and with my own kid on the way, I don't want him to fall into the bad habit of sitting in front of the TV with me, thinking that is spending quality time with his dad. So, I'm selling the TV and buying a bookshelf because we are going to read together every day.
Reading is going to become the default relaxation activity—not reading with any academic purpose, just reading because it's fun. There will be books, magazines and newspapers in abundance! That doesn't mean there will be no screen time. Clearly, there are educational elements on television, and a total ban is probably excessive.
Laptops and computers can show TV shows, and the Internet is abundant with videos and streaming sites that can be watched anytime someone wishes. Without a TV in the house, I can control what is watched and when it is watched. The focus can be put on reading first, TV shows second; reading because it's the gateway to a successful future, over watching TV simply because it is there.
If I can set an example with my own children, perhaps it will help to influence others to read so much more in the future.
---
John Paul Sergeant is the Academic Head of Bless Education, and Faculty Co-ordinator at Anandaniketan School, Sylhet, Bangladesh. He holds an LLB from Oxford Brookes University and LLM in International Law from the University of East London.
---
Follow

The Daily Star Opinion

on Facebook for the latest opinions, commentaries and analyses by experts and professionals.
To contribute your article or letter to The Daily Star Opinion, see our

guidelines for submission

.
---