The slur of sanctions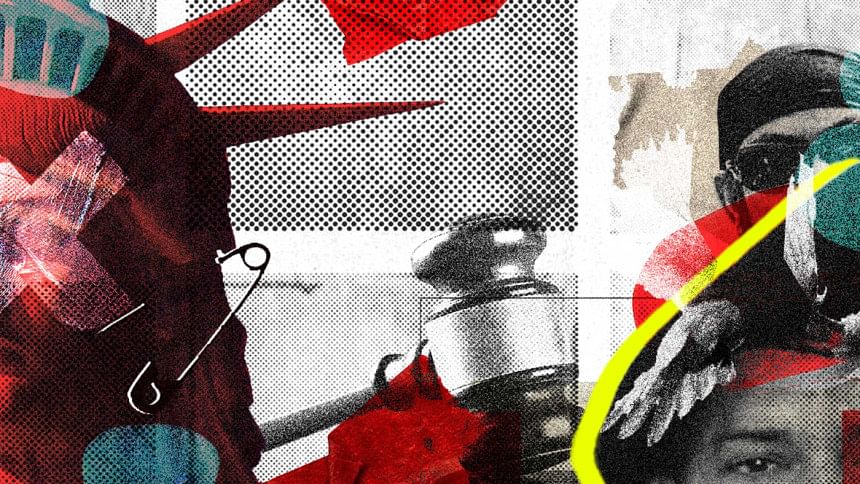 The word is one of the most pejorative terms in the English dictionary; it is the most reviled term, too, as well as an oft-used mechanism handy to the West to twist the tails of those it dislikes. But hardly had we ever expected to see our government institutions brought under the US sanctions.
Not one but two of the US departments, namely the Treasury and the Department of State, have imposed sanctions on a leading law enforcement agency and relevant individuals in Bangladesh—for the first time. On December 10 last year, the US Department of Treasury imposed sanctions on Bangladesh's elite paramilitary force, the Rapid Action Battalion (Rab), as well as seven of its current and former officers for alleged serious human rights violations. Over and above that, the Department of State imposed sanctions on two individuals: a former head of Rab and a former commanding officer of a Rab Unit.
It can never be pleasing news to any Bangladeshi, notwithstanding a heap of reservations on Rab's modus operandi that one might have. It is regrettable, and disgraceful too, to see the name of our elite force along with some of its members bracketed with drug dealers and terrorists on the list of sanctioned individuals. What has added insult to the injury is that these actions came on the last day of the virtual Democracy Summit, in which Bangladesh was conspicuous by its absence. It was a double blow for those who pride themselves on the country's democratic credentials—of the distant past. As citizens, it is our right to ask whether a government agency has the right to incur adverse criticism due to its actions or inactions. For better or worse, in this globalised world, we are not impervious to international scrutiny or criticism for alleged violations of norms of human behaviour.
It is not the intention to engage in discussions on whether the sanctions are justified or not, or on the credentials of the US to question the human rights and democratic credentials of other countries when its own record of performance is questionable, both at home and abroad. One could just as well tell the US: Doctor, heal thyself. But that would in no way reduce the gravity of the allegations levelled against our law enforcement agencies, either in this report or reports emanating from other international human rights and democracy watchdogs. Nor is it of any use to engage in verbal subterfuge or decry the reports or the actions taken against us. The best thing to do under such circumstances is to engage in self-examination and ask ourselves whether or not the allegations hold water.
Interestingly, there has been no crossfire death or enforced disappearance since the sanctions were imposed, except for two in the month of April. Is there a correlation between the two? What exactly should we make of it? Are we to believe that all the criminals have reformed themselves overnight and become good boys, or that Rab has modified its operating procedures? We have not seen any widespread deterioration of law and order or spurt in smuggling of drugs and narcotics, for example. Whatever may be the case, what this has demonstrated is that law can be maintained and order upheld without resorting to extrajudicial means or circumventing the legal process. And if there is correlation between the two, then we ask: Why does it require external pressure to compel our agencies to go by the book?
We believe that Rab was formed with the purpose of addressing the law and order problems during the second tenure of the BNP. Its formation was welcomed by all and sundry, and the agencies earned the confidence and respect of the common man. The petty ruffians went off the streets and people could walk out late at night without the fear of being waylaid. But there came a time when this very well-organised force, commanded also by military officers, got involved in extrajudicial killings starting with "Operation Clean Heart," in which more than 40 people were killed allegedly by this agency. It is queer and interesting that the Awami League at that time had vehemently criticised Rab for the extrajudicial killings, just the way BNP has done the last 10 years. Contrary to its commitment to end the regime of extrajudicial killings, the number has gone exponentially high during the Awami League period, and things have come to a head.
Admittedly, there is a need to go into the way Rab is being employed. It is a well-trained force which has done extraordinarily well in combatting extremism and terrorism. This is something we all can be proud of. And that is what it should be employed for. However, its resources can be used to go after hardened criminals and tackle extraordinary law and order issues while remaining within the bounds of law. The last thing Rab should do is day-to-day police work. Military officers are not trained to chase common criminals. But once they engage in doing so, most of them lose the qualities of a good military officer, and most of them no longer retain the ability to command and train troops for battle. We believe that the time has come to rethink Rab operations and its manning policy, and to draw a Lakshman Rekha for it to restore and preserve its image.
Brig Gen Shahedul Anam Khan, ndc, psc (retd) is a former associate editor of The Daily Star.