The sinister carnage of August 21, 2004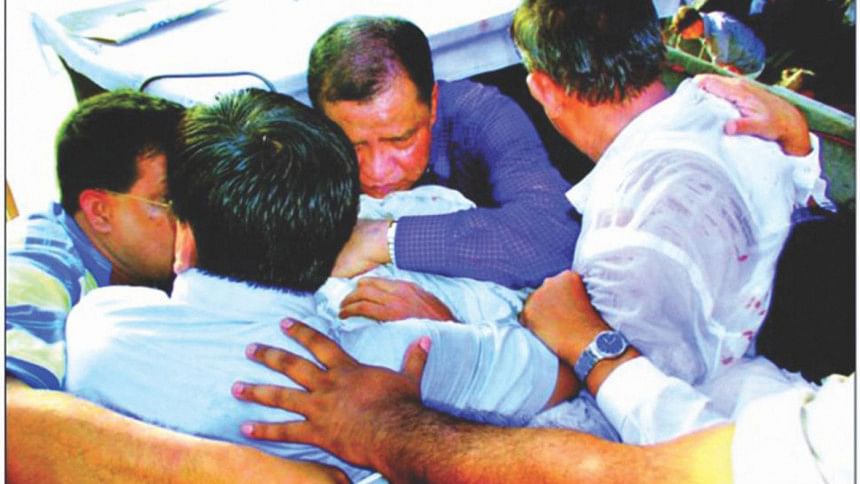 In the unfortunate annals of our political history, the month of August perhaps witnessed more macabre incidents than others. While the tragedy of August 15, 1975, when Bangabandhu along with most of his family members were brutally done away with, has indelibly made a deep imprint on constitutional and orderly political progression, the gory misdeeds of August 21, 2004 when clearly Sheikh Hasina was targeted for murder had very ominously impacted our political discourse. Sadly, we have to recollect that in the suspected conspiratorial attack on August 21, more than 20 persons were killed and 200 suffered painfully persistent crippling injuries. For many, it was a deliberate attempt to wipe off all the senior leaders of the oldest political party of the country.
It would not be an exaggeration to observe that the corroding contours of our confrontational politics were ominously exposed in the mindless violence of August 21, 2004. There is also a premonition that, aggravating such a scenario was the suspected State complicity in the perpetration of organised acts of violence and the inordinate delays in providing relief to the victims. The alleged authoritative connivance and condoning of the failures of law enforcing agencies in carrying out the statutory duties is definitely a worrying blot on the ethos of public service.
We have to unfortunately "recollect that the investigation of the above incident was not taken in right earnest that it deserved and the first indication of that was the unpardonable failure to protect and preserve the scene of occurrence. There was allegation that physical evidence was tampered with and destroyed. The field units did not act with desired speed and circumspection." The suspicion is, were they acting so at the behest of someone or a quarter very high? Quite clearly, the culpability of all concerned need to be fixed and proved. One needs to know whether sworn officials had hesitated to enforce the law and if so why.
Unfortunately, a judicial enquiry into the incident by an honourable judge of the apex court was done perfunctorily and reportedly pointed the accusing finger to an agency of a foreign country without presenting credible supportive evidence. The initial criminal investigation that was marked by the "Joj Miah" charade was a most disgraceful act in that it raised doubts about the very integrity of investigators and the reliability of a vital organ of the State.
As a mark of its probity, the then government brought some foreign experts to assist the investigation but it was too little too late as vital physical evidence was allegedly destroyed and the local investigators reportedly were found less than proactive.
Indiscreet acts and irresponsible utterances in the political circles were no less complicit in confounding a tragic incident that demanded swift remedial action and compassionate response from colleagues in the art of politics. Sadly, people in high positions in the then establishment put the blame on Awami League leaders by insinuating that they had caused the grenade attack on the rally to discredit their opponent in government. One has to admit that this was, quite clearly, in poor taste and had an abysmal lack of sensitivity.
It is also a sad commentary on the politics and politicians of Bangladesh that like the tragedy of August 15, 1975, the slaughter of August 21, 2004, also did not stir the national conscience until a favourable political scenario emerged. It would thus appear that the guarantee of fair play and justice in our country has to wait for regime change. We may have to admit that extreme actions leading to annihilation of political adversary, though reprehensible, were a sad reality of our society in the not-too-distant past.
The question is, do we have to agree with the cynical observers of our political scene who say that there is a functional utility of violence for politicians? Do most acts of violence characterising Bangladeshi society at all levels have an irreducibly political context? Must not Bangladeshis feel ashamed as politics, apparently, has started acquiring a pejorative connotation by the allegation of its manifest association with conflict and violence? Is not the undermining of civil society by the encouragement of politics based on division and acrimony, a pathetic and deplorable sight?
The nation will not witness a repeat of August 21, 2004 if our politicians inculcate a temper which does not press a partisan advantage to its bitter end, can understand and respect the political adversary, and feel a unity between all citizens. They are expected to demonstrate that democracy depends upon habits of consent and compromise which are attributes of responsible society. The spirit of moderation has to prevail to protect us from degenerative division and hatred.
The events of August 21 will undergo judicial scrutiny and those culpable would be punished bearing in mind that the actual fact or truth may not always be provable in a court of law. For democracy to strike a firm root in Bangladesh, the narcissistic and fascistic proclivities lurking in many hearts in the political arena have to be tempered in public interest.
Muhammad Nurul Huda is a former IGP of Bangladesh.