The invisible struggles of constables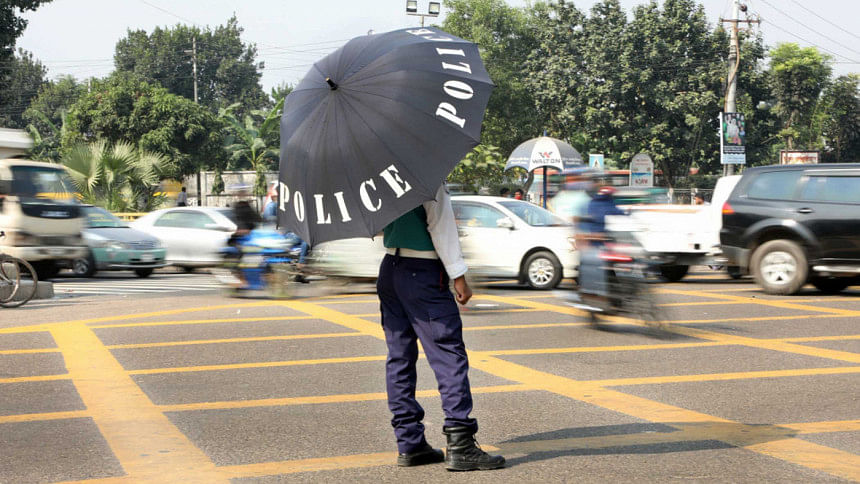 Historically speaking, repression was the dominant feature of colonial policing, at least between 1930 and the Partition in 1947, and one cannot be certain if the attitude of the ruling establishments in the subcontinent has significantly changed insofar as the use of police powers is concerned. In such a scenario, it could perhaps be said without fear of contradiction that the hazards and hassles of policing—particularly of the constabulary—could not be a subject of public concern. In other words, espousing a policeman's cause should be unusual in our parlance. It was, therefore, quite touching and encouraging to read a report titled "Constables can't seem to catch a break" in this newspaper on November 21.
The report stated that "standing amid a storm of dust and sound all day, traffic constables develop a host of chronic illnesses, including difficulty to sleep." It further says that, according to a study, 84 percent of traffic police officers in Dhaka are suffering from respiratory diseases, while 64 percent have lost their hearing ability, and most of these illnesses are caused or aggravated by air or noise pollution. The Dhaka Metropolitan Police (DMP) commissioner said that "some people honk and some spray carbon dioxide without any reason. We are also trying to reduce these problems."
Quite clearly, there is a need for the authorities concerned to ponder whether the constabulary constituting more than 65 percent of the police force in Bangladesh are showing signs of work-related stress, and experiencing its negative impact on their mental and physical health. There is a case to examine if role ambiguity, role conflicts, work overload, conflicting orders, and unusually extended hours of work—both in day and night shifts—are causing stress on a worrying level for our police personnel.
Law enforcement, including traffic management, in crowded locations entails upon the police to work in the worst of conditions and with such diligence that the glamorous exterior image of the police overshadows the challenges encountered on the job, which are often life-threatening and endanger the personnel both on duty and off duty. The society expects constables to perform varied roles with equal elan. They have to help and save citizens while using force and making arrests. This roller-coaster ride is a process difficult to appreciate functionally and comprehend emotionally.
With the rigours of working long hours, the constables are expected to accomplish mood swings from being loving fathers and understanding spouses to a lathi-wielding defender of the law combating a riotous mob. The job makes great demands on their mental, emotional and physical capabilities—demands that are all too often so stressful that they begin to destroy the individual.
It is a reality that law enforcement tends to impose a higher degree of stress and a multiplicity of stressful situations on the individual, than most other professions. In the course of their duties, police constables encounter the dark side of human nature and, thus, with growing incidence of crime and public order situations, their mental and physical health assumes greater significance than before. This is because even now, for a policeman in Bangladesh, the focus is always on the job to be done.
Strenuous tasks such as policing eventually become too arduous and exacting. As such, the vulnerability of the police as an occupational group to work-related stress and burnout deserves recognition with a view to looking for solutions to the ailments. Doing so may impact the operational procedures and future training, and illustrate the potential dangers of certain physical and psychological responses that may be modified through training and other interventions.
Looking into the travails of the police, one would find that police work is arduous, often dirty and unpleasant, and sometimes dangerous. Night shifts are a standard feature in their lives. They are not paid for overtime work, and on top of that, they often have to work on holidays and during festivals. While illustrating the process of dehumanisation in the departmental culture of police, it has been observed that prolonged absence of any family life and absence of nearness to children deprive the policemen of the feel of family life. Absence of reasonable time off coupled with increasing task pressures drive them to do wrong. A little bit of sadism also creeps in as they are made to sacrifice all they have and receive public condemnation as reward, as Deoki Nandan Gautam said in the book "The Indian Police." The situation is not much different in Bangladesh.
In Dhaka metropolis, traffic management, including the installation of automatic and manual signalling, should be exclusive to the DMP. It should be possible to gradually remove a large number of traffic police personnel from street duties. This, however, would demand voluntary observance of traffic laws by the commuting public, who have to realise that traffic law enforcement can be fruitful when backed by visible observance. Educating the public on the imperatives of following traffic rules should be a continuous process. The aspect of road engineering and pollution control should also receive adequate attention in mitigating the traffic scenario.
The police organisation in Bangladesh needs to take note of the crucial problem of job stress. A comprehensive plan for the recognition, diagnosis and management of stress as well as stress control programmes for police personnel may help resolve the problem. The subordinate officials who are the most stressed groups should be provided with counselling for better coping. Both individuals and organisations must participate in the stress resolution process.
The role of stress management training and intervention strategies in handling police stress should be an area of study. Longitudinal studies may be suitable to investigate the impact of police work on individual lives and its impact on their physical, social and psychological well-being.
Muhammad Nurul Huda is a former IGP of Bangladesh Police.