Think before donating to orphanages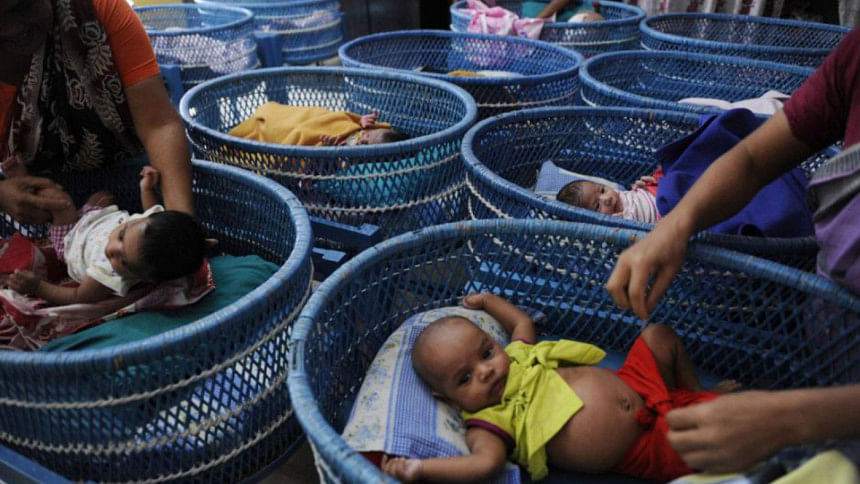 While working in Liberia during 2013-2014, I along with the team had an opportunity to support the government in implementing their deinstitutionalisation policy. This had several components: reunifying children living in institutions (popularly known as "missions") with their families, supporting the parents with a start-up capital and basic training on business skills, developing capacity on positive parenting, etc. As a result, children were able to live in families and attend local schools while earlier most parents had sent them to "mission schools" so that they could access education. Parents did not even know that there, the quality of education was poor and the living condition was not better than that of their own homes.
I was reminded of the experience in Liberia during the month of Ramadan in London. Why? In Bangladeshi television channels, there were charity appeals, and most of those were asking the public to donate to orphanages in Bangladesh. Posters, leaflets, and direct fundraising initiatives were also there with a call to support orphans in different parts of the world. We see various initiatives to collect funding for orphans in many countries during Ramadan and throughout the year. Those who are donating to orphanages or any other form of institution have good intentions. But is this the best way to support children?
According to the report "Keeping children out of harmful institutions: Why we should be investing in family-based care" by Save the Children, institutions are unsafe and unfit for children. Children living in institutions are at increased risk of violence, abuse, and neglect by staff, officials, volunteers, and visitors responsible for their care. Once in a while, the media in Bangladesh reports cases of children living in institutions trying to commit suicide and/or making escape attempts. This is just the tip of the iceberg. 
Institutionalisation has serious negative impacts on children's physical, cognitive and emotional development. After six months of institutionalisation, without the right support, babies and toddlers are at risk of never reaching full recovery ("The Risk of Harm to Young Children in Institutional Care", Kevin Browne, 2009). Institutionalisation affects a child's entire life. Institution-leavers can be very poor, and they are more likely to be affected by mental health problems, homelessness, drug and alcohol misuse, high-risk sexual behaviour and criminal behaviour.
Poverty, disability, war, natural disaster and social exclusion are primary drivers of institutionalisation. For many parents, putting their children in institutions may seem like the best way to ensure their access to basic services such as education and healthcare. Children from ethnic minorities, children with disabilities, children living with HIV and children born out of wedlock are more likely to be placed in institutions. Globally, between 80 percent and 96 percent of all children inside institutions have living parents. This means they would be able to remain with family if the root causes were addressed.
In many settings, childcare is not regulated and anyone can set up an institution. This means it can also become a business. For example, 90 percent of orphanages in Nepal receive funding solely from outside the country. There are institutions that actively recruit children because they are paid based on the number of children in their facilities. In Liberia, initially we faced a lot of resistance from the "mission" authorities, as they thought our efforts would end the livelihood of their staff.
Even well-intentioned and well-managed institutions can never replace the love, support and stability that children need to form secure attachments that are critical for their overall development. Children have a right to effective care and support in a protective and nurturing family environment, and families should be supported to prevent unnecessary institutionalisation of children. This can include a range of interventions such as cash transfers, parenting education, daycare, social work support, and linking them up to basic services (e.g. healthcare and education). Governments, donors, civil society, private sector and communities must invest in families to prevent separation of children from their families.
We should remember that families can also be places where children suffer from violence, abuse, exploitation and neglect. When families are unable or unwilling to protect children, the state must invest in a range of alternative family-based care options (e.g. kinship care, foster care, adoption) for children. The decision to place children in any type of alternative care arrangement must be done after thorough assessment of the individual child as well as the options available. The child's views should be heard and the "best interest of the child" must be considered in the decision-making process.
The International Guidelines for the Alternative Care for Children were endorsed by the United Nations General Assembly in November 2009. The guidelines should be utilised by governments to improve care and protection through strengthening and reforming national child protection systems. This includes strategies, laws and policies, workforce development, resource allocation, developing minimum standards, and strong monitoring mechanisms. Several countries including Indonesia, Georgia, Liberia, etc., have utilised the guidelines and made significant changes in moving towards family-based care system from unnecessary institutionalisation.
All types of alternative care must be developed, regulated and maintained in line with international standards. The guidelines are clear about the fact that institutions should be used as a last resort. This is applicable in both development and humanitarian contexts. When children are placed in institutional care, it must be time-limited, meet the specific needs of the individual child, and follow quality standards.
There is still widespread public support for institutions and they remain the most well-funded form of care in many places. However, research in several African countries shows that institutional care is between six and ten times more expensive than providing assistance to families. That means an economic argument could also be made for more investment in family-based care. From my experience of working on appropriate care in several countries, I noted that there is limited awareness on the negative consequences of institutions among parents, community members, government service providers, and general public. This needs to change.
2019 marks the 10th anniversary of the Guidelines for the Alternative Care of Children. The 2019 United Nations General Assembly Resolution on the Rights of the Child will focus on children without parental care. This provides a good opportunity to the states and civil society members to review progress made in preventing unnecessary family-child separation and providing appropriate alternative care.
The states should consider if they are investing properly to strengthen families and establishing or maintaining a range of alternative care that meets quality standards within a functional child protection system. Before donating to an orphanage or any other form of institution, the general public should think twice: is it possible to support the child in a family-based environment? Will public donation contribute to protecting the "best interest of the child" or will it benefit the institution?
Laila Khondkar is Head of Advocacy and Policy-Child Protection, Save the Children International.
Follow The Daily Star Opinion on Facebook for the latest opinions, commentaries and analyses by experts and professionals.
To contribute your article or letter to The Daily Star Opinion, see our guidelines for submission.