How can senior citizens complete the journey of life alone?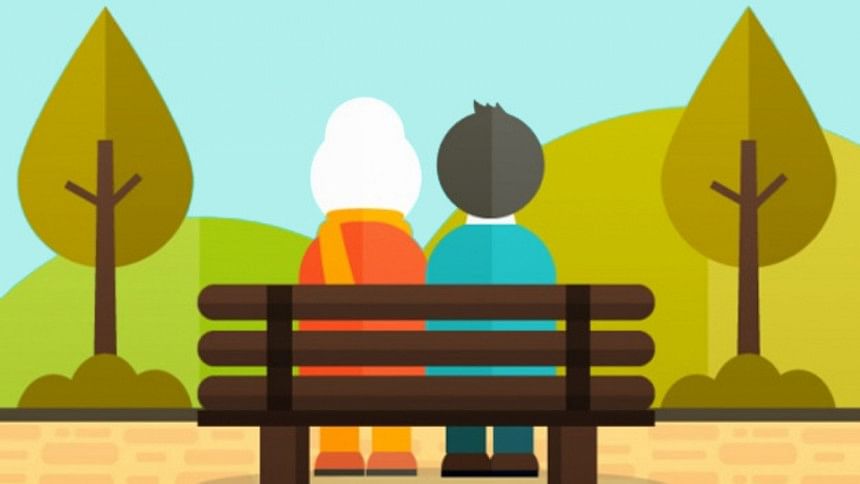 At present, the global population of senior citizens is growing significantly faster than the population as a whole. It could be speculated that in next 25 years, the elderly population will continue growing more rapidly than other age groups. This increase in the aging population would have a great impact on standard of living, health status and economic growth.
It appears that the aging of populations is poised to become the next big global public health challenge. Advances in medicine and socioeconomic development have substantially reduced mortality and morbidity due to infectious diseases and, to some extent, non-communicable diseases. These sociodemographic and epidemiological changes, coupled with rapid urbanisation, modernisation, globalisation, and accompanying changes in lifestyle, have increased the prevalence of chronic non-infective diseases.
Health systems need to formulate effective strategies to extend appropriately directed healthcare and to respond to the needs of elderly people. As the international momentum toward universal health coverage increases, the specific needs of elderly individuals, who often have many chronic diseases, would have to be addressed by health system researchers. Moreover, the delivery of healthcare for senior citizens which is effective as well as responsive, without imposing high financial burden on individuals, seems to be an excellent achievement when it comes to targeted universal health coverage.
Bangladesh is the eighth largest and one of the most densely populated countries (based on the United Nations estimates) having 2.19 percent of the total world population. It is worth noting that Bangladesh is among the top 12 developing countries and not an exception from the global phenomenon of demographic aging. In the survey report of the Bangladesh Bureau of Statistics (BBS), it is shown that the life expectancy trend is increasing by 0.60 percent every year. In 2017, the average life expectancy was 71.52 in Bangladesh, whereas it was 67.7 years in 2010, 70.4 was in 2013. The percentage of aged population in the world was about 5 percent (7.3 million), which might reach 7 percent (14.6 million) of the total population by the year 2025. As a consequence, aged people are increasing substantially and would demand both medical and sociological facilities.
In Bangladesh, people aged 60 and over are considered as elderly citizens. Although they may remain vibrant and active, aging causes functional deterioration, decline in physical strength and impairment in leading a normal active life. It has been observed that aging is one of the emerging issues in this country which gradually poses an insurgence. Due to certain forms of ignorance prevailing in the community, senior citizens are often associated with various social and economic problems—including threat to national income, increasing dependency, widening of the generation gap, and increasing need of intensive geriatric care.
In traditional agro-based Bangladesh, society was comprised mostly of joint families. Senior citizens were respected by all members of the family and enjoyed important social positions in the extended household. Unfortunately, the joint families have started splitting into nuclear and smaller sized families and at the same time, old people's situation is changing remarkably. It could be assumed that urbanisation along with modernisation is related to the upsurge of nuclear families.
Modernisation has affected the traditional society and has increased migration from rural to urban and inter country population mobility (in search of a better living) has gone up. Although familial bond in Bangladesh was strong previously, it is gradually breaking in the present-day situation.
Age discrimination creates social, physical, economic insecurity and negligence of the elderly population. Old people are excluded from the normal day-to-day activities of the society. They are considered as "burden and unemployable" in family and in society.
In some situations, elderly people become more prone to being abused by the younger generation. Many of them are found to be working in the construction sector, agricultural sector, as rickshaw pullers and doing other hazardous works for survival. It is reported that around 95 percent of the elderly people in Bangladesh have experienced health problems—among them, most had multisystem impairment. They mostly suffer from weakness, failing eyesight, hearing loss, hypertension, diabetes, heart diseases and other old-age related illnesses including dementia, Alzheimer diseases, etc. In most cases they avoid consulting with a physician due to poverty. In severe cases, they usually go to village doctors and in some instances, a few of them have consulted qualified doctors. Sometimes they need long term treatment, but many of them failed to bear the expense of such treatment. It has been stated that the elderly population experience loneliness and depression, either as a result of living alone or due to a lack of close family ties and reduced connections with their culture of origin, which results in an inability to participate in community activities.
Old-age is the beginning of the end of the journey of life, which is a hard but unavoidable reality of human life. Old people deserve greater social commitment from a nation in dealing with their situation.
It is a matter of great appreciation that the Bangladesh government has adopted certain policies, namely, the national policy on aging (NPA), to ensure the dignity, social security, healthcare, etc. of the country's senior citizens. It has allocated some funds for the nongovernment institute called "Bangladesh Association for the Aged and Institute for Geriatric Medicine" (BAAIGM) and initiated the old age allowance programme. Many non-government organisations are also taking up programmes focusing on older people.
People should not be neglected because they are aging. Government and non-government organisations, social scientists and physicians should come forward to take care and give respect to elderly Bangladeshis. More awareness, health and welfare programmes should be initiated, arranged and continued so that senior citizens get to live peaceful and enjoyable lives.
Dr Iftikhar Ahmed MBBS, M.Phil (Microbiol), is a WHO Fellow and Head of Department of Microbiology at Enam Medical College, Savar, Dhaka.