Fight against drugs — a losing battle so far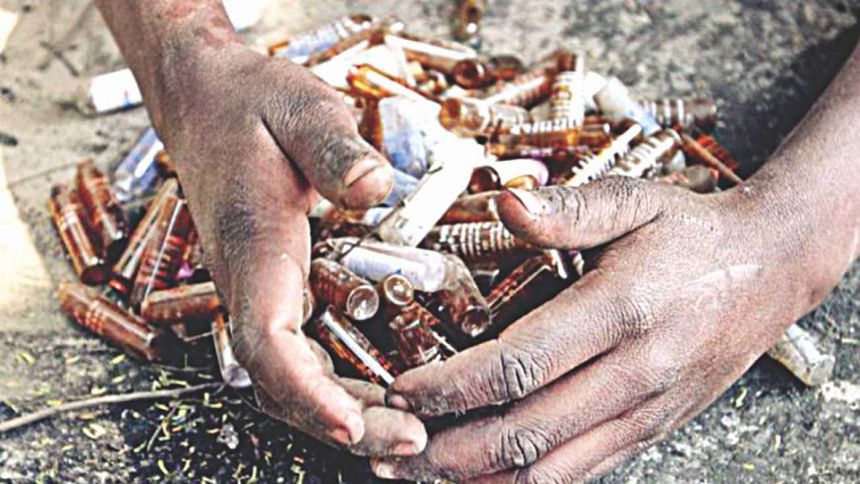 Despite the observance of the United Nation's International Day against Drug Abuse and Illicit Trafficking every year, drug abuse remains a serious problem in most parts of the world. It is a tragedy that due to the greed and profit mongering of traffickers, millions of youth fall victim to the habit of taking drugs. These addicted people are on a steady path towards untimely destruction and death. It is a socio-economic and cultural evil that affects the victims, as well as the nation and society.
Ironically, without even being a mentionable producer of narcotic drugs or psychotropic substances, Bangladesh has emerged as a victim of the proliferation of drug abuse sponsored by underworld criminals and syndicates for the last three and a half decades. Being a transit country, Bangladesh has been facing massive domestic drug abuse problems, as spill-over is a common phenomenon. Local drug trafficking groups assist in the transit operations, which are often paid in kind. As they rarely have access to foreign markets, they sell the drug locally in order to generate income.
With the increase of drug trafficking, addiction to yaba, phensedyl, heroin, cannabis, pethidine, and other psychotropic substances has increased tremendously. In 2015, a total of 9,987 male addicts were treated in private treatment centres in Bangladesh as compared to 10,364 patients in the previous year. Drugs like buprenorphine, being cheap and accessible, have replaced heroin for many abusers.
International Narcotics Control Strategy Report (INCSR) in 2012 indicated that diversion and abuse of pharmaceuticals originating from India have been one of the biggest non-conventional threats for Bangladesh. Most of the smuggled drugs are produced locally in India and many of them are produced under license. The country itself has the highest number of heroin addicts in the world. According to a UN report, one million heroin addicts are registered in India, and unofficially there are as many as five million. Drug addiction in the Indian Punjab has reached an 'epidemic' level.
The smuggling of yaba tablets from Myanmar in recent years has become another serious threat to the younger generation of Bangladesh. It is a highly addictive mixture of methamphetamine and caffeine known as 'Nazi speed' in the West. It was first developed by Hitler's scientists to keep soldiers capable of fighting for days at a stretch. It entered the Bangladeshi market in 2006 as a 'fashionable drug' for the well-to-do people. Because of its covert symptoms, this 'madness drug' is now the number one choice of the addicted population in Bangladesh. It can be swallowed, injected or sniffed, depending on the desired lasting effect of the drug.
The presence of yaba manufacturing labs along the porous border of the southeastern part of the country has accelerated the use of the drug at an alarming rate. Law enforcement agencies seized 129,644 yaba pills in 2009. This increased to 19.5 million in 2015. The seizure of yaba tablets tripled in 2015 as compared to the previous year. In January 2016, Bangladesh police seized 2.8 million yaba tablets, with an estimated value of USD 10.5 million. But, despite the increasing amounts of seizures by the law enforcement agencies, the supply of a wide variety of yaba tablets to the underground market continues unabated.
As a result of the organised transit trafficking, coupled with the supply of Indian, Burmese and Pakistani drugs into Bangladesh, drug addiction has reached an alarming rate in the country. The Bangladesh Department of Narcotics Control (DNC) in its Annual Drug Report of Bangladesh 2013 revealed that the country had about five million addicts, 50 percent of them located in Dhaka city alone. Two years later, a report in The Daily Star suggested that the figure has reached seven million. Bangladesh stands eighth among the world's top 10 drug abusing countries.
Cross-border drug trafficking and the spread of harmful medicinal drugs have contributed to a growing addiction problem in Bangladesh, especially among the most downtrodden people in the society. In the recent past, the poor, uneducated, and unemployed youth were the most vulnerable group of addicts in Bangladesh. Reports of the law enforcement agencies indicated that more than 20 percent of drug arrestees involved in peddling or selling drugs were street children under the age of 16. They primarily came from slum areas and had close relatives and friends who abused drugs.
Credible reports also suggest that about 65 percent of street addicts share needles while injecting drugs, and are engaged in risky sexual behaviour or are abused sexually. These addicts are exposed to particularly high risks of HIV/AIDS transmission. It was perceived previously that drug abuse was a problem among the ultra-poor, but now it has spread among the wealthy and well-educated youth. Many young students, coming from middle or upper middle class backgrounds, have become the prime targets of drug peddlers. Once hooked on the habit, the victims either eventually drop out from their academic institutions or perform poorly.
Recently, a leading news weekly reported that 50 doctors of a reputable medical university were addicted to various drugs. They were addicted to cannabis, heroin, phensedyl, cocaine, ecstasy, yaba, and crystal meth. Many of them stole painkillers, including morphine and sleeping pills, reserved for patients. In an attempt to stop this, the university authority introduced drug tests for doctors after allegations of this rampant narcotics abuse came to light.
Addiction, with all its pervasive impacts, including making young people psychologically and physically crippled, often leads to violent behaviour. They often resort to crime to sustain their addiction. Thus, when many anti-narcotics bodies observe June 26 as the UN Day for combating harmful drugs, the battle against addiction continues to be a major challenge.
The writer is Professor of Political Science at North South University. He is also the author of Drugs in South Asia: from the opium trade to the present day (Palgrave Macmillan, UK & St. Martin's Press, USA). 
---
Follow

The Daily Star Opinion

on Facebook for the latest opinions, commentaries and analyses by experts and professionals.
To contribute your article or letter to The Daily Star Opinion, see our

guidelines for submission

.
---