Clouds lift as RMG makers bounce back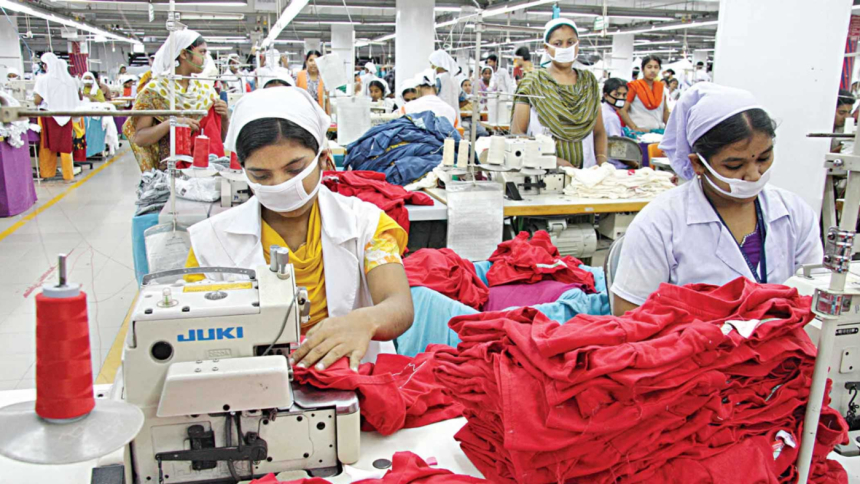 In the spring of 2020, when the whole planet appeared to be going into lockdown and major fashion retailers were collectively cancelling billions of dollars' worth of garment orders, it was difficult to see light at the end of the tunnel. As 2020 rolled on, things got worse, and there were genuine concerns that the impact of global lockdowns could cause serious and lasting structural change to garment industries, such as our own, as the demand for clothing dried up.
While it is too early to begin resting on one's laurels, the most recent data from the Export Promotion Bureau suggests we may have finally turned the corner. As per the bureau's figures, Bangladesh's apparel exporters witnessed around 30 percent growth to USD 35.57 billion in 2021—a new record. This is compared to earnings of USD 27.32 billion in 2020, which was the lowest in several years. The export figures also show that in December 2021 alone, RMG shipments saw about 52 percent growth to USD 3.8 billion, compared to the corresponding period in the previous year.
This is a remarkable turnaround, considering our industry went through a series of lockdowns coupled with other logistical factors, such as shipping delays and price hikes, nationwide transport strikes, and rises in costs for raw materials, such as cotton and diesel.
There are several reasons for this growth in exports. One of the most telling is that several of our competitors, including Vietnam and China, were hamstrung by logistical issues and industry lockdowns in the latter half of 2021. Fashion brands and retailers turned to Bangladesh, along with India and Pakistan, to fulfil orders during this period.
However, this is not necessarily a temporary shift in the sourcing landscape. Several industry executives and sourcing specialists are indicating that the shift away from China by fashion sourcing teams is now in full flow. There are several reasons for this, but one of the most obvious is the growing political tension between the US and China (and, to a lesser extent, the European Union and China).
China has long-standing human rights challenges around the mistreatment of its Uyghur Muslim population, and this is causing many buyers to shift to other apparel sourcing hubs. The fashion industry is generally extremely sensitive to corporate social responsibility (CSR) issues, and this trend is not going to go away in an age of heightened human rights awareness. Due diligence in clothing supply chains will be one of the biggest issues in the next couple of years.
All of this is important because it suggests that the burgeoning orders that RMG makers in Bangladesh experienced in the latter half of 2021 could continue moving forward.
Having said that, we must consolidate our position to make sure that we capitalise on the opportunities at hand. There are several steps I believe we, as manufacturers, as well as our industry leaders, need to take to achieve this.
The first is to double down on sustainable and responsible production. We know ours is a price-orientated industry, but after price, sustainability will be the number one priority for fashion buyers in the years ahead. Many are now looking to tie down partnerships with those who share their thinking and can help them meet their ambitious climate targets. This is a huge opportunity for our manufacturers to grab and maintain market share and build long-term collaborations.
The second thing I believe we need to do is be proactive. The dust is still settling on the global fashion industry and its supply chains right now. New alignments are being forged, supply chains are in a state of upheaval, and there is a sense of all parties vying for the best position in the current state of flux.
Against this backdrop, it is fair to ask: Do our industry leaders have a plan—if so, what form does this take? The biggest thing I would like to see on this front is a strategy around skills, training and investment in the future of our industry. I genuinely believe we can experience tremendous growth, but we must be ready if more orders do come in and the shift out of China gathers momentum.
This brings me to the final point. Amid the satisfaction of the past few months, our industry is noticeably still struggling to maintain a healthy profit margin on orders. We remain price-takers. As long as this is the case, we will struggle to take a long-term, strategic approach as an industry.
I am encouraged to see that our industry leaders are now upholding the benchmark in the minimum costs of garment production. The results of this will enable us to provide better data to fashion buyers about costing issues, so they might better understand the kind of pressure we face on margins. This, combined with much-needed skills and training in price negotiations with customers, must surely be among high priorities for us all in 2022.
Mostafiz Uddin is the managing director of Denim Expert Limited, and the founder and CEO of Bangladesh Apparel Exchange (BAE) and Bangladesh Denim Expo.