Bijoy 1971: The story of agony and ecstasy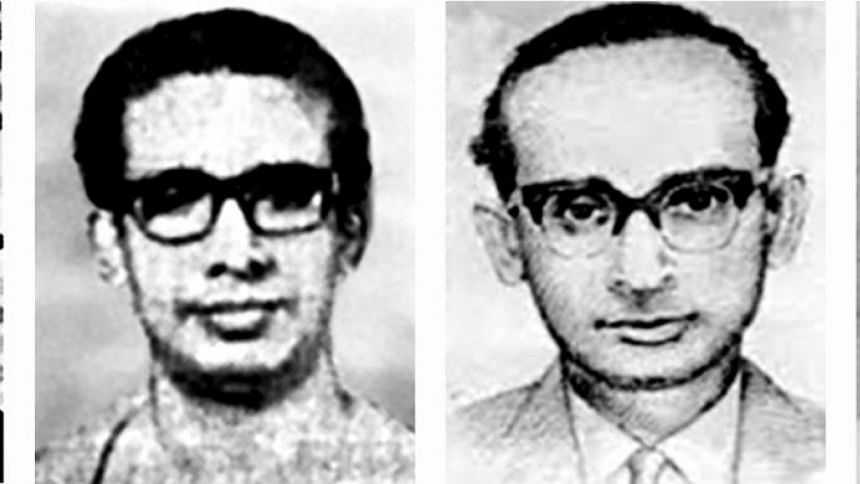 It was one of those hot and humid July days in Dhaka. The year was 1971 and I was only 19. Dhaka was no longer a city of delight since the war of liberation against Pakistan had begun. My family lived in Sobhanbag Colony—in one of those grey coloured government quarters allocated to my father as a government official. Just a thin concrete wall away from our flat was the Mirpur Road. Every day the gloomy road seemed to be sighing in desolation as her stretched-out body was being abused by heavy tanks, military artillery and olive coloured vans, filled with fierce-looking Baluch, Sindhi or Punjabi soldiers. In between the time the soldiers were going past and the curfew breaks, we seemed to be breathing like shaky leaves.
I was quite occupied with secretly distributing leaflets, handing over newly written poems to be printed across the border, passing on apprehensive messages about the safety of our respected teachers at Dhaka University. Most of my friends and politically aware young people were already engaged in the war as guerilla Muktijoddhas. Others were just on the verge of leaving Dhaka for India. People in general were fleeing from one place to another with their families, as their houses were burnt down or looted away by the Pakistani Army and their cronies. We received horrific news from different sources as to how the Pakistani Army were shooting people like birds forcing their victims to dig their own graves, raping women and girls and burning village after village all around our land.
During the blackouts, our never-ending debate between a father and a daughter used to go on. Abba, who was a young man during the partition of India and who fought for Pakistan, believed deep down in his heart that the Pakistani soldiers would not do us any harm, as we all were Muslims and Islam was a religion of peace. But I said, "It is no longer true, at least not in the eyes of the Pakistani rulers and the politicians." He thought that the information we were getting was a bit exaggerated and the sources were not reliable. Muslims could not kill their Muslim brothers! I kept on arguing that West Pakistan never considered the people of East Pakistan as their brothers. In fact, right now even when I am living in a foreign land, hundreds and thousands of miles away from Bangladesh, almost 50 years since the bloody war was imposed on us, I vividly remember the discrimination and disparity in sharing opportunities, prosperity and wealth—in fact, everything. For our generation, it is quite clear as to how our struggle against disparities ultimately turned into a war—the history of our freedom movement. And our father-daughter debates sometimes used to be quite intense.
As those grave days were going past, we were under increasing pressure to accommodate members of the extended family as well as family friends. Most of those people either had lost their relatives or needed transitional shelter towards their journey to the unknown. Every morning I had to make loads of chapati or khichuri and lots of bhaji with pumpkin. Since there was scarcity of food, I even made bhorta with thick pumpkin skin, mixed with chopped onion and chilli paste. And dinnertime used to turn into a political discourse among all of us. Surely, references were made from history, but poignant points were raised from the perspectives of two generations: my father's and ours.
Abba would indicate that the British, following a "divide and rule" policy, had ruled and exploited India for more than 200 years. They actually divided the entire population and used one against the other. He would give concrete examples as to how Hindus disliked Muslims and as a Muslim, how he had experienced discrimination. And he would say that as the British favoured Hindus, they prospered quite fast with Muslims lagging behind in every walk of life including English education, jobs, and enterprises, which is why Muslims supported a "two-nation theory," to have a place only for Muslims, where they can determine their own destiny. Thus, in 1947, India was divided and two countries, India and Pakistan, were created on the basis of religion—Pakistan with Muslims as the majority and India with Hindus as the majority. Pakistan had two provinces geographically separated by 1,100 miles. After long debates and loaded arguments, we finally managed to agree that except for religion, the two wings of the county had nothing in common. So conflicts and separation were inevitable.
In fact, except for the same religion, stark differences existed between the two wings of Pakistan. East Pakistan, more populous than West Pakistan, was also a homogenous land with a society consisting of mainly one ethnicity (except for some tribal populations), and the same language, culture and way of life. West Pakistan, on the other hand, was more heterogeneous with a number of ethnicities including the Punjabis (the majority, the most powerful and the ruling elite), Sindhis, Pathans, Baluchis, Muhajirs (Muslim refugees from India) and others. While each ethnicity had its own history, heritage, language and culture, Bengalis were discriminated on every front.
Speaking of language, I remember that as a teenager, when I was treading softly in the arena of identity at school, it was mandatory for us to sing the national anthem in Urdu, of which we couldn't understand a single word! In my senior year at school, I, however, had the opportunity to witness some of the obvious differences and diversities when, in 1966, I went to Murree, a hill resort in Pakistan, as one of the East Pakistani delegates to the National Girl Guide Jamboree. I also experienced discrimination against us in that event. In the jamboree, there were 14 petrol leaders along with a commander who were from Pakistan. East Pakistanis were given only deputy positions in all subcommittees.
From the very beginning, we were not treated as equal partners in the context of Pakistan. To start with, they refused to recognise Bangla as a state language. Students and common people had to sacrifice their lives in Dhaka in 1952 to achieve the right to speak in our mother language. In fact, the Pakistani rulers treated East Pakistan as a colony—as a source of raw materials and as a market for finished goods. Bengalis were exploited on every front: economic, political, cultural and social.
The sacrifices Bangladesh made during the nine-month war of liberation were enormous. During that short period, about three million people were killed, nearly 300,000 women and girls were raped and 10 million people took refuge in India. It was state-sponsored persecution of Bengalis—in fact, a genocide. The surrender of the Pakistan forces to the joint command of India and Bangladesh happened on December 16, 1971. And that marked our liberation—both as a nation and as a country.
But just on the eve of it, with a heinous conspiracy and plot to cripple the country intellectually, the Pakistani Army and their collaborators killed the cream of our intelligentsia including prominent academics, writers, physicians, filmmakers, composers and journalists. Among them were four of my beloved teachers: Professors Munier Chowdhury, Mufazzal Haider Chaudhury, Anwar Pasha and Rashidul Hasan, who were well-known nationally and internationally for their scholarly work as well as their individual aura.
Slightly dark in complexion, Munier Sir looked like a saint with his handloom woven khadi panjabi, flared pyjamas, and a pair of thick black-framed glasses. He taught us Tolstoy's remarkable epic War and Peace and the Bengali middle class's favourite, Saratchandra's Bangla novel Srikanta. While he lectured in class, we were stunned by his ability in transitioning effortlessly between the two great novels, depicting two different cultures, with such comfort and grace. Munier Sir so passionately loved Bangla language and literature and was so creative and innovative that he was the pioneer in developing the first Bangla typewriter Munier Optima.
Mufazzal Haider Chaudhury stood First Class First in both bachelors with honours and masters in Bangla in Shantiniketan, the renowned university established by Nobel laureate Rabindranath Tagore. It was not a small feat for a young Muslim man, who, because of his brilliance, used to be fondly referred to as Mukhojjol Chaudhury—where mukhojjol means a face with dazzling brilliance. Even though he was such a brilliant person with incredible intellect, he never appeared to us as daunting. Rather, he was soft and easygoing in nature.
Anwar Pasha used to teach us Bangla short stories. A person with medium height, parted hair and thick glasses with black frame, he could easily be recognised in university corridors because of his fast-paced walk. During the earlier months of the war, he wrote a novel in Bangla, Rifle, Roti, Aurat. The name of the novel and its content reflected the realities of our nine-month liberation war so vividly that Anwar Sir appeared to be a predictor of our fate in the coming days.
Rashidul Hasan Sir used to take our English subsidiary classes. Even though he was a student and a teacher of English, his breadth and depth of Bangla literature were enviable. He would often discuss with us various aspects of Bangla literature. Rashidul Hasan Sir and Anwar Pasha Sir were close friends from a young age in West Bengal, and after the partition of India, they migrated together as refugees to East Pakistan with the hope that this country would give them opportunities and protection. But isn't it ironic that the land where they came for protection was the place where their lives were so brutally cut short?
On December 14, 1971 all these beloved teachers of mine were picked up from their homes and were never seen alive. I am 67 now. Tears still roll down through the barricade of the metal frames of my pair of glasses. I feel like an orphan who, like a baby, is still looking for her parents.
Every year, when the month of December dawns on me, I become overwhelmed with emotion. I remember the faces of my friends we lost in the liberation war and those of my teachers who were brutally murdered just before we became free. At the same time, I feel happy that this is the month when we became victorious and Bangladesh appeared on the map of the world as an independent country. Undoubtedly, it is also a moment of pride and joy for me. Now I live a long way from my motherland, but I always carry their memories as well as a piece of Bangladesh in my heart.
Shamim Azad is a poet, author and journalist.