Bangladesh - 47th Anniversary of Victory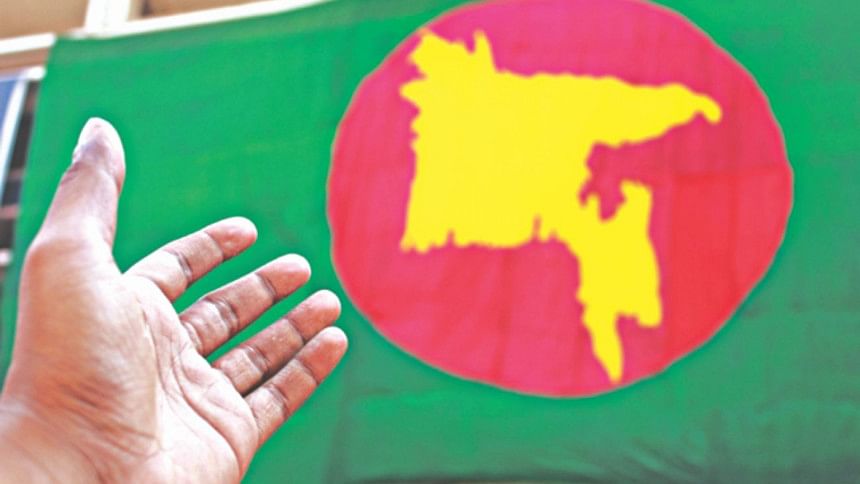 We are celebrating the 47th anniversary of our independence today. Our independence was won through the sacrifices of countless lives and untold sufferings. Our people have had to overcome innumerable challenges. In the words of a popular song, no one can search and find a country like ours. We could indeed readily agree. Which state can claim that it gained independence in nine months after overcoming a genocidal onslaught that claimed millions of lives? What was remarkable was that people then framed their Constitution within less than a year. The Constitution, which bears the signatures of Bangabandhu Sheikh Mujibur Rahman and includes those of Syed Nazrul Islam and Tajuddin Ahmed, came into force on this day 46 years ago.  Among the people's achievements is that after overcoming the challenges over these 46 years, the Constitution, signed by the framers, is still formally in force. A signed copy of the Constitution can be seen proudly displayed in our national museum.
The challenges we have overcome include the assassination of the Father of the Nation, within four years of independence, and the assassination of four national leaders, who were his closest associates, within a few months of his assassination. Another formidable challenge is to retain the 1972 Constitution, which came into force 46 years ago. During this period, powerful interventions took place which stopped short of the "abrogation" of the Constitution. The Constitution was "suspended" several times, but it has still survived. Some of the changes made in it through amendments, brought in after interventions by force, have since been held to be unconstitutional as a result of popular movements and court rulings.
The third challenge is the doubling of the population since 1971. Our population today is between seventeen to eighteen crores. Yet we have maintained the viability of the state, and the production capacity of our people has generated sustained economic growth.
The patriotism and love for their country by our people has been proved beyond doubt by the positive contribution they have continued to make. This has been done despite gaps in good governance and the rule of law, and despite parliament and other democratic institutions having not been allowed to function for certain periods; the protection of the rule of law and independence of judiciary were also undermined from time to time.
Notwithstanding these, we have completed 47 years of our existence as a sovereign state. We can now look forward to celebrating together the 50th anniversary of our independence in 2021. As we move forward towards 2021, it is imperative to undertake a hard-headed assessment, so that we can derive encouragement and strength from the positive achievements, but it is crucially important to know what is still to be achieved and the challenges to be overcome if the peoples' aspirations are to be realised.
It is necessary, therefore, that during the next 14 days, before the election scheduled for December 30, citizens throughout the country remain alert and vigilant in protecting their right to vote and the process of free and fair elections. Empowerment of the people is secured through a free and fair election. The use of "black money" that is injected into the electoral process has been the biggest obstacle to realising a democratic parliament. Article 118 of the Constitution provides that the election process must be conducted by an election commission, which shall be independent and be subject only to the Constitution and any other law.
I had the privilege of being Bangabandhu's chief election representative in 1970. I set up his election office in Dhaka. It was reported by Bengali employees that senior Central Government officers had arrived with huge amounts of money and were boasting that the election would be drowned by the amount of money brought. I reported this to Bangabandhu, stating that we must fight their money by mobilising the people, as we did not have that kind of money.
Bangabandhu's instruction was that people should be told that they should take as much money as they could but be aware that this was their money which was coming back to them. They should accept the money but not vote for those who were handing out the money.
I had more than a hundred young volunteers, including university boys and girls, with whom we undertook a house-to-house campaign, during which we got to know every street of Dhaka. Our task was to explain to convince each of the citizens of the importance of exercising their vote wisely and not to vote for those who had exploited them and robbed them of their money over the previous two decades. Our female volunteers were to convey the same message to the mothers and sisters in the houses.
We need to recall their historic role today as we move forward towards the election scheduled for December 30, 2018. We had made repeated demands to hold the coming election at least one or two months later, so as to allow us to reach the voters, but this was refused. Only an extension of one week was allowed fixing the date on December 30. This is too short a time for an adequate house-to-house and person-to-person campaign.
There is no doubt that those who fought for liberation and who sacrificed their lives never envisaged that the citizens' right to vote would be undermined by the use of money in crores of taka. It is, therefore, imperative to urge that every voter must play his or her role as owners of the state and exercise our right to vote and to ensure that the election is free and fair. Meaningful vigilance is essential by our citizens to see that the Election Commission discharges its constitutional duty of ensuring a free and fair election and to protect the electoral process from any kind of intervention by money, muscles or manipulation. Let this be how we celebrate the 47th anniversary of our independence.
---
Dr Kamal Hossain is the chief of Jatiya Oikyafront.
---
Follow

The Daily Star Opinion

on Facebook for the latest opinions, commentaries and analyses by experts and professionals.
To contribute your article or letter to The Daily Star Opinion, see our

guidelines for submission

.
---