Rumble of a distant thunder?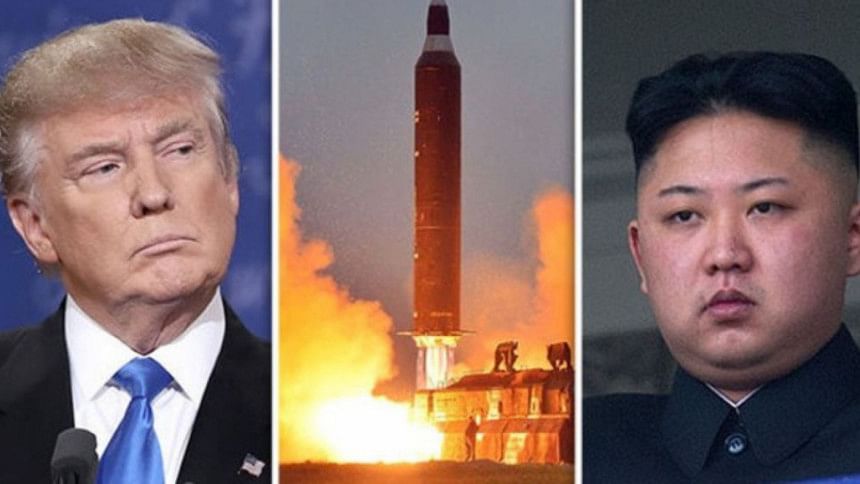 How much do the words of Winston Churchill, addressed to the former Soviet Union, ring out through the mists of the time of the Cold War: "Jaw-jaw is better than war-war." The words of wisdom and statesmanship from a Second World War veteran are infinitely more relevant today in an age of nuclear proliferation, placing the button of annihilation at the hand of a desperado. 
By his sabre-rattling standards, North Korean leader Kim Jong-un last week might have sung a lullaby to the children of Guam! He would "hold off" his threatened missile test on the US strategic island 50 kilometres off her South Pacific coast, he had declared.
In purely diplomatic terms, North Korea's backtracking on her threat to fire missiles near the US territory of Guam meant either a diminished provocation to the US, or a postponed threat.
The threat posturing is borne out by Kim's words: "He will monitor more the foolish and stupid conduct of the Yankees before he decides whether or not carry out further tests." Read that with Pyongyang's apparent scaling down of intimidation to the US, the coupling of the ploys aimed at securing a stop to US-South Korea military exercise slated for August 21. 
But "the invasive rehearsal" got underway as senior US commanders dismissed calls to pause or downsize the exercise, considering it crucial to counter threats from Pyongyang. North Korea "vows merciless retaliation to the US-South Korea military drill." 
The rotund young man rather lightly carries a thoroughly ill-reputed baggage: Doing his uncle to death allegedly by a "ground missile at a practice session." His half-brother, reportedly poisoned at the Kuala Lumpur airport, died in "mysterious circumstances" as the cliché goes. 
Seriously, the North Korean dictator holds the view that Saddam Hussain and Colonel Gaddafi, having abandoned their projects of building weapons of mass destruction (WMD), had paved the way for their undoing. He vows not to follow in their footsteps. 
Has the Chinese pressure been weighing down on Kim lately to induce a thinly veiled engaging approach on his part to Washington? President Trump had just issued an executive order "to look into the nature, scope and extent of infringement of Intellectual Property Rights of the United States by China. Washington added though, the move had nothing to do with North Korea. But the timing of Trump's order might have been a reminder to Beijing to leverage Pyongyang against misadventure. 
It is felt, however, that a resumption of the Six-Party talks could help break the impasse; but a pivotal part of that exercise must be to address the common concerns of the two Koreas without any exceeding geopolitical bias.
North Korea's wish list is unattainably ambitious though: Achieving a formal nuclear deterrent capability and reunification of the Koreas under his leadership. His defiance results from a regime change apprehension. Only China can influence the North Korean dictator, to stay away from nuclear adventurism. 
As for North Korea "punching above its weight", let it not be lost on anyone that for a helmsman on the lunatic fringe, a finger on the nuclear button, gives him a de facto deterrent capability, more precisely, a blackmailing capacity. In reality, it is actually more dangerous than that, as it conjures up a very large suicide bomber in the shape of a whole nation! 
While North Korea is apparently on a rethink mode, a huge domestic problem plagues the US. The trouble started over the attempted removal of the Confederate General Robert E Lee's statue by an alt-left group of protesters at Charlottesville, whereupon, an alt-right group converged on the scene to resist it.
Amid scenes of Nazi flags waving and a car driven by a white supremacist allegedly being ploughed on purpose into a group of counter protestors, a woman died and 19 others were injured. 
President Trump through last Saturday to Monday blundered in his reactions; every time he tried to fine-tune his version to square up with the public criticism or give traction to his support base, he would sink deeper into re-affirming where his sympathies lay.
Even the president's daughter, Ivanka Trump, commented that her father had lost a massive opportunity for uniting America by blaming it "on all sides". The KKK, neo-Nazis, white supremacists were cosied up to while the liberal, anti-slavery, left constituency was ditched.
After the Charlottesville riots, a black CEO of a firm resigned triggering a series of resignations from CEOs across the corporate sector.
The backlash has been wide, ranging from Virginia to Boston to Phoenix, Arizona, where there were massive protest rallies against far-right extremists. The governor of Arizona, an outspoken campaigner for Trump as well as the mayor of Phoenix, told the US president not to visit the state because it will fuel racial tensions. And it did. In fact, the Arizona governor did not attend the rally. A significant number of Republicans have openly opposed Trump's divisive campaign.
The president's agenda of "clearing the swamp", meaning the Washington establishment, has turned out to be a cruel joke because of the president failure to build a team around him.
What is distressing to note is that he has threatened military intervention in Venezula. Trump is being overbearing with Afghanistan and Iran too.
A multiple crises have a way of merging and "tempting" an embattled President to try to exploit an international conflict to break out of his domestic difficulties. Of that lurking danger, the US leadership should be wary of.
---
Shah Husain Imam is a commentator on current affairs and a former Associate Editor, The Daily Star. 

E-mail: [email protected] 
---
Follow

The Daily Star Opinion

on Facebook for the latest opinions, commentaries and analyses by experts and professionals.
To contribute your article or letter to The Daily Star Opinion, see our

guidelines for submission

.
---